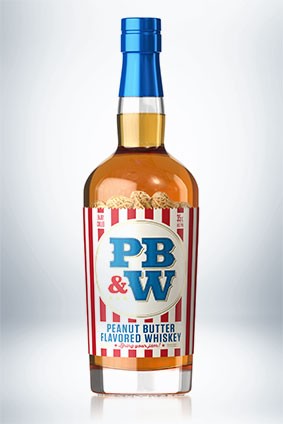 Old Elk Distillery of Fort Collins, Colorado has launched its new Peanut Butter Flavored Whiskey, which, it says, is deliberately crafted from nostalgia by blending premium whiskey with three different peanut flavors.
"Everyone knows PB & something. PB & jelly, honey, bananas. So we thought why not bring the whiskey? And so PB&W, two of America's favorites, were created to be one," saysLuis Gonzalez, CEO, Old Elk Distillery. "We wanted to be very intentional about the liquid we were developing for the PB&W brand. Consumers have come to know 'PB&J' and have started to show interest in the flavored whiskey category. With the peanut butter flavored whiskey category growing we couldn't think of a better brand than PB&W that allows for the liquid to be whiskey forward with a true peanut butter flavor and finish. With our ability to scale, and the flavor profile of PB&W, we are excited about the fun, funky and classic twists consumers and mixologist will explore."
PB&W is encouraging fans to try the product as a standalone shot, in a blended shot experience, orin a creative cocktail. The liquid lends itself to creativity and is adaptable enough to please all different palates.
To spread the word about PB&W, the liquid will be poured at upcoming events and the brand will host pop-ups at locations nationwide. Separately, PB&W is very active on social media and is inviting consumers to share what they love and why. Through this platform, PB&W aims to bring fans together to realize that despite their differences, they can all still celebrate the unexpected joys of life, and connect over the discovery of a new, exciting flavor experience delivered from a favorite taste from their past.
Now available at retail in the 40 states in which Old Elk Distillery currently distributes (ABV: 35%; Proof: 70; SRP:Ranges from market to market at 750 mL).