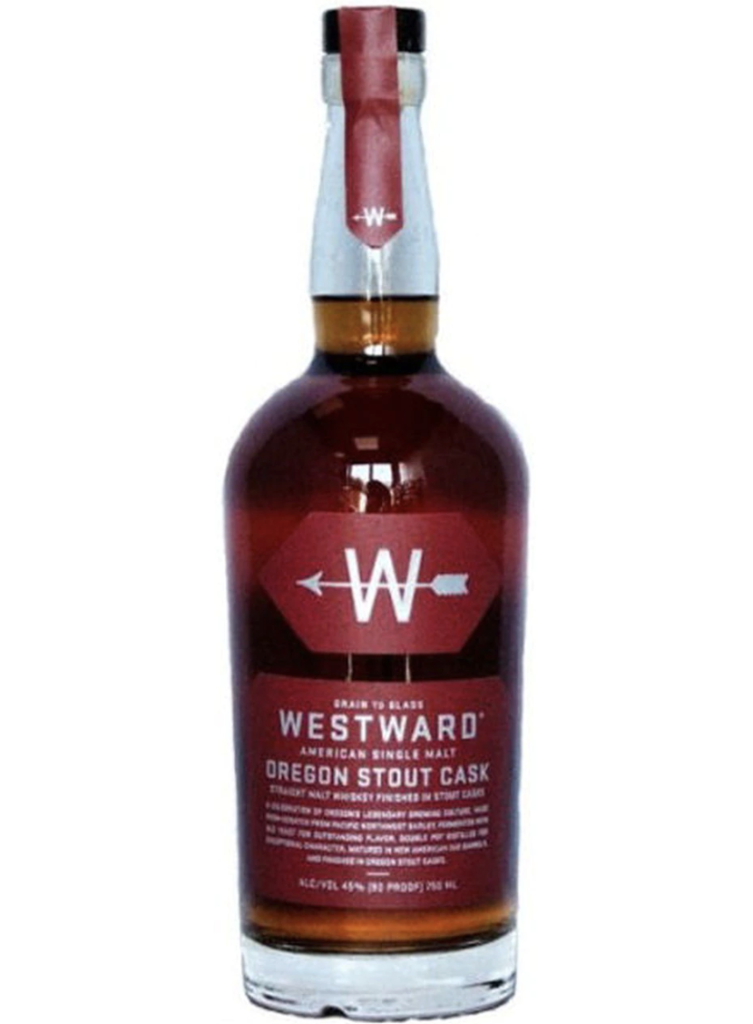 Westward Whiskey has announced the launch of its first line extension, Westward Oregon Stout Cask, an American Single Malt finished in freshly-emptied stout beer casks. Introduced as an Oregon exclusive earlier this year and now available nationally, Westward Oregon Stout Cask complements Westward's flagship offering, Westward's American Single Malt whiskey.
Born in the Northwest from the distinctive culture, climate, and natural ingredients that come together to make a provenance-driven whiskey, Westward draws inspiration from its team's brewing and distilling experience. Oregon Stout Cask is Westward's tribute to its home in one of the world's iconic beer-producing regions; it grew out of Westward's longstanding cask-trading tradition among a select group of beer producers in the Northwest.

Westward is a brand rooted in partnerships and for as long as the distillery has been making whiskey, it has traded its freshly-emptied barrels with some of its brewing friends in and around the Northwest, who have in turn "seasoned" them with Stout before returning them again. Westward's barrel trading tradition partners include leading stout producers throughout Oregon, including Bent Shovel Brewing, Breakside Brewing, Culmination Brewing, Deschutes Brewery, Ex Novo Brewing Co., Fort George Brewery, Migration Brewing, and Sky High Brewing, among others.  After the whiskey is fully matured, it is then finished to taste in American White Oak Stout casks for approximately one year to create Westward Oregon Stout Cask.
Westward pursues perfection through its philosophy of Minimalist Distilling, a crucial difference in an industry driven by the principle of mass efficiency, by going to great lengths to bring out the flavor of its grain and other natural ingredients. Westward Oregon Stout Cask begins by brewing a delicious American pale ale, from scratch, using locally malted barley, ale yeast, and a slow, low temperature fermentation. The fresh beer is then distilled twice in custom pot stills designed to create a bold, robust spirit before entering lightly toasted American Oak barrels at a relatively low proof. The whiskey is aged to taste in the Northwest, where the region's hot, dry summers and cool, wet winters are the ideal environment to raise a world class single malt whiskey.  Finally, select Westward barrels are further finished for up to one year in fresh stout casks to create Westward Oregon Stout Cask.

"The abundance of the Northwest yields the best raw materials and attracts the best craftspeople, and Westward brings together the power of both in one of the most iconic beer-producing regions in the world; Westward American Single Malt Oregon Stout Cask is our tribute to just that," says Thomas Mooney, founder and CEO, Westward Whiskey.  "Given our team's passion for brewing and our close relationships with our Northwest brewing partners, it was a natural progression to create a Stout Cask Finish, which adds a discernible hint of chocolate that perfectly accentuates the signature toasted malty notes of our prized flagship American Single Malt."

Westward Oregon Stout Cask whiskey is rich and robust, with notes of roasted grain, stone fruit, toasted pecan, milk chocolate, and a bold, dry finish; it is bottled at 90 proof (45% ABV), and carries an MSRP of $89.95 for 750ml.
Westward Oregon Stout Cask whiskey will be available at fine spirits retailers as well as select bars and restaurants in major U.S. markets, and online through leading spirits retailers.