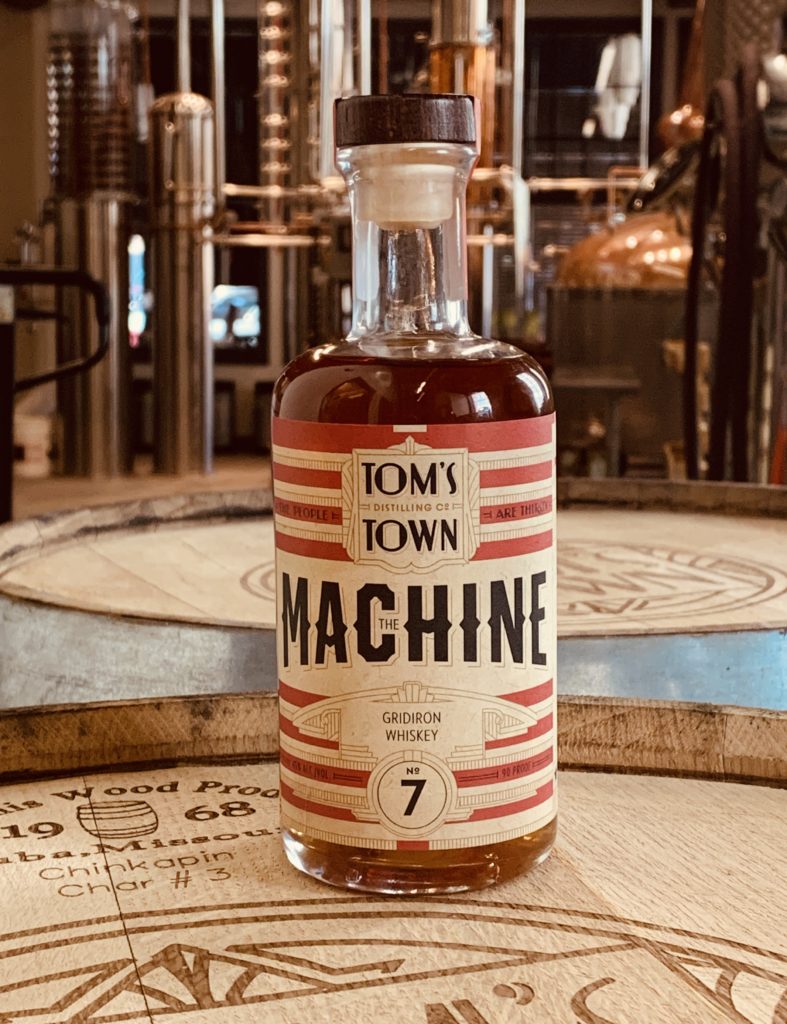 Tom's Town Distilling Co. has announced the launch of its latest limited-edition product in collaboration with Lagunitas Brewing Co. of Northern California, the Machine No. 7: Gridiron Whiskey. This special whiskey salutes the two LIV Super Bowl teams, the world champion Kansas City Chiefs and the San Francisco 49ers. Gridiron Whiskey is the newest addition to the distillery's Machine Series, created to showcase its distillers' creativity and ingenuity with daring one-off spirits.
With tasting notes of molasses, clove, cherry, and oatmeal cookie, Gridiron Whiskey starts out as a pre-hopped Lagunitas Sucks beer. This is a retired, beloved brand from the brewer known as a cereal medley of barley, rye, wheat and oats. Tom's Town fermented and distilled the wort (a sweet infusion of ground malt and grain before fermentation), then carefully aged it in white American oak barrels for two years. Tom's Town produced only 500 375ml bottles at 90 proof.
Tom's Town co-founder David Epstein, developed the collaboration with long-time friend Maria Stipp, CEO of Lagunitas Brewing Company. "Maria and I have been working on this collaboration for a long time," says Epstein. "When our two hometown NFL teams both made it to the Super Bowl, we knew we had the perfect spirit to celebrate! And of course, the best team won!"
A release party to celebrate Gridiron Whiskey's launch is planned for Thursday, March 5th from 5:30 – 7:30 p.m. at the distillery's Crossroads location. Tickets to the event include a bottle and can be purchased here. The remaining bottles not sold at the launch party will be for sale exclusively at Tom's Town for $20. The series is expected to sell out within days like previous Machine Series spirits.
The Machine series is an on-going collection of daring one-off spirits showcasing Tom's Town distillers' creativity and ingenuity. Prior to Machine 7: Gridiron Whiskey, Tom's Town released No. 6: Gingersnap Whiskey, No. 5 Garden Party Gin, No. 4: White Port Bourbon, No. 3: Navy Strength Gin, No. 2 Malt Whiskey, a collaboration with Torn Label Brewing, and No. 1: Barreled Gin, which was so successful it become part of Tom's Town's core family of spirits.
This series is available exclusively at Tom's Town for a limited time.