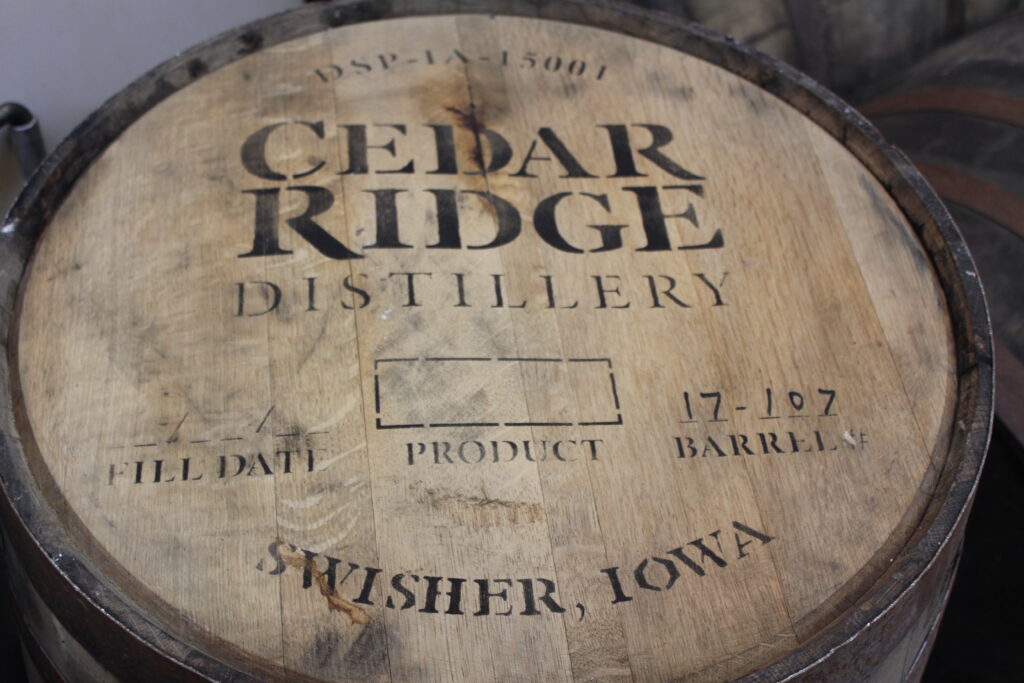 Cedar Ridge Distillery has announced the release of QuintEssential American Single Malt Whiskey, the culmination of a lifetime of work for Cedar Ridge founder and master distiller Jeff Quint, and his son, head distiller Murphy Quint.
"While Bourbon is a natural product for us here in Iowa, both Murphy and I have shared a lifelong interest in good Scotch," says Jeff Quint. "For nearly 15 years now, we've been perfecting our own American version single malt. One thing we figured out early on is you can't rush it."
The Quint family can trace its winemaking roots back to the late 1600s in the Mosel Region of Germany. Knowledge of blending and aging has been passed down through the generations but it's the way Jeff and Murphy are applying these proven, award-winning techniques to whiskey that is making their American single malt truly unique.

First, the Quints use only a single strain of two-row malted barley prepared exclusively for Cedar Ridge at the Prairie Malt plant in Biggar, Saskatchewan. Once the grain arrives on site, Jeff and Murphy painstakingly control every step of the process – from milling, mashing, fermenting and double-distilling, to the unique barrel aging process, right through the final bottling.
A quick look at the aging process shows what's possible. Most of the barrels are Cedar Ridge's own. Some are hand-picked and imported from sources abroad. For its first cask treatment, the bulk of the whiskey is aged using ex-bourbon barrels. The whiskey then gets a second treatment in barrels that once held brandy, rum, wine, port or sherry. Last up — it's married into the distillery's oak solera vat for a final rest.
"It's during these two cask treatment phases that the whiskey develops its complexity and richness," Jeff adds. "And by never emptying the solera beyond the halfway mark, we gain a consistent complexity you can't get from single barrels."
"Our system is the best of both worlds," says Murphy QUint. "We're taking many single barrels of single malt and utilizing them to influence our solera vat over time. In a sense, each can be looked at as an individual ingredient for our solera, and we're cooking-to-taste."
As the Quints prepare the first bottling of their signature blend, they sense their timing couldn't be better.
"American single malt whiskey appears to be on the verge of booming in the United States," said Murphy. "With thousands of craft/micro distilleries opening up over the last 10 years – many of which are producing at least one single malt – consumers are about to see a wide array of options. Much like the craft beer category, there's a lot to explore."
While the work requires meticulous attention to detail, the Quint's have found the process of making single malt to be liberating.
"Whereas bourbon has very tight rules and regulations when it comes to the production processes," said Murphy, "single malt regulations are a little less strict, which leaves the door open for more artistic input into the whiskey."
And with a flavor that's perfectly rich and complex, this artistry is evident in every sip of The QuintEssentialTM American Single Malt Whiskey from Cedar Ridge.
Cedar Ridge's The QuintEssential American Single Malt Whiskey, 46% ABV, will be available in Iowa for $59.99 later this month. Retailers will be able to order the new QuintEssential through the Iowa Alcoholic Beverage Division (ABD) using the product code [26474]. Select markets throughout the United States can also expect to see availability in the coming weeks.