Garrison Brothers Distillery, the first legal whiskey distillery in Texas, this week announced its 2020 release of HoneyDew, the latest addition to the company's portfolio of ultra-premium, Texas-born bourbon whiskies. The 80-proof bourbon, infused with 100% Texas-made Burleson's wildflower honey, is a smooth, light bourbon with a subtle honey finish. It will be available year-round in select liquor stores, bars, and restaurants throughout Texas, California, Florida, New York, twenty one other states as well as on military bases where Garrison Brothers is sold.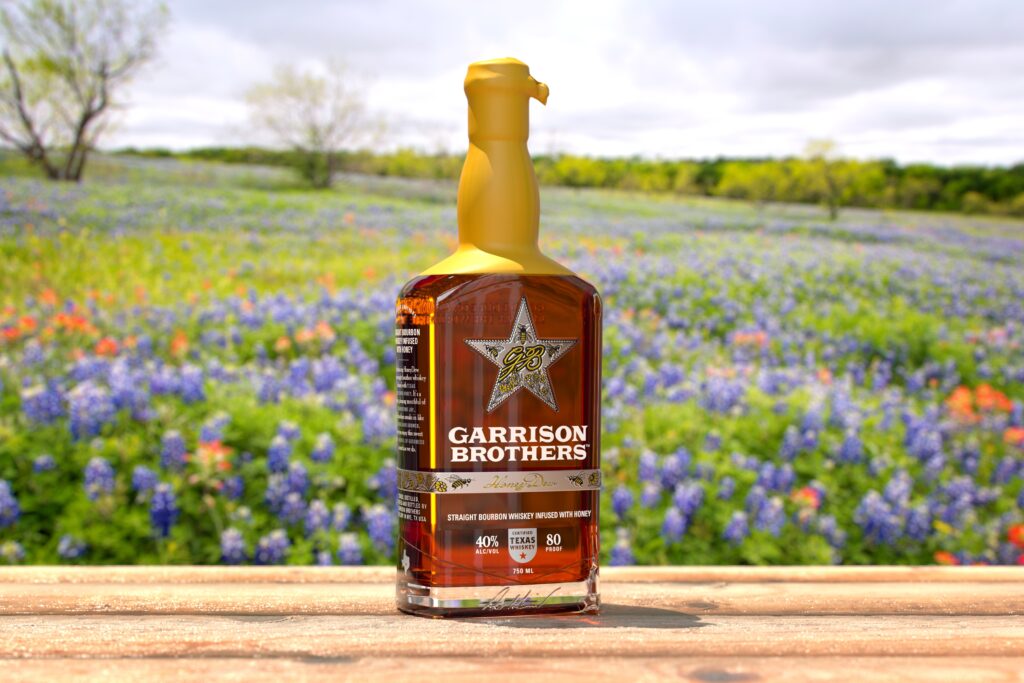 This special release is 13 years in the making and represents a departure from previous expressions created by the brand. Nancy Garrison, business partner and wife of proprietor Dan Garrison, wanted the distillery to produce a honey-infused bourbon whiskey since they started the business together in 2006. Dan strongly objected due to his disdain for "flavored whiskies," hence the name "HoneyDew," as a play on "Honey Do" requests. Garrison's objections to flavored whiskies come from the fact that so many are syrupy, chemical concoctions; several even made with propylene glycol. 
Master distiller Donnis Todd emptied 176 four-year-old Garrison Brothers Small Batch Bourbon barrels, coopered by Black Swan Cooperage, into a stainless-steel tank, where the liquid mellowed for seven months. He then decimated all the empty bourbon barrels by sawing them into small wooden cubes. He immersed the cubes in Burleson's Texas Wildflower Honey. The cubes were then infused with more Burleson's Honey by Matt Albrecht of River Drive Cooperage using a patented technique called Fiber Infusion Technology. Once Todd was satisfied that the cubes had absorbed the honey, he used cheesecloth to contain the cubes and immersed them in the stainlesssteel tank of bourbon every day for six months.
"It's exciting to have two family-owned businesses collaborating in support of Texas agriculture and entrepreneurship," said Tim Burleson, president of Burleson's Honey. "It's been a rewarding experience to work with Dan Garrison over the years and we're excited to deepen Burleson's relationship with him and his team. We want to continue bringing fine honey and fine bourbon together for everyone to enjoy."
The new bourbon has tasting notes of sweet elderberry syrup, yellow-flesh peaches, apricots, white chocolate, and of course, delicious, golden Texas honey.
"I've been drinking bourbon since I was 13 years old. Our HoneyDew is the most magical nectar I have ever tasted," said Garrison. "It is light, delicate, gentle, floral, and perfect for sipping on the porch in the summertime. Donnis knocked it out of the park. It deserves to be behind every sophisticated bar in America."
Garrison Brothers will celebrate the release of HoneyDew with a drive-thru sealed bottle sales day at their distillery in Hye, Texas on Saturday, July 18. Per state law, the bottles are sold for off-premise consumption.
HoneyDew will be available at the distillery in Hye, Texas, for $89.99 beginning July 18. Bottles will then be distributed to select liquor stores, bars, and restaurants across the nation, available for purchase nationwide the week of August 1.