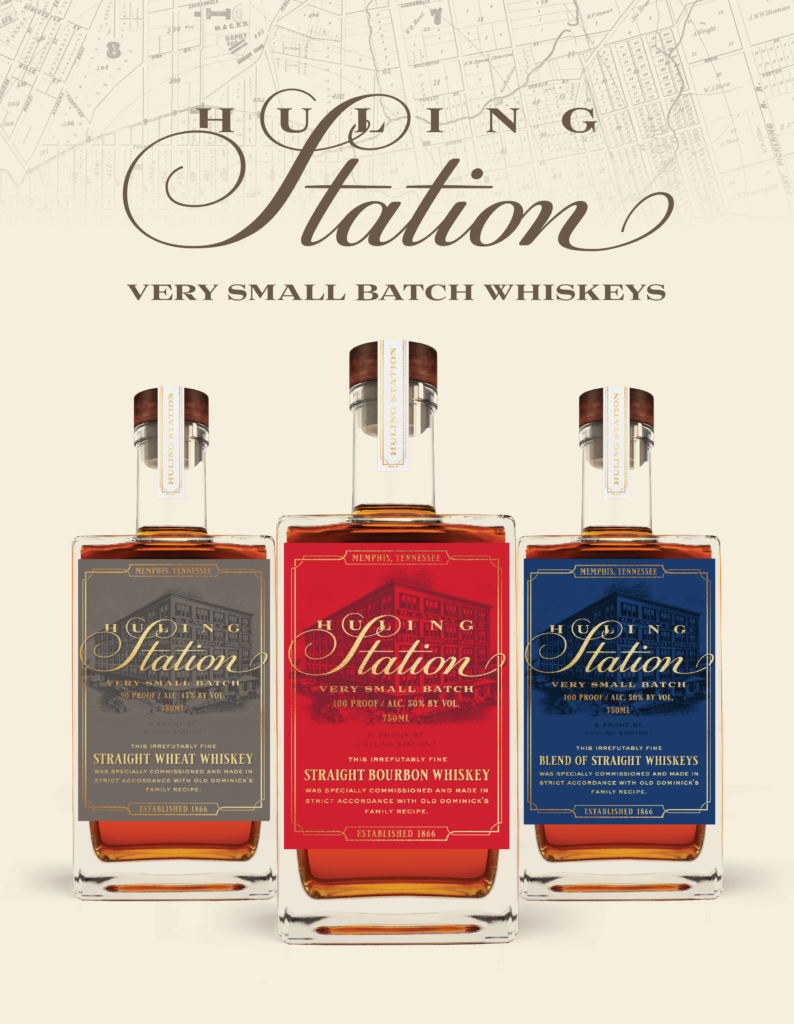 Old Dominick Distillery of Memphis, Tennessee, will introduce a Straight Wheat Whiskey and a Blend of Straight Whiskeys to the Huling Station lineup beginning Aug. 1.
"Old Dominick continues to innovate and evolve," says Chris Canale, president of Old Dominick Distillery, "and I am very humbled to be part of a family business with such a rich history. The Huling Station warehouse was our company's home for more than a century and today stands as a reminder that there is no substitute for quality." Canale's great-great grandfather, Domenico Canale, began selling whiskey under the Old Dominick label from the storied warehouse in 1866. "These new releases under our Huling Station line are two very exciting developments in what has already been a successful year launching the Old Dominick Gin."
"Huling Station from Old Dominick is about balancing tradition with innovation- the highest rye content bourbon on the market, now a wheat whiskey, and a blend of the two," says Alex Castle, master distiller and senior vice president of Old Dominick Distillery.
The wheat whiskey project began in 2014, according to Alex Castle. "We knew we wanted Old Dominick to have a well-rounded whiskey portfolio, so it made sense to us to develop a wheat whiskey in addition to our Huling Station high-rye bourbon." The Old Dominick team worked with MGP in Lawrenceburg, Indiana, developing the final mash bill and the barrel entry proof. Huling Station Straight Wheat Whiskey is bottled at 90 proof. "The first few years of aging were a bit nerve-wracking for me because wheat whiskey seems to age slower and it wasn't progressing at the same rate as our bourbon; however, after the winter of 2018, the wheat turned a big corner and suddenly we had a very pleasant, flavorful whiskey," says Castle. "For me, this product is a great introductory whiskey, it has a much lighter flavor and is bottled at a lower proof than the Huling Station Straight Bourbon, so it is more approachable."
Huling Station Blend of Straight Whiskeys is "unique," describes Castle. "While we see whiskeys that are a blend of bourbon and rye whiskey, there isn't a whiskey that combines bourbon with wheat whiskey." According to Castle, "Huling Station Blend has the best of both worlds – the rye spice of the bourbon and the light grassy notes of the wheat whiskey." The Huling Station Blend is 50% high-rye bourbon and 50% wheat whiskey.
Huling Station Straight Wheat Whiskey Product Notes
Mash Bill: 83% Wheat, 12% Corn, 5% Malted Barley
Proof: 90 proof
Huling Station Straight Wheat opens with a light, sweet honey, and delicate grassy indication on the nose. The palate carries a hay-forward lightness with hints of the same pale honey featured in the nose, bookended by a surprising flash of smoked oak before settling into a medium, lightly sweet finish.
Huling Station Blend of Straight Whiskeys Product Notes
Blend of 50% Straight Bourbon and 50% Straight Wheat Whiskey
Proof: 100 proof
Huling Station Straight Blend of Whiskeys features a slight wisp of warm baking spices on the nose, complemented by a hint of smoky oak. The palate offers up a creamy, warmed honey sweetness with short bursts of a pleasant grassy note that tapers into a rye warmth to go with its slightly higher proof. The finish is lingering and peppery with another appearance by the smoked oak to close it out.
Huling Station Wheat and Blend Whiskeys, both very limited releases, will be available in select states beginning August 1st, 2020 and will range in price from $44.99-$49.99. Old Dominick products are available in the following states: Arkansas, Georgia, Mississippi, Missouri, South Carolina, Tennessee, Texas, and Wisconsin. Old Dominick plans to add Kentucky and Illinois to their repertoire in August of 2020 as well. Old Dominick products can also be purchased online, visit www.olddominick.com/shop for a list of online retailers.