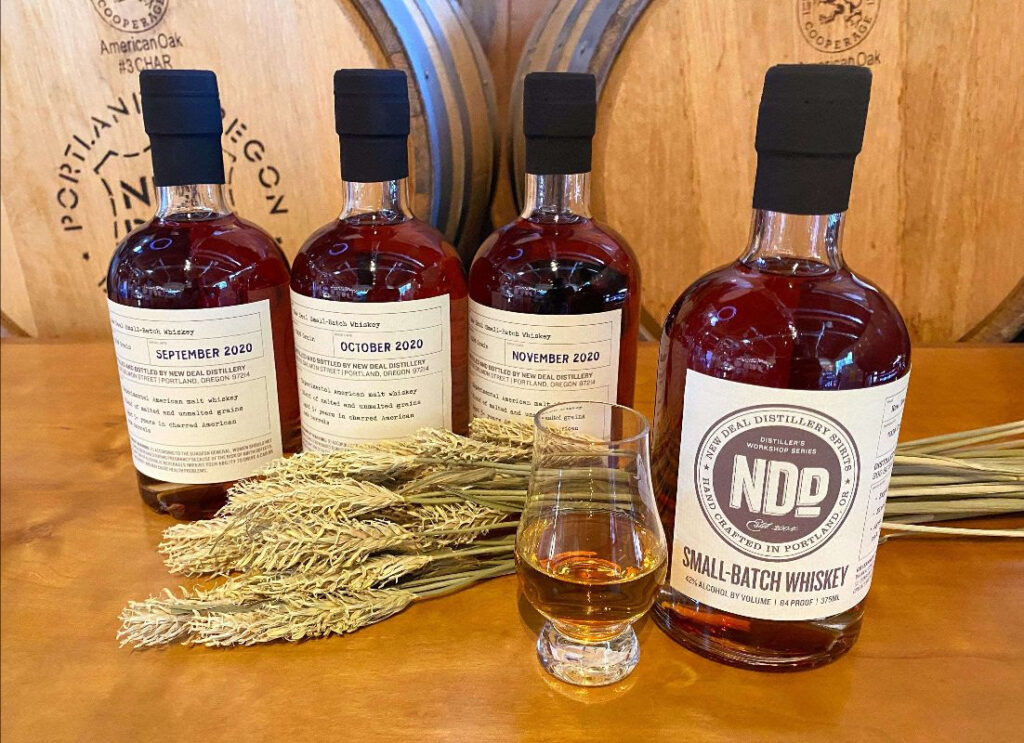 This fall, Portland, Oregon's New Deal Distillery will release a series of 5-year malt whiskeys, debuting a new offering in September, October, and November. Each small batch selection explores a different combination of traditional and experimental grains, giving each whiskey in the trio a unique profile. For those who are interested in discussing all three, a virtual tasting with the distiller is in the works.
"American malt whiskey is a category largely ignored by the big Kentucky distilleries," says New Deal owner and distiller. "It's been the craft distillers who have explored the American expression of malt whiskey. We had fun experimenting with some uncommon mash bills and thought it would be fun to release these as a series. We like to put out something special around the holidays and this year definitely calls for more whiskey."
This spirit of exploration and innovation led to the formation of the American Single Malt Whiskey Commission (ASMWC) in 2016. American Single Malt Whiskey is an emerging category so new that it is yet to have an official Standard of Identity. The purpose of the ASMWC is to define and protect the basic tenets of this category, illustrating what it has in common with other regions as well as what distinguishes it as a uniquely American spirit. New Deal's October small batch release is their contribution to this emerging category, meeting the strict credentials of an American Single Malt whiskey as proposed by the ASMWC.
Tastings and tours are on hold due to Covid-19, but the New Deal Bottle Shop is open for business. Orders can be placed online for Curbside Pickup seven days a week.