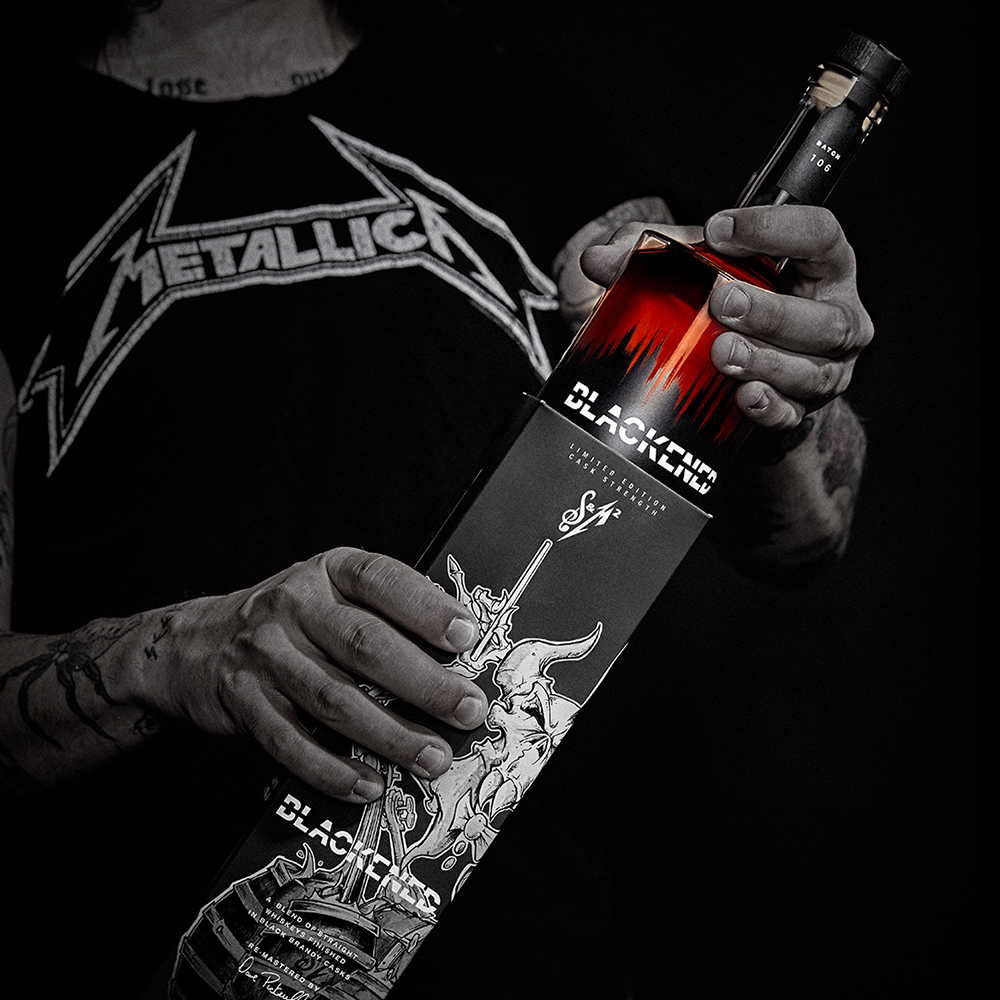 Sweet Amber Distilling Co. has announced the launch of BLACKENED American Whiskey's Cask Strength program, debuting with Batch 106. Under the direction of the brand's Master Distiller and Blender Rob Dietrich, the limited edition Batch 106 Cask Strength expression features the same finest, hand-selected blend of bourbons and ryes in the original with a higher proof and is sonically-enhanced to the celebrated S&M2 playlist in the BLACK NOISE finishing process. It's available only at select Kroger Supermarket locations in Kentucky and Luekens Wine & Spirits in Florida and comes in a collectable box with featured artwork from renowned artist and Metallica collaborator Squindo. 
Launched in 2018 in collaboration with Metallica and late Master Distiller Dave Pickerell, BLACKENED is a blend of North America's finest bourbons and ryes. The whiskies have been individually aged for an average of 8+ years before combined in black brandy casks and pummeled to the low-hertz frequencies of Metallica's music through the proprietary sonic-enhancement process called BLACK NOISE finishing process. BLACKENED's Cask Strength features the same blend in the original and undergoes the BLACK NOISE™ method, but rather than BLACKENED's standard 90 proof, Cask Strength is bottled at 110.7 proof.
"I'm excited to debut the first expression in our Cask Strength program with our fans and whiskey aficionados," says Rob Deitrich, BLACKENED's Master Distiller & Blender. "Metallica packs a punch with their performances, which is epitomized with the S&M2 album release. The Cask Strength version offers BLACKENED in its purest form while emulating the powerhouse musicians behind it."
As with the rest of Batch 106, the Cask Strength version will be available in a commemorative box featuring original, BLACKENED x S&M2 Squindo artwork to celebrate the use of the S&M2 playlist in the sonic enhancement process. Squindo has been working with Metallica since 1999 to create an assortment of graphics, from posters to tour merchandise to toys to shifter knobs and much more. Further, those that purchase Batch 106, either Cask Strength or standard, will have the opportunity to enter a sweepstakes to win a limited edition t-shirt featuring Squindo's art from the S&M2 specialty pack. The contest begins on October 14, 2020 and runs through November 14, 2020 with multiple winners selected on a daily basis.
On the nose, you'll find notes of maple syrup, vanilla, almond, corn husk, white pepper, and cinnamon bark. A sip offers a warming butter-cream mouthfeel that rolls through to almond, nougat and pear with a drying walnut, cinnamon and butterscotch finish. Add a small drop of filtered water and the heat softens up immensely, opening the whiskey and allowing a more prominent flavor profile.
BLACKENED American Whiskey Batch 106 Cask Strength is available exclusively in Kentucky at Kroger Supermarkets and Tampa at Luekens Wine & Spirits with an SRP of $54.99. The brand will continue to roll out premium, limited edition Cask Strength versions with each upcoming batch for the rest of 2020 and into 2021.
For more information, visit blackenedwhiskey.com and on social media at @blackenedamericanwhiskey.