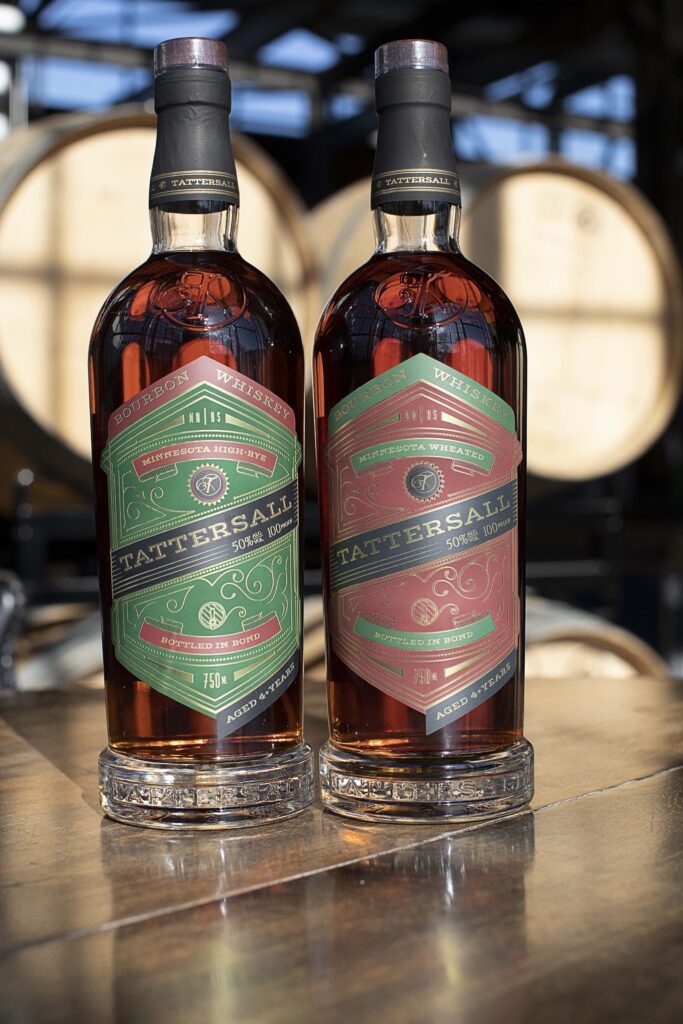 Minneapolis-based Tattersall Distilling announced the launch of two bottled in bond bourbons—High-Rye Bourbon and Wheated Bourbon. Tattersall says this marks the first bottled in bond spirits made in Minnesota since before Prohibition. Both bourbons are made from local grains and have been aged in Minnesota white oak barrels between four and five years. With exceptionally smooth finishes, Tattersall suggests they are best sipped neat.
"It's been a true test of patience waiting for our bourbons to mature — and we couldn't be happier with the results," says Jon Kreidler, founder and chief officer of Tattersall Distilling. " It's a thrill to be the distillery that brings bonded bourbons back to Minnesota, and to do so with two that are distinctly different."
These are Tattersall Distilling's first two bourbons released to the public after nearly six years of operation. Tattersall's Wheated Bourbon reflects more of a traditional, sweet bourbon while the High-Rye Bourbon sits on the other end of the spectrum, being much spicier and drier. Though both will be released at the same time, each has a unique taste profile.
A bottled in bond spirit is one made according to the U.S. Bottled-in-Bond Act of 1897. ​The designation denotes that the spirits are the product of one distillery from a single distillation season, are bottled at 100 proof or 50% ABV and have been aged for at least four years in a bonded warehouse.
Product specs include: Tattersall's High-Rye Bourbon
● 750ml bottles, $49.99
● N​otes of black pepper, graham cracker and dried fruit Tattersall's Wheated Bourbon
● 750ml bottles, $49.99
● Hints of sweetness with caramel, vanilla and stone fruit undertones Both bottles will be released in limited quantities and​ can be purchased at select retailers throughout Minnesota, found here: ​https://tattersalldistilling.com/tattersall-finder/​, while supplies last.