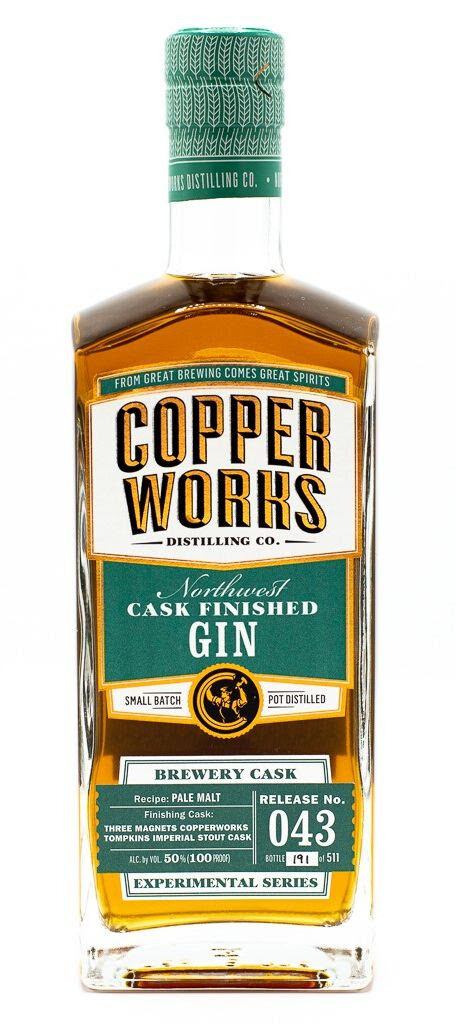 Seattle-based Copperworks Distilling Co. last week released Copperworks Imperial Stout Cask Finished Gin, the first of its collaborations with Three Magnets Brewing Co.: This gin was finished in a cask that previously held Copperworks Whiskey, then held a Three Magnets stout.
Three Magnets aged its Tompkins Imperial Stout in American Oak barrels Copperworks had used to mature Copperworks American Single Malt Whiskey. The distillery retrieved the barrels and filled two of them with Copperworks Whiskey (released in 2019) and two with Copperworks Gin. The gin rested in the barrels for just over a year.
Tasting Notes: This gin opens with aromas of vanilla, creamsicle, cloves, and coffee cake. Flavors feature cacao, incense, and lemon zest, with a long finish reminiscent of burnt sage, suede and olive oil.
How it Looks: You might notice that this gin looks a bit hazy. The haze comes from the beer that was previously in the barrel. That delicious beer remnant on the barrel staves has given the gin a bit of a haze and because we don't filter our spirits, we've retained all the flavor.
Copperworks Imperial Stout Cask Finished Gin
511 bottles (750ml) available; 50% ABV
$49.95 (not including taxes or shipping)
Buy now.