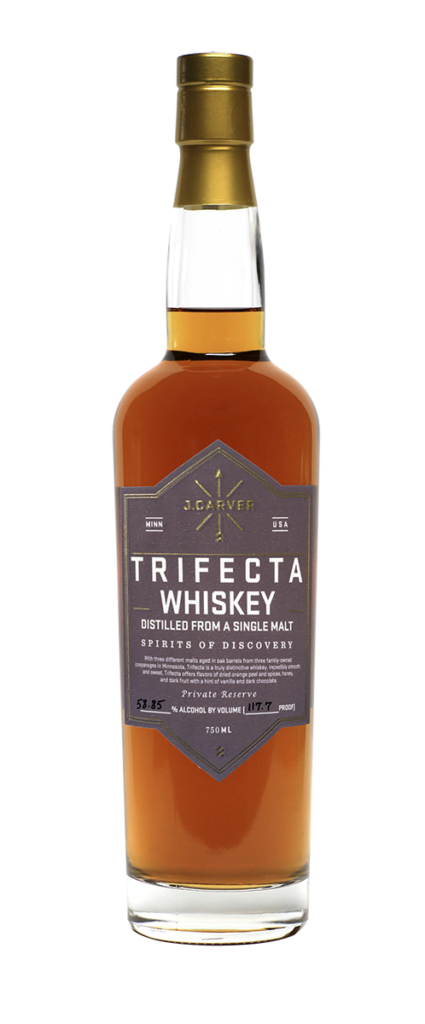 Just months after the highly successful introduction of cask strength single malt Etiquette Whiskey, J. Carver Distillery has announced the limited release of its second cask strength single malt Trifecta Whiskey. The distillery calls it "an unusually complex whiskey distilled from a trio of malted barleys and aged over four years in three types of experienced J. Carver spirits barrels produced by three local cooperages—a true trifecta of sorts."
"The last product planned when we began production in 2014, Trifecta is perhaps the finest example of our 'Spirits of Discovery,'" says Bill Miller, a Founder of J. Carver Distillery.  "The emerging market for craft distilleries in America is single malt whiskey, which is based exclusively on malted barley and produced on-site by a single distillery. This very unique single malt whiskey was developed in collaboration with our friends at BSG, a subsidiary of Rahr Malting based in Shakopee, Minnesota," adds Miller, "and is based on a proprietary blend of three separate malted barleys. The blend was aged in used J. Carver Bourbon, Rye and Barrel Gin barrels, has not been chill-filtered and has been bottled at cask strength. The combination of these factors assures that this single malt whiskey maximizes the richness and complexity of the malted barley and new and used J. Carver barrels, and the uniqueness of our distillation techniques."
"Those who enjoyed our recently introduced Etiquette Whiskey are in for another treat once Trifecta hits their lips," notes Gina Holman, founder and managing ;artner of J. Carver Distillery. Continues Holman, "Our customers are thrilled for the release of our second unique single malt and although production is limited to fewer than 500 bottles, they will be available to scotch-lovers and whiskey aficionados just in time for Valentine's Day. Trifecta is a distinctive whiskey with flavors of dark chocolate, espresso, baking spice, hazelnut, dried bitter orange peel, apricot, dark toffee, caramel, vanilla, cereal, and nougat. "For this Valentine's day, flowers and chocolate are great for your sweetheart, though Trifecta completes the trifecta.  Coinciding with the introduction of Trifecta Whiskey, we are pleased to announce the introduction of Bad Weather Brewing's Ominous Double Brown Ale aged in our experienced Trifecta barrels."
"We've been aging different beers in various J. Carver barrels for over 3 years now at Bad Weather Brewing Company. So when we got the opportunity to use a special barrel like Trifecta we couldn't pass it up. The timing was perfect as our winter seasonal Ominous was already aging in the tank when these barrels became available. Ominous is a Double Brown Ale that has similar characteristics to Trifecta that meld really well together," saysAndy Ruhland Head Brewer with Bad Weather Brewing. Limited 750ml bottles of Ominous Double Brown Ale will be available at the brewery only starting on Feb 8th.
Newly released J. Carver Distillery Trifecta Cask Strength Whiskey – Distilled From A Single Malt is available for wholesale purchase exclusively through St. Paul-based distributor The Wine Company. Consumers can search the store finder at www.jcarverdistillery.com for retailers by city or zip code. Trifecta is currently now available at many fine spirit shops including South Lyndale Liquors, Solo Vino Bottle Shop, The Vintage Chanhassen, Dennis Brothers Liquors, Shorewood Liquor, France 44, Dolce Vita Wine Shop, MGM Waconia, MGM Spring Park, MGM Tonka Bay, MGM Chanhassen, 1010 Washington Wine & Spirits, Excelsior Vintage, Northbound and Westbound Liquor Stores in Elk River, and available this week at these following retailers just in time for Valentine's Day gifts including North Loop Wine & Spirits, Wayzata Wine & Spirits, Surdyk's Liquor, Marshall Liquors, Harbor Wine & Spirits, Lakeside Wine & Spirits, Lowry Hill Liquors, Liquor Hutch, Hennepin Lake Liquors, Lake Wine & Spirits, Lunds and Byerlys Wine & Spirits, Good Times Liquor in Norwood, Brooklyn Center Liquor Store #1 as well as these fine restaurants including Giannis Steakhouse and Winchester & Rye Whiskey Lounge, and The Nicollet Diner.
J. Carver Distillery
Trifecta Cask Strength Single Malt Whiskey 750ml
· Trifecta Whiskey is an unusually complex single malt whiskey with rich and intriguing flavors of dark chocolate, espresso, spice, hazelnut, dried bitter orange peel, apricot, dark toffee, caramel, cereal, nougat and vanilla.
· Distilled from a trio of malted barleys, and aged over four years in three types of experienced J. Carver spirits barrels produced by three local cooperages
· A true trifecta of sorts
· Non-chill filtered and bottled at cask strength
· Less than 500 bottles produced
· Handcrafted entirely on-site in Waconia, Minnesota
Trifecta Cask Strength Whiskey – Single Malt Tasting Notes:
Color: Mahogany
Aroma: Sweet nose, dark chocolate, espresso, and dried dark fruits.
Mouth-Feel: Smooth, rich and soft, elegant for a Cask Strength Whiskey.
Flavor: An amazing balance of sweetness and spice. Rich with intriguing flavors of dark chocolate, espresso, spice, hazelnut, dried bitter orange peel, apricot, dark toffee, caramel, cereal, nougat, and vanilla
Finish: Long, smooth and silky finish
Aged: 48+ months
Proof: Cask Strength 117.7
Mash Bill: 100% Malted Barley