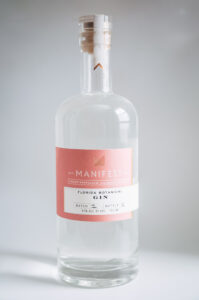 After nearly two and a half years of research and trials, Manifest Distilling of Jacksonville, Florida, will release its Florida Botanical Gin. This newest certified organic gin highlights a delicate balance of botanicals that can all be found growing within Florida. An homage to the state's largest agricultural industry, it contains three different citrus varieties: orange, lemon and grapefruit. Accentuated with the fresh, sweet and earthy flavors of sumac, elderberries, orris root, rose hip and blackberry leaves, the result is a delicate, airy spirit that blooms with an array of citrus and floral notes.
"We approach all our spirits with the intention of showing a sense of place," said David Cohen, president of Manifest Distilling, in a press release. "Our Florida Botanical Gin is the first in our lineup where we looked to the flavors within our state to develop a profile highlighting the terroir of local agriculture. The result is something beautiful, balanced, delicate and round."
The Florida Botanical Gin will be available starting on Friday, March 19 from 2-7 p.m. in Manifest Distilling's tasting room in downtown Jacksonville. It will be sold in 750-mL bottles for $36.