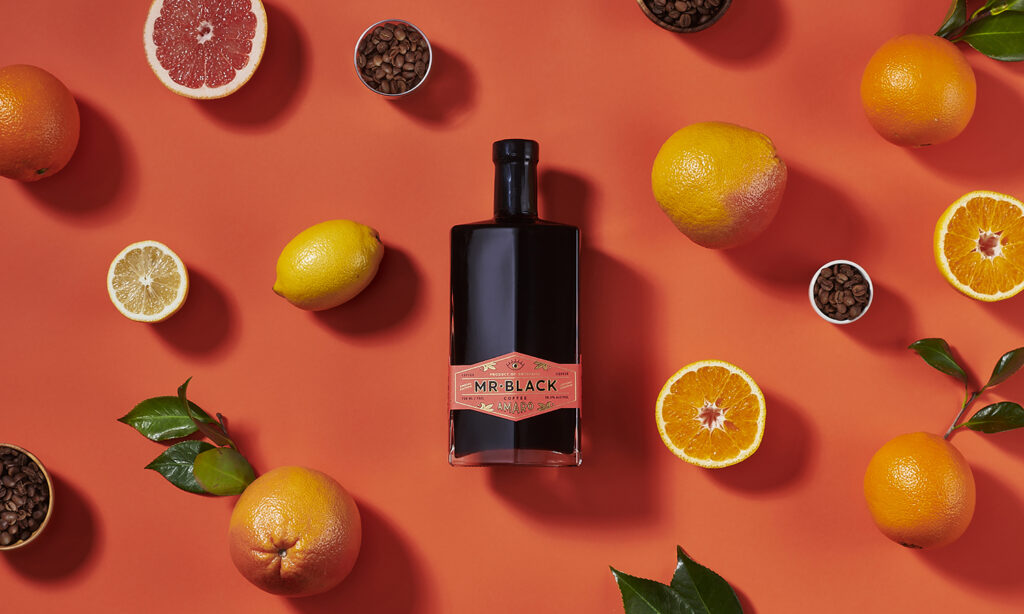 Mr Black Roasters & Distillers announces the U.S. debut of its specialty coffee liqueur—Mr Black Coffee Amaro. This expression is a bitter liqueur inspired by two iconic drinking heritages, Italy's after-dinner drink tradition, and Australia's coffee culture. The launch of the original Mr Black reinvigorated the coffee liqueur category and helped bring upon a golden age of coffee cocktails. The launch of Mr Black Coffee Amaro is continuing their mission to create groundbreaking spirits and bring well-crafted, flavorful liquid to discerning drinkers everywhere.
Crafted with bittersweet Arabica coffee, fourteen carefully selected distillates and macerated fresh botanicals such as citrus from the brand's distillery garden in Erina, Australia, and native Australian botanicals — Mr Black Coffee Amaro is a modern take on the traditional Italian bitter liqueur.
Boosted by the demand for at-home cocktail making, according to Nielsen's, sales for coffee liqueurs grew 23.7 percent, with Mr Black ranking as the second fastest-growing liqueur overall on e-retailer Drizly in 2020. Both coffee and Amaro have long been prized for their qualities as digestive drinks enjoyed at the end of a meal or in classic cocktails. With their bitterness, herbal complexity, fruit flavors, and subtle sweetness, Amari has turned from being simply known as a traditional Italian aperitif to being firmly embraced from behind the bar to those at home, cementing its place in modern drinking and cocktail culture.
Mr Black Coffee Amaro is unmistakably Mr Black, with hints of bitter gentian, orange peel, local grapefruit, and toasted coffee. Overall, the liqueur has a high-quality bitter finish without overwhelming the palate. Though many associate Amari with the intensely herbal 'Fernet' style, Mr Black's modern Australian amaro is more akin to the round, dark caramel notes of Averna, Nonino, or Nardini. Native Australian ingredients sourced locally including Illawarra Plum and Macadamia also impart a unique flavor. While all Mr Black expressions can be enjoyed simply neat or over ice, Coffee Amaro is equally at home in a stiff cocktail or a long, refreshing tonic spritz.
Tom Baker, co-founder of Mr Black notes in a press release: "What people might not know about Mr Black, is our coffee roastery is also a world-class gin distillery. Our Co-Founder Philip Moore is Australia's highest awarded gin distiller, being the only Australian to have won Gold at the London International Wine & Spirits Competition. We make coffee by night and distill botanicals during the day. Our Coffee Amaro is the extension of my love and worship of coffee and Philip's 30-year botanical obsession".
Head distiller, Philip Moore notes: "Amaro is essentially a botanical drink, similar to gin or absinthe, so blending that idea with the specialty coffee craftsmanship of Mr Black was something I really enjoyed developing".
The release of Mr Black Coffee Amaro (SRP $59.99) will see only 1,200 bottles available across the US through MrBlack.Co and select outlets in NY & CA. For more information, visit mrblack.co and on social media at @mrblackspirits