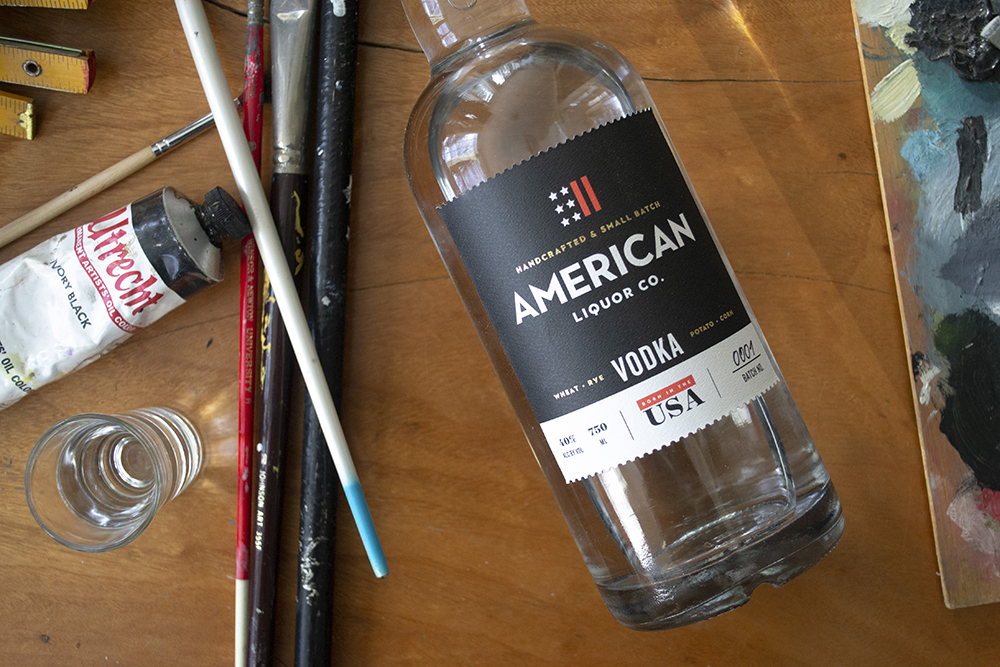 American Liquor Co. Vodka, the first ever 4-crop vodka blend made from locally-grown winter wheat, light rye, Rio Grande potato and white corn, is now available for direct-to-consumer (DtC) delivery via www.shopamericanliquor.com.
The four ingredients are distilled locally by a select handful of the finest distillers in the Midwest and then artfully blended. The result is a multi-layered spirit balancing the nuances of each ingredient in a single glass. Clean and refined yet distinctively complex and full of character, it signals a flavor renaissance in the traditionally neutral category and gives drinkers a true taste of the Midwest, whether sipped straight or mixed in cocktails.
American Liquor Co. Vodka was co-founded in 2020 by entrepreneurs and friends William Brumder and Michael Slapp, vodka enthusiasts looking to create a distinctly American spirit that could stand out in a crowded category. To realize their vision the duo turned to a renowned industry veteran and vodka expert as co-founder and master blender: Chris Montana, who made history when he opened the country's first black-owned microdistillery, Du Nord Craft Spirits, in Minneapolis. 
"This project is near and dear to my heart," says Montana. "The ultimate goal was to create an exceptional vodka, but in a highly competitive industry we were able to bring together some of the finest Midwest U.S.A. makers in the spirit of collaboration and creation, and that's something special. It was a challenge finding the best distillates for each ingredient, and then finding the optimal combination for our blend, but after lots of research and tasting we're incredibly proud of the singular final product and excited to share it with the country." 
Beyond just its distillery partners, the brand enlists local makers for every step in the production process, from the bottle and labels to the marketing materials and merchandise. 
American Liquor Co. Vodka is available nationally via the website at SRP $23.99, with current distribution in Ohio, Michigan and Wisconsin. Click here to purchase, or find it on shelves and at the best bars in town.
Tasting Notes
American Liquor Co. Vodka bucks the 'neutral' trend in its category, embracing the underlying flavor profiles and textures of its base ingredients. First you taste the wheat, which has a slightly tart, berry fruit note and a lighter mouth feel. Then comes the corn, which adds a sweetness and velvety mouthfeel with notes of butter and vanilla. Next you get the rye, which tastes a lot like the grain itself and imparts a peppery note. And finally, the potato adds a grassy earthiness that's full, rounded, and creamy.
Mix with dry vermouth for a delicious martini, add spicy ginger beer and fresh lime juice for the best mule around, or chill and sip straight for a vodka with layers of depth and complexity. 
Distillery Partners
Montana and his team found the very best Midwest distillers, each offering a genuine expression of their base ingredient and producing consistently excellent vodkas. The wheat vodka comes from Middle West Spirits in Columbus, Ohio, and Stumpy Spirits in Columbia, Illinois. Yahara Bay in Fitchburg, Wisconsin, crafts the corn vodka. The rye vodkas come from Grand Traverse Distillery in Traverse City, Michigan, and Valentine Distilling in Ferndale, Michigan. And the potato vodka comes from Proof Artisan Distillers in Fargo, North Dakota. American Liquor Co Vodka is then blended and bottled at Temperance Distilling Co. in Temperance, Michigan.