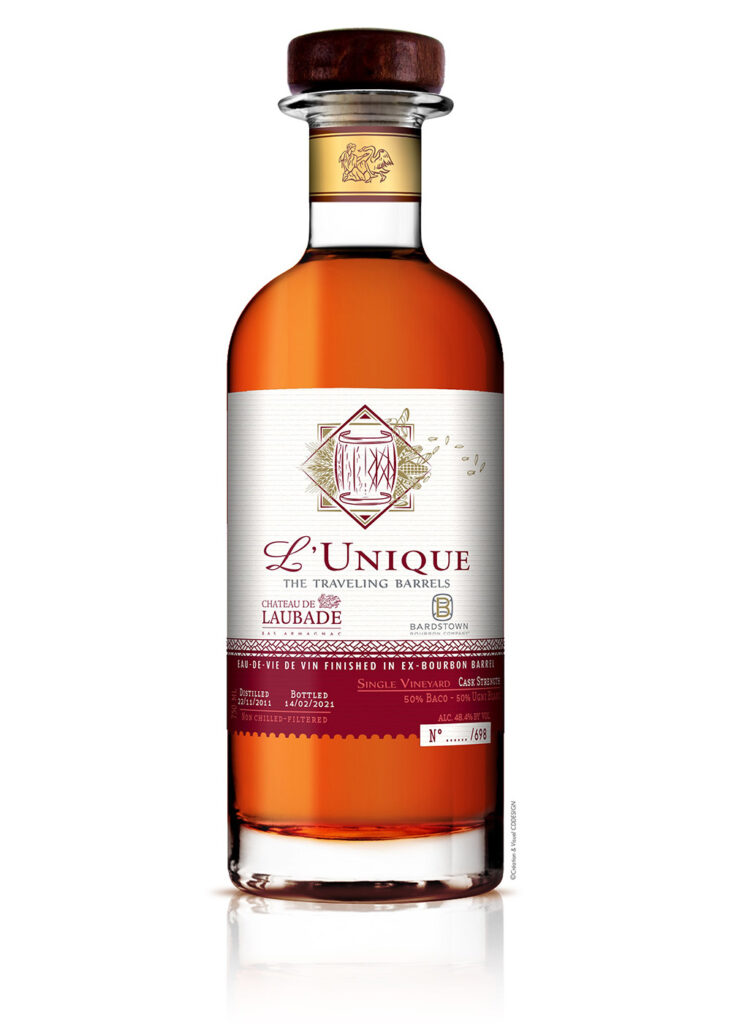 Château de Laubade announced plans to launch a U.S. exclusive 698-bottle release of an Eau de Vie de Vin d'Armagnac finished in a bourbon barrel. The Traveling Barrel is the second opus of Laubade L'Unique series. This collaboration with Bardstown Bourbon Co. will be available in June 2021 in select U.S. markets only (NY, NJ, Wash DC, MA, IL, TN, KY, CA and WA).
L'Unique, The Traveling Barrel is a blend of two eight-year-old Bas Armagnac single casks of Baco and Ugni Blanc grape varietals, finished in one ex-Bourbon barrel for 8 months. In 2018, an emptied barrel was shipped from Laubade, Armagnac, France, to Bardstown Bourbon Co. in Kentucky where it was used for maturing Bourbon. In 2020, this barrel was then shipped back home to conclude its transatlantic journey and give an incomparable finish to the Bas Armagnac.
Creation:
• Blend of 2 Bas Armagnac Single Casks of Baco and Ugni Blanc, both single distilled in 2011 in the house's Armagnacais column still and aged for eight years in Gascony Oak barrels.
• The two Casks were then blended and transferred for eight months in the Traveling Barrel.
• Non chill filtered / no additive.
• Bottled at 48.4% ABV.
The Traveling Barrel: Made of Gascony Oak (black oak) selected in the surrounding forests, this barrel has been aging Bas Armagnacs at Chateau de Laubade for more than 45 years (it has first welcomed a lot of Baco varietal from the 1975 distillation campaign). This barrel was then used by Bardstown Bourbon Co. to age an exceptional 12-year-old Indiana Bourbon for 18 months (mash bill: Corn 75%, Rye 21%, Malted Barley 4%).
Eau de Vie de Vin: Even though L'unique is a blend of two single cask Bas Armagnacs, the spirit does not carry the Bas Armagnac designation as the regulatory bureau has yet to make a clear decision on the types of oak that can be used for such finishes.