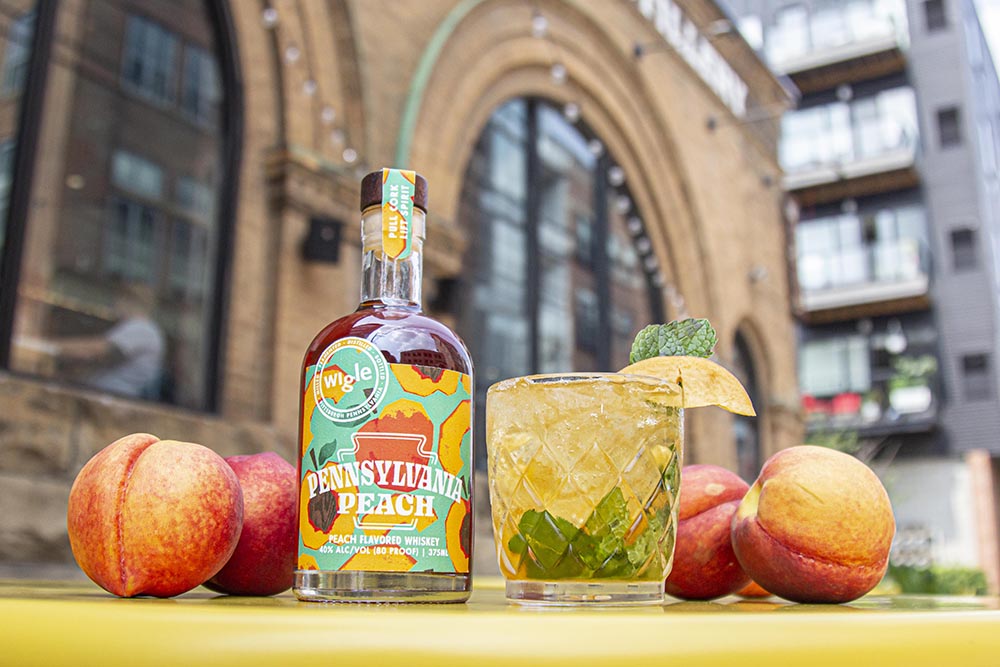 Pennsylvania companies Wigle Whiskey and Tröegs Independent Brewing have teamed up to make Pennsylvania Peach Whiskey, Pittsburgh-based Wigle's first cross-state collaboration with Tröegs of Hershey.
On the inaugural collaboration between Wigle Whiskey and Tröegs, John Trogner, Co-Founder & Brewmaster of Tröegs Independent Brewing states,
"The folks at Wigle are super-nice," said John Trogner, co-founder and brewmaster of Troegs, in a press release. "I like their creative culture. And they're a family-owned business making great-tasting stuff from Pennsylvania ingredients. Can't get much better than that. This collaboration also gave us a chance to use some grain from the Western end of the state, which was new for Tröegs. Sinking those PA roots even deeper."
The half size (375-mL) bottles of Peach Whiskey started off with Wigle's made-from-scratch Straight Whiskey distilled from regionally grown organic wheat grain. The Whiskey was aged for four years in new charred oak barrels and then transferred to Tröegs Freaky Peach beer barrels for an additional five months. Finally, the Wigle team steeped the twice-barreled spirit with peaches and apricots.
"We used an immense amount—220 pounds—of dried peaches and apricots to this single batch and left them to macerate in the heat of the distillery for nearly two weeks," said Taylor Bostock, Wigle's senior distiller. "In true labor of love fashion, we pressed and pressed again the alcohol soaked fruits to ensure all of the delicious peach sugars remained in the whiskey."
The resulting Pennsylvania Peach whiskey boasts peach, mango, brown sugar, and allspice, making it the perfect way to celebrate a Pennsylvania summer.
One dollar from each bottle of Pennsylvania Peach supports Feeding Pennsylvania's win-win mission of connecting food-insecure Pennsylvanians with surplus from local farms.
Preorder $39 Pennsylvania Peach Whiskey for Pickup Here
Preorder Pennsylvania Peach Whiskey for Shipping Here
Pennsylvania Peach Release Party
Celebrate everything Peach, Wigle & Tröegs at the Wigle Distillery on July 29th from 4:30 PM – 9:00 PM. Tickets for this event are $35 and include:
Samples of Pennsylvania Peach from Wigle Distillers
Beer samples from Tröegs Independent Brewing
Live music from local musician Average Joey
A peach, prosciutto ricotta toast appetizer from the Wigle Kitchen
A Pennsylvania Peach infused cocktail called the PA Peach Julep
A peach release exclusive flight featuring Pennsylvania Peach Whiskey, Threadbare Sweet Peach, and Tröegs Freaky Peach Beer.
This event is part of the PA Peach Fest in partnership with Tröegs Independent Brewing, Feeding PA, and Threadbare Cider.