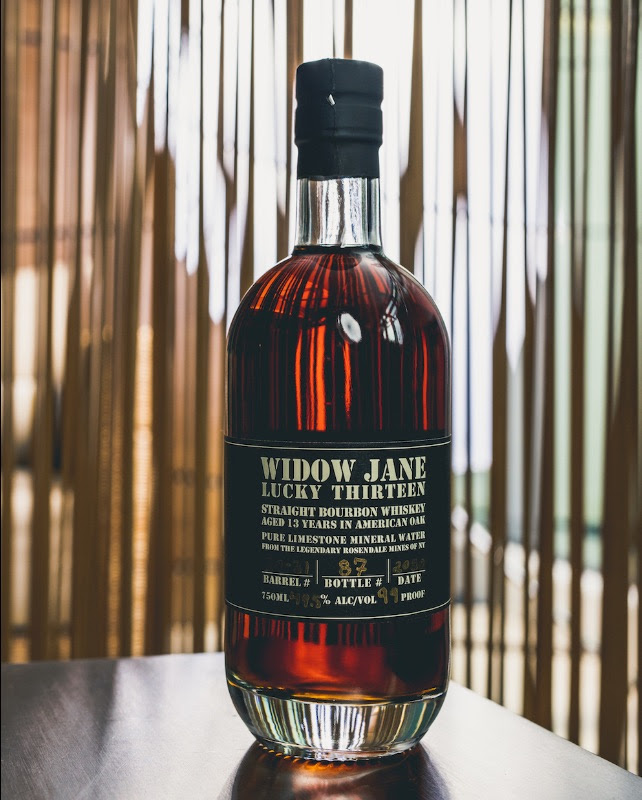 Widow Jane Distillery announces today that it has added Lucky Thirteen Bourbon to its range of year-round offerings. 
Lucky Thirteen is aged 13 years in American oak barrels hand-picked by Widow Jane president and head distiller Lisa Wicker and proofed with limestone-rich water from the legendary Rosendale Mines of New York. Initially released as a private-single-barrel program at a variety of proofs, Lucky Thirteen will now be available exclusively at 93 proof (46.5% ABV) in hyper small batches, little more than a handful of barrels at a time, making this bourbon addition a unique expression of Widow Jane's signature intense, complex profile. 
Wicker notes that the blending process with these aged bourbons is fine and delicate, and that's what makes Lucky Thirteen a real treat; well-aged bourbon in hyper small batches, and absolutely not chill filtered. The resulting whiskey has a rich mouthfeel and lingering finish.
"I see the ability to share really special expressions, like Lucky Thirteen, with whiskey geeks and industry friends as one of the real gifts of this profession," said Wicker in a press release. "As our stock of well-aged bourbon beyond 10 years continued to mature, we were able to match Lucky Thirteen to our signature blending process, consisting of bourbons from Kentucky, Tennessee and Indiana. This was a very natural evolution for us, to make a rich, complex bourbon, while upping the ante in proof to 93, versus our 10 year bourbon's proof of 91."
Lucky Thirteen will now be available year-round, though still in limited quantities. It will be made available in 750-mL bottles at a suggested retail price of $99.99.