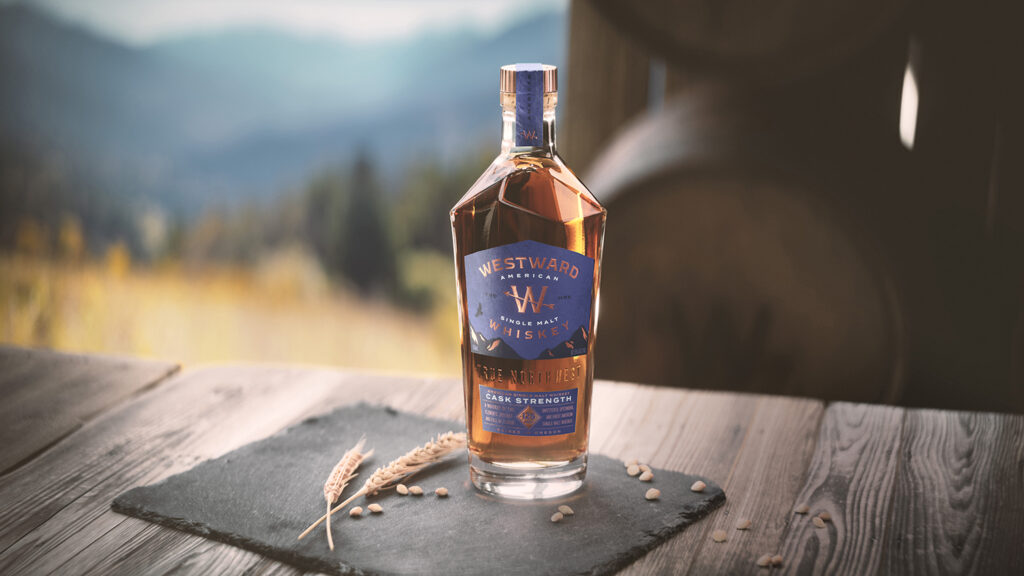 Westward Whiskey of Portland, Oregon, is proud to introduce the unfettered, barrel strength version of its original American Single Malt, Westward Cask Strength. As the brand's fourth permanent expression, consumers across the country can now experience Westward straight from the cask alongside Westward American Single Malt, Westward American Single Malt Stout Cask and Westward American Single Malt Pinot Noir Cask, the company's other flagship whiskeys.
Westward's Cask Strength has already earned recognition as the highest-rated American Single Malt, with a double gold award at the San Francisco Spirits Competition, the industry's most prestigious awards judging. This whiskey best reflects the skillful finesse of Westward's talented team of brewers-turned-distillers and the beauty and bounty of the American Northwest. Cask Strength accentuates the region's rich, locally malted barley, the flavorful beer created in-house with classic ale yeast, and the newly charred American Oak barrels matured to perfection in Oregon, the ideal environment to raise a world class whiskey.
"We're thrilled to be expanding our flagship portfolio of whiskeys as we continually reimagine what single malts can be, said Thomas Mooney, founder and CEO, Westward Whiskey, in a press release. "We first introduced Cask Strength at the demand of our Oregon fans, and over the years, many of our visitors have reached out to ask how they can enjoy this whiskey at home. Today, we are excited to share it with both distillery visitors and whiskey enthusiasts across the country."
Westward American Single Malt Whiskey Cask Strength reflects toasted almond, graham cracker, and black pepper aromas. Flavors include sesame, tobacco leaf and cacao, with a honeyed, deep fiery malt finish.
Cask Strength is available for purchase, along with Westward's portfolio single malts, on WestwardWhiskey.com, with shipping available to nearly 30 states across the country.