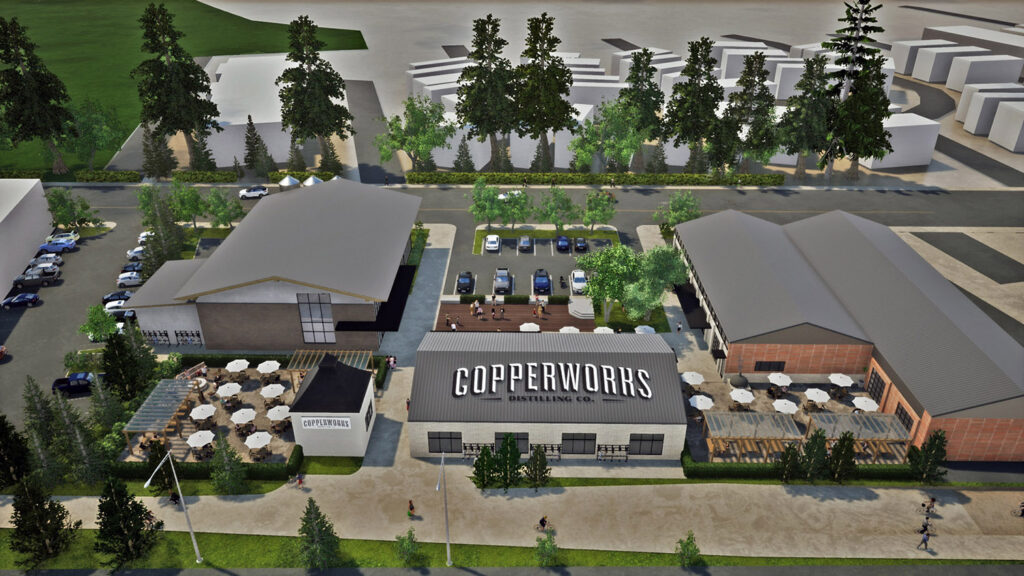 Seattle-based Copperworks Distilling Co. has unveiled three extensive expansion projects to meet the growing demand for its spirits. Copperworks plans to open a new restaurant and cocktail bar in Kenmore, Washington; a new downtown Seattle cocktail bar and event space; and a new production facility in Kenmore. 
The distillery produces small-batch American single malt whiskey, a series of gins, and vodka, all from malted barley. Copperworks' spirits are distilled in traditional copper stills specifically created in Scotland for the distillery and the distillation of each individual spirit.
The rapid-fire growth of the crafts spirits market coupled with the substantial and consistent growth of the American whiskey market offers great opportunities for the future of American single malt whiskey, according to Jason Parker, co-founder and president of Copperworks Distilling Co.
Copperworks Distilling's expansion plans will enable it to increase production ten-fold, and customer traffic is slated to grow by eight times its current level, according to Jeff Kanof, co-owner and vice president of Copperworks Distilling Co.
COPPERWORKS' THREE-PHASE EXPANSION PLANS
Phase I (currently underway): New Restaurant, Cocktail Bar, Event Center, and Barrel Storage in Kenmore, WA
Menus Developed by Food/Beverage Experts
Food Program: The food menu for Copperworks' Kenmore restaurant is being developed by Nick Jarvis, 20-year veteran of the hospitality/restaurant industry who spent seven years opening ventures for Tom Douglas Restaurants. Copperworks' food menu will consist of high-quality pub food with many ingredients sourced from the company's favorite local purveyors, such as Beecher's Cheese, Salt Blade Meats, Sea Wolf Bakery, and Taylor Shellfish.
Bar Program: The bar program for Copperworks' Kenmore restaurant is being developed by Chris Elford, well-known Seattle bar owner (Tradewinds Tavern and Navy Strength) and two-time James Beard Semifinalist. The menu will rotate around the concept of seasonal cocktails focused on each of Copperworks' spirits (whiskeys, gins, and vodka). The bar will also serve cask-finished cocktails (finished in the distillery's own casks) and a selection of classic cocktails. Given that Copperworks was founded by former brewers and starts the process of each of their spirits with high-quality brewing methods, there will be a rotating tap list from some of their best friends in the beer industry, including beers brewed exclusively for Copperworks.
Phase II: Copperworks Downtown Cocktail Bar and Event Facility.
Copperworks will expand its downtown Seattle location into a space next door to its current production facility and tasting room.
The Seattle waterfront is expected to see more than 20 million visitors per year once the area's current construction projects are completed.
This new Copperworks space adds 7,000 square feet of bar, restaurant, event, and educational space next door to Copperworks' existing facility to capitalize on the increased tourism traffic and event space rental opportunities. This will expand the distillery's downtown daily visitor capacity from 150 guests to 575 guests.
Phase III: New Production Facility in Kenmore.
Copperworks will build a new production facility to significantly grow its manufacturing capacity.
"We believe this will allow us to increase our whiskey production by ten times from 120 to 1,200 barrels per year," said Parker.
According to Parker, this growth phase in Kenmore will enable Copperworks to expand the services and amenities it offers to customers, such as cocktails, local beer and wine, food offerings, multiple tour options, events, and more.
AN INVESTMENT IN COPPERWORKS
"We are positioning for the future," said Parker. "Our intention is to align with partners who can help us reach our growth targets and potential. Steps we might take include accepting investments, forming limited partnerships, a merger, or acquisition by a like-minded company dedicated to our quality, brand, and growth goals. Opportunities abound!"
Individuals can now become Copperworks investors to support the distillery as it launches these major expansion plans.
The projects and how to invest can be found on Copperworks' StartEngine campaign page at: https://www.startengine.com/copperworks-distilling.
"We've received hundreds of messages from whiskey lovers across the country who have tasted and enjoyed Copperworks," said Kanof. "Our expansion allows us to bring Copperworks' spirits to as many customers as possible in the Pacific Northwest, U.S., and beyond. And, for those that have always wanted to invest in a distillery, bar, cocktail bar, or restaurant, we're serving them up an opportunity of a lifetime—in one batch!"