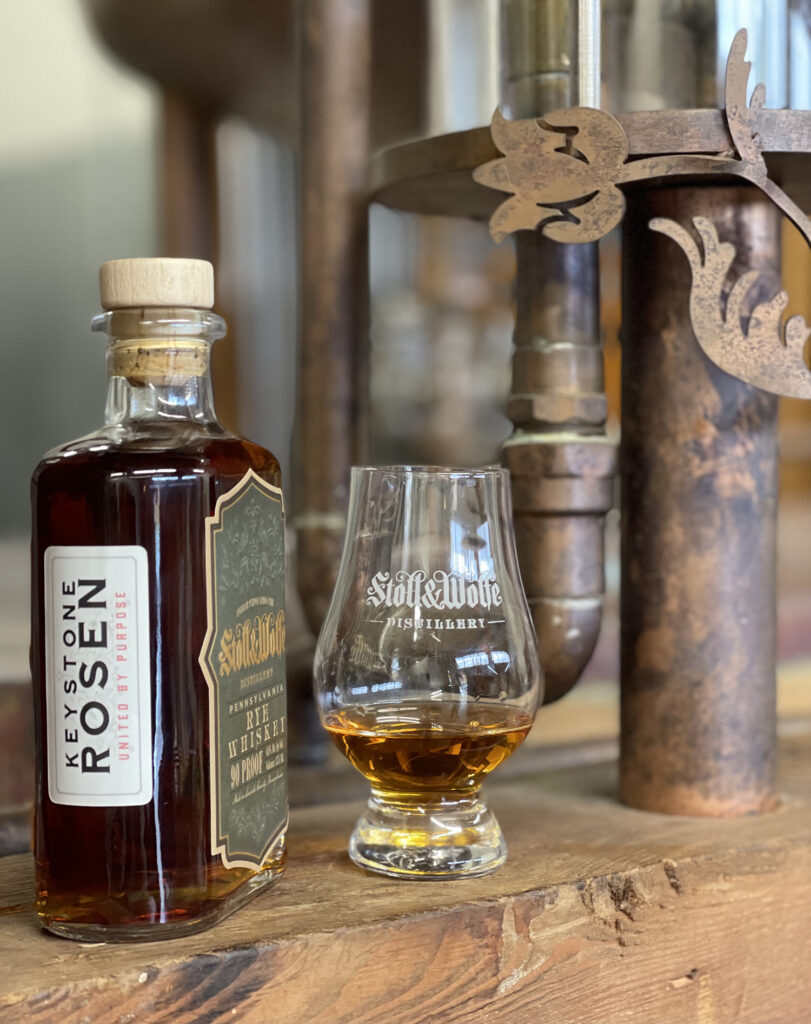 At long last, after half a century, Rosen rye whiskey is available in bottles for sale.
This highly limited single-barrel release of only 100 bottles from Stoll & Wolfe Distillery of Lititz, Pennsylvania, this month will represent the first time in over 50 years that Rosen, a rye grain specifically and historically grown for use in the distilling of Pennsylvania rye whiskey, will make its debut … again.
Rosen rye was introduced to the United States in the first decade of the 20th century and quickly became the most sought-after variety of rye grain, both by small grain farmers and by distillers of rye whiskey, the majority of whom were located in Pennsylvania. Pennsylvania's distilling legacy stretches back to the 17th century. When Rosen rye was introduced, distillers clamored for it and its popularity became so noted that distilleries bragged about its use in their products – including the venerable Michter's Distillery in Schaefferstown, Pennsylvania. The last master distiller to make whiskey at Michter's PA was the legendary Dick Stoll. After years of retirement from distilling, Mr. Stoll partnered with Erik Wolfe, a native of Lititz, to form Stoll & Wolfe Distillery. Their commitment to crafting great regionally traditional rye whiskey meant using heritage grains like Rosen rye to recreate historic rye whiskey recipes.
Unfortunately, Rosen rye grain, a favorite of PA rye distillers, disappeared altogether when farmers no longer found customers to buy it. In order to use this coveted rye in Stoll & Wolfe's products, it would have to be re-grown from scratch. Erik Wolfe found an eager partner to help procure this missing rye grain in Laura Fields, founder of the Delaware Valley Fields Foundation, an agricultural PA non-profit. Fields 'SeedSpark Project would spend the next few years funding the propagation of a small handful of Rosen rye seed into thousands of pounds of grain by 2019. On September 7, 2019, Dick Stoll & Erik Wolfe ran the first batch of Keystone Rosen rye whiskey to be made in the United States in nearly half a century. That distillate filled a 30 gallon, 8-year-seasoned white oak barrel and went into the warehouse at Stoll & Wolfe Distillery the following day. It reached 2 years of age, giving it the distinction of being a straight rye whiskey, on September 8, 2021.
Erik and Avianna Wolfe of Stoll & Wolfe will release their Straight Keystone Rosen Rye Whiskey as a 375ml bottle and through a lottery, with the hopes of being as fair as possible to the eagerly awaiting whiskey enthusiasts hoping to buy a bottle. The first sale of this release will also be in the solemn remembrance of Erik Wolfe's partner, mentor, and dearly departed friend, Dick Stoll, who passed away on August 13, 2020. Proceeds of the sale will go toward Stoll & Wolfe's continued work with the SeedSpark Project and toward the success of their locally based farming partner, Kline Family Farm. Eric and Wes Kline, the present farm owners and cousins to Erik Wolfe, are the 9th generation to tend their family's preserved century farm in the heart of Lancaster County.
Event Details:
When: November 3rd 2021
Where: Stoll & Wolfe Distillery, Lititz, PA
Sign Up for Bottle Lottery: StollandWolfe.com
Proceeds Benefit: The SeedSpark Project, Kline Family Farm