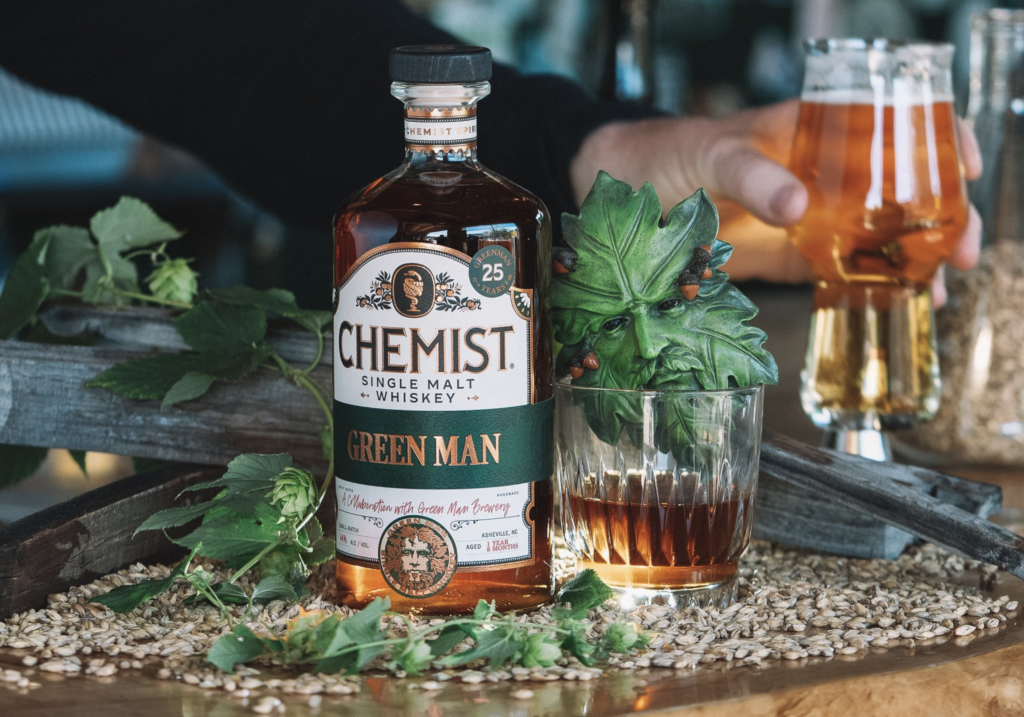 Chemist Spirits of Asheville, North Carolina, announced the release of Green Man 25th Anniversary Single Malt Whiskey, a collaboration with Asheville-based Green Man Brewery. The distillery will release the spirit on Nov. 6.
In 2015 the South Slope Beverage District was full of big dreams. It was in that year Chemist Spirits founder Debbie Word, her daughter Danielle Donaldson, and son-in-law James Donaldson broke ground on their dream of an apothecary themed production distillery. Just around the corner was another dream being constructed, as Green Man Brewery added on to their already established Asheville brand a three-story, 20,000 square foot packaging hall and tasting room called the Green Mansion. Both beverage producers were ready for all the excitement, challenges and growth of their new endeavors — but only 5 years later that momentum hit an unexpected wall.  Neither company could predict that their attention would be solely focused on surviving a global pandemic.
"Covid may have separated us temporarily but it has permanently 'distilled' in all of us how important it is to stay connected to our friends, family and neighbors through both the worst and best of times," said Word in a press release.
"It was important to us to reach out to our neighbors, not only to provide them with the sanitizer we produced here at the distillery, but to genuinely know how we could be of help to our South Slope neighborhood," adds Danielle Donaldson, "In fact, it was Green Man that came to our aid when we were in need of storage for our bottles. Due to supply chain issues we had to order truck loads of glass and they were there to offer us the space we didn't have to store them at the time."
"We were happy to help out with the extra space." adds Green Man owner Dennis Thies, "We love Chemist and all of what they do.  I have been dreaming about a Green Man Whiskey for a long time now, so when we started working together and with our own 25th Anniversary coming up, it just felt like the perfect time for all of us to collaborate on something special."
Chosen as the vessel of this iconic partnership was a Single Malt Whiskey, crafted to perfectly pair traditions from both companies. The core of the spirit is the same cornerstone ingredient that sets apart the quality of every delicious Green Man beer — their signature use of Golden Promise Malt. Brewed with 100% Golden Promise as a wash by Green Man themselves, the resulting fermentation was delivered directly to neighboring Chemist Spirits' back door. Honoring the distillery's own heritage, the liquid was transformed to spirit on hand-hammered, direct-fired, copper alembic stills — an old world methodology practiced by Chemist Spirits to, as Debbie Word puts it, "Craft for full-flavor above all else." Journeying to its final destination, the spirit matured in freshly charred American white oak barrels, emerging just in time to celebrate Green Man's 25th Anniversary as a smooth and complex whiskey with a nose of toasted biscuit and shredded coconut, and an orchestra of rich maltiness, vanilla and caramel on the palate.
Chemist Spirits Green Man 25th Anniversary Single Malt Whiskey is available to purchase starting Saturday November 6th — with a special one time only sampling event taking place at Chemist Spirits between 2-6pm that same day. Representatives from both Chemist Spirits and Green Man Brewery will be in attendance to share stories and education from both craft makers, as well as exclusive Antidote drink specials and prizes. Asheville Humane Society will also be out and about with an Ambassador pup for guests to meet and a $1 of every bottle sold that day will go directly to support their cause for the paws.
Chemist Spirits Green Man 25th Anniversary Single Malt Whiskey is not only a reflection of over two decades of passion and mastery of craft, it's a spirit of collaboration to get us through the tough times so we may raise our glasses together in the good – don't miss picking up your own limited edition bottle November 6th!
Learn more about Chemist Spirits Green Man 25th Anniversary Single Malt Whiskey here :