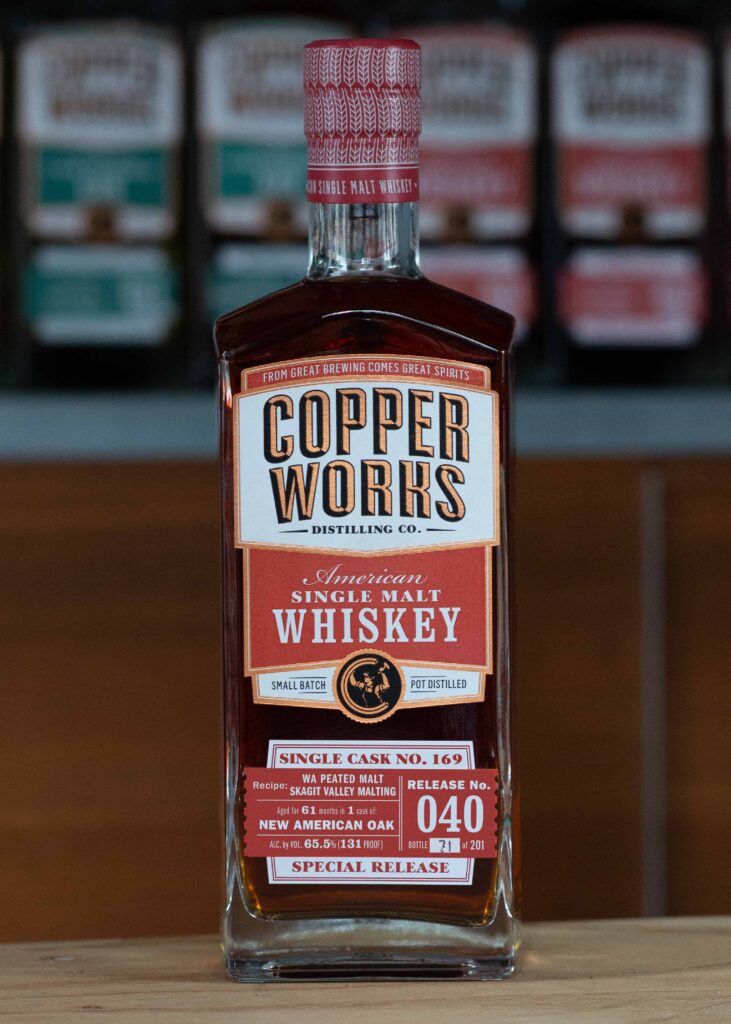 Seattle-based Copperworks Distilling Co. recently announced its latest home-grown partnerships featuring two select Washington state spirits—an American Peated Malt Whiskey developed with Skagit Valley Malting & an Amaro Cask Finished Gin finished in oak barrels from Seattle's Letterpress Distilling.
Last year, Copperworks released its first peated malt whiskey produced with Skagit Valley Malting's peated, malted barley from a Washington state bog. The latest release is a single cask, cask strength version of its Washington Peated Whiskey using ingredients sourced entirely in Washington State.
Release 040 was made from a single cask of whiskey that was brewed and distilled with 100% of the Copeland variety of barley grown in Washington's Skagit Valley, then smoked with Washington peat. It was matured for just over five years in a lightly charred, new American iak cask. The whiskey was bottled at its natural cask strength, clocking in at 65.5% alcohol by volume (131 proof). This is an extremely limited release of only 201 bottles.
"Peat is decomposed organic plant matter that has been compressed in the ground for thousands of years," said Jason Parker, co-owner and president of Copperworks Distilling Co. in a press release. "Harvested peat is burned during the malt drying process, imparting a distinctive smoky flavor to the barley. The peat used by our partner, Skagit Valley Malting, was sourced from a lakebed on the Olympic Peninsula. It's the only peat bog we're aware of in Washington State that can be commercially harvested."
"The flavors of Washington-sourced peat are different than their Scottish counterpart, for the simple reason that decomposed plant matter in Washington is different than plant matter in Scotland," said Jeff Kanof, co-owner and vice president of Copperworks Distilling Co. "Washington peat impart Copperworks whiskey with distinctive and earthy flavors that are uniquely different from its Scottish counterpart."
Tasting Notes
Aromas of chocolate mint, black tea, and lemon custard lead to flavors of honey, cream cheese frosting, butterscotch, and salted caramel. Flavors carry through to the finish, with lingering smoke and a slight earthiness. A great whiskey for the winter months.
201 bottles produced
750ml, 65.5% ABV
$76.49 (not including tax or shipping)
Finished in oak barrels that first held Copperworks Whiskey, and most recently held Amaro Amorino from Letterpress Distilling in Seattle, the limited-release Amaro Cask Finished Gin was finished in what Copperworks calls a "collaboration cask."
Letterpress Distilling aged its Amaro Amorino in a 53-gallon American Oak barrel that Copperworks had used to mature its American Single Malt Whiskey. After aging the Amaro and then sending the cask back to Copperworks, it was filled with Copperworks gin and allowed it to rest for nearly 10 months.
Tasting Notes
"The Amaro and gin botanicals create an explosion of spice, made for holiday sipping!," said Parker. "Aromas of licorice, orange candy, clove, and jasmine, with a definitive punch of exotic spices, cotton candy, bitter orange, pine tar, and mint trail into a long finish. Try it neat or in an Old Fashioned cocktail."
Copperworks Amaro Cask Finished Gin
250 bottles produced
750ml, 50% ABV