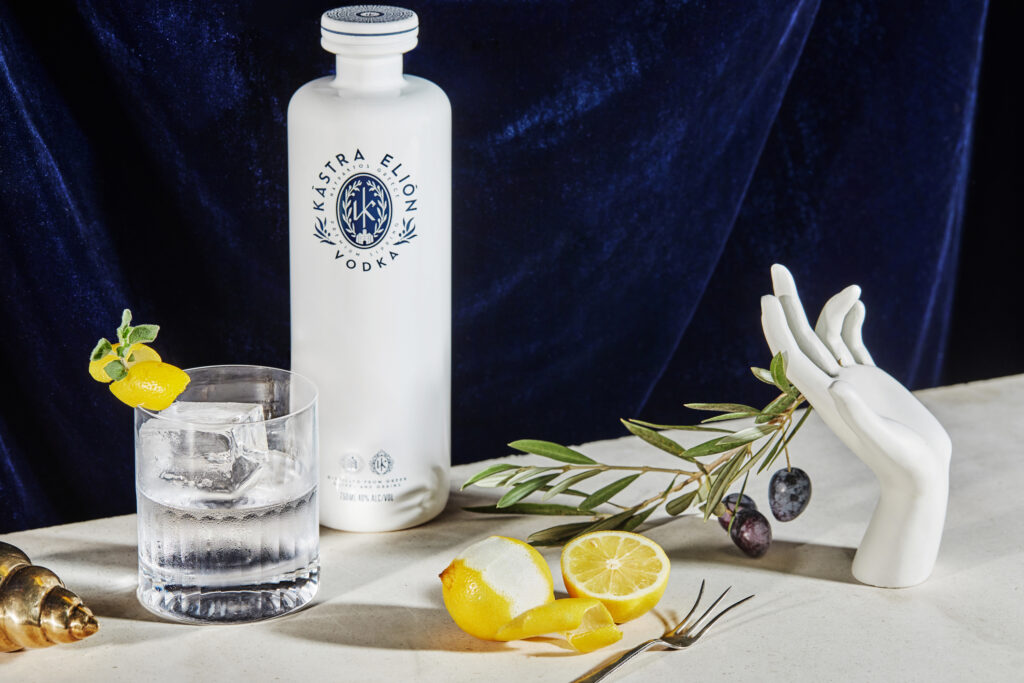 Kástra Elión Vodka, a family-owned spirit from Greece that is three generations in the making, is now available in the U.S.
While most vodkas are made with just grains, Kástra Elión is distilled from the finest hand-picked olives found in the Nafpaktos region of Greece, creating a flavor profile with subtle notes of ripe olives refined with peppery undertones and a soft, buttery finish.
Once the olives have been hand picked, they are blended with a curated mix of grains, later mixed with mineral-rich spring water from the crystalline rock in Mount Taygetus (the highest peak in Southern Greece) – allowing the vodka to breathe and open up an intoxicating complexity and aroma. After a 30-day resting period allowing the vodka to further smoothen, it is bottled and ready to enjoy.
While the distillation process is similar to that of traditional vodka made with grains and potatoes, the difference lies in the way that Kástra Elión prepares and blends its olives. With a completely different sensory profile and smoother finish than many grain or potato-based vodkas, Kástra Elión has an initial sweet taste followed by a more complex, full-bodied, buttery-fruity finish with slightly spicy undertones. Although it is made with olives, there is only a hint of olive flavor in the final product.
"We are very excited to share our vodka, which combines the ingredients and heritage of Greece," said Mike Camello, Kástra Elión co-founder and president, in a press release. "This has been years in the making and has been a labor of love for all of us. Now that we're in the launch phase, we couldn't be more thrilled with both the vodka and the amazing response it has received."
Kástra Elión is 80 proof and sold at a suggested retail price of $55.00 per 750-mL bottle.
For more information on Kástra Elión, please visit kastraelion.com or follow on Instagram and Twitter at @KástraElión.