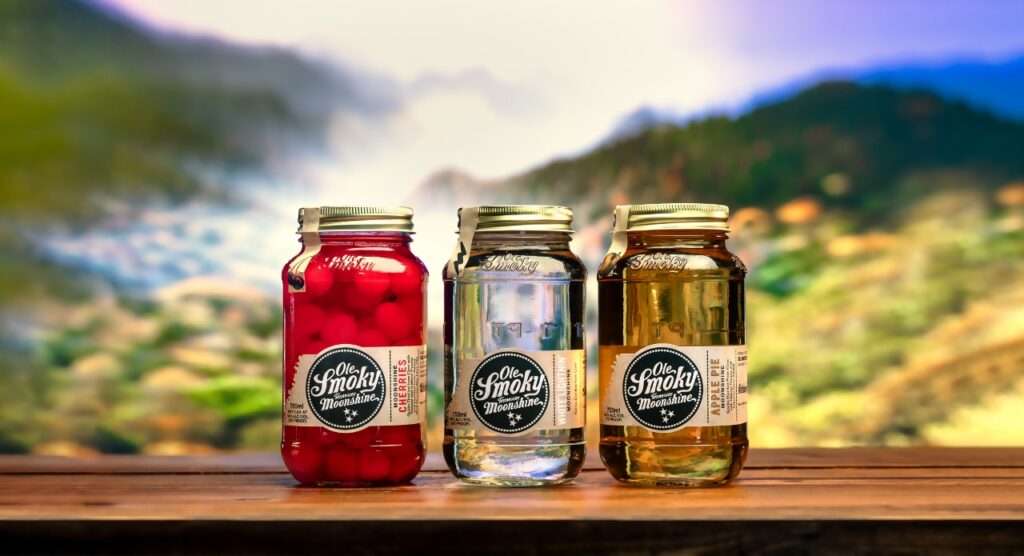 Ole Smoky Distillery of Gatlinburg, Tennessee, is bringing National Moonshine Day to life with a 360 degree marketing campaign and its first annual Shine Fest on June 2.
"Moonshine is a spirit with rich American history, and National Moonshine Day is a way for Ole Smoky to celebrate that legacy and share it with the world. It's time we brought this holiday of 'history in a jar' to life for everyone to enjoy," said Joe Baker, founder of Ole Smoky.
Moonshine is perhaps one of the most storied spirits in the United States. Production of the notoriously incendiary spirit dates to the late 1700s, when Irish and Scottish immigrants settled in the Southern Appalachian area, bringing with them their home distilling practices and their recipes for what is typically a white whiskey derived from corn, yeast, sugar, and water. And up until recently, it was illegal.
"Hoop," "shiney," "skullpop," "hooch," and "white lightning" are a few other monikers for it, but it is most widely known as "moonshine" – a word that denotes an undertaking done at night, which in fact was how moonshiners evaded law enforcement. Though moonshiners continued to whet the whistles of hooch seekers in dry counties after Prohibition, distilling and consuming it became more of a pastime, especially in Southern Appalachia. Ole Smoky Moonshine exemplifies as much. Company co-founder Joe Baker, using a century-old family recipe that he fine-tuned, launched the brand in 2010, shortly after Tennessee made distilling moonshine legal in 2009. As the first legal moonshine in East Tennessee, the brand has grown exponentially in the past 12 years. The company now employs more than 800 people, makes a wide range of moonshines and whiskeys in four distillery locations across the state, and hosted more than 5.7 million visitors in 2021 alone.
Ole Smoky is the bestselling moonshine brand in the U.S., and as such has much to celebrate on June 2, National Moonshine Day. "The Ole Smoky team will be out in full force to bring National Moonshine Day to life at bars and restaurants, our distillery locations, and retail accounts throughout the country," says Robert Hall, CEO, Ole Smoky Distillery. "We want everyone to celebrate this special day that's a nod to our rich history."
Ole Smoky has created four delicious National Moonshine Day Signature Recipes, including the Blackberry Moonshiner, featuring Ole Smoky Blackberry Moonshine, Lemonade and Muddled Mint, the Front Porch Punch with Ole Smoky Hunch Punch Moonshine, Lemonade, Lemon Lime Soda, and Cranberry Juice, the Tennessee Tea with Ole Smoky White Lightning Moonshine, Sweet Tea and Lemonade, and the Summer Shine with Ole Smoky White Lightning Moonshine, Lemonade, Orange Juice and Lemon Lime Soda.
The most notable celebration will be Ole Smoky's Shine Fest hosted at their Nashville Distillery, 6th & Peabody. Ole Smoky has been featuring live music at its distilleries since it opened the doors to its flagship location in Gatlinburg and continues that tradition by kicking off Shine Fest; where guests can expect, "A full afternoon of entertainment that will feature artists we've built close relationships with over the years as well as some newer performers within the bluegrass and country genres," said Hall. Musicians such as Levi Hummon and the Grammy-nominated Po' Ramblin' Boys will perform on 6th & Peabody's outdoor stage. There will be delicious, local food and an exclusive National Moonshine Day cocktail to bring an extra tasty and refreshing Ole Smoky spin to the festivities. Shine Fest is June 2 at 6th & Peabody, 423 6th Ave S, Nashville, from 3 p.m. to 11 p.m.
Fans can visit nationalmoonshineday.olesmoky.com to enter for a chance to win a Grand Prize Trip to Tennessee for a Moonshine & Music Adventure, featuring roundtrip airfare for four, 3-night accommodations, a private VIP Moonshine Experience at 6th & Peabody. First prize winners will take home the Ole Smoky Porch Party Bundle, a complete kit to throw your own neighborhood party with Ole Smoky products, yard games, branded patio furniture and plenty of Shine Merch for the neighbors like Ole Smoky t-shirts and hats. Second Prize winners will receive Shine Merch, including custom Ole Smoky National Moonshine Day t-shirts. The website also features a C'mon & Celebrate National Moonshine Day Curated Playlist along with cocktail recipes to help fans celebrate National Moonshine Day at home.