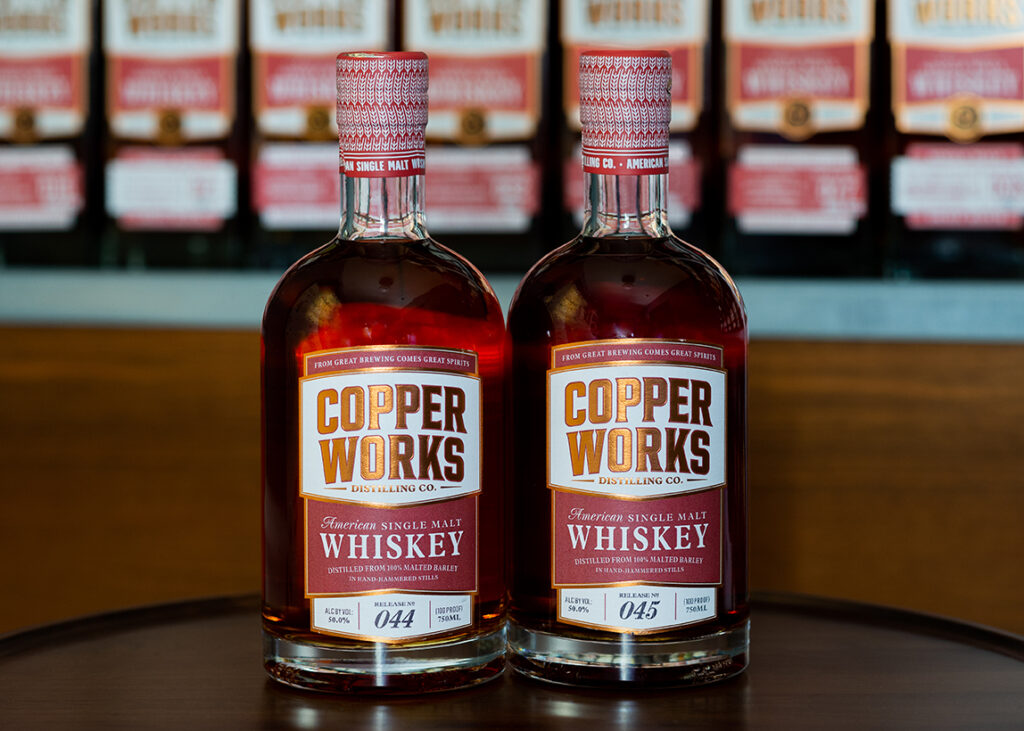 Copperworks Distilling Co. has released two core whiskeys on the same day for the first time—Copperworks American Single Malt Whiskey Release 044  and Release 45.
"We've always released our whiskey based primarily on flavor," said Jason Parker, co-owner and president of Copperworks. "In other words, we never decide to use a cask of whiskey simply because of its age. Instead, we blend casks when we believe they are ready based on our tastings."
"For each release, we spend a few months tasting many casks and blending certain ones in various ways before landing on a single release," said Jeff Kanof, co-owner and vice president . "Occasionally, we have a few concepts that rise to the top, but we normally select only one to present as our next release. This time, we had two concepts that were too good not to share."
These new releases have a new look.
"Due in part to the ongoing supply chain issues of the last few years, we have been unable to source our usual bottles," said Parker. "Therefore, all of Copperworks' products will be bottled in a new bottle for the time being."
Copperworks is currently working on a proprietary glass bottle that will help the company avoid these issues in the future, said Parker.
"In the meantime, we can assure you that despite the new look to our bottles, what's inside them are the same great spirits," said Kanof.
Copperworks American Single Malt Whiskey, Release 044
Crafted from eight casks of whiskey.
Four casks were brewed and distilled from Great Western Malting Pale Malt and matured for 45-52 months in charred new American Oak casks.
Three of the casks were brewed and distilled from single variety barley (Baronesse barley grown in Colfax, WA) and matured for 56 months in charred new American Oak casks.
The final cask was created from a "Queen's Run"* and matured for 60 months in a charred new American Oak cask.
*Queen's Run is a term borrowed from the rum industry to describe one of Copperworks' types of spirit distillation where they run exclusively the heads and tails from prior runs. This results in a lower yield than typical spirit distillations and different and more intense flavors.
"For this release, we put together a variety of different recipes and cask maturities to end up with a flavor that Copperworks fans will know and love," said Parker. "Because of the various whiskeys blended, this whiskey has a great balance of tropical, citrus, baking spice, and chocolate flavors."
Tasting notes:
Aromas of lemon zest and black cherry to start, with suede, dried pine needles, and grilled pineapple following. The first sip reminds of sweet tea, then the fruit continues with flavors of ripe kiwi and citrus peel, lingering as an aged pipe tobacco. Finishes with a bang of white pepper, Demerara sugar, and fresh raspberries. A well-balanced sipper, and a great candidate for an Old Fashioned.
1,920 bottles produced
750ml, 50% ABV
$69.99 (not including tax or shipping)
Copperworks American Single Malt Whiskey, Release 045
Six casks of single variety malt whiskey were used for this release.
The whiskey was brewed and distilled from the Fritz variety of barley grown on a single farm in the Skagit Valley and matured for 36 months in charred new American Oak casks.
Although that single variety whiskey makes up 94% of this bottling, Copperworks found that bringing in 6% from whiskey that matured for 60 months in a Manzanilla sherry cask brought a perfect balance to this release, said Kanof.
"Not only does the sherry cask balance out Release 045, but bringing the sherry cask flavors into the mix gives it a great contrast of flavors to Release 044."
Tasting notes:
Lots of classic single malt whiskey aromas here, including heather, cigar wrapper, and a bit of brisket char. A big clover honey entry followed by more heather, poached pear, and a nice shot of mocha. Finishes with more honey, moving to graham cracker, and trailing off with ripe fig. A wonderful late evening (early morning?) final dram, or one to enjoy in a whiskey-featuring cocktail, such as a Red Hook or Remember The Maine.
1,681 bottles produced
750ml, 50% ABV