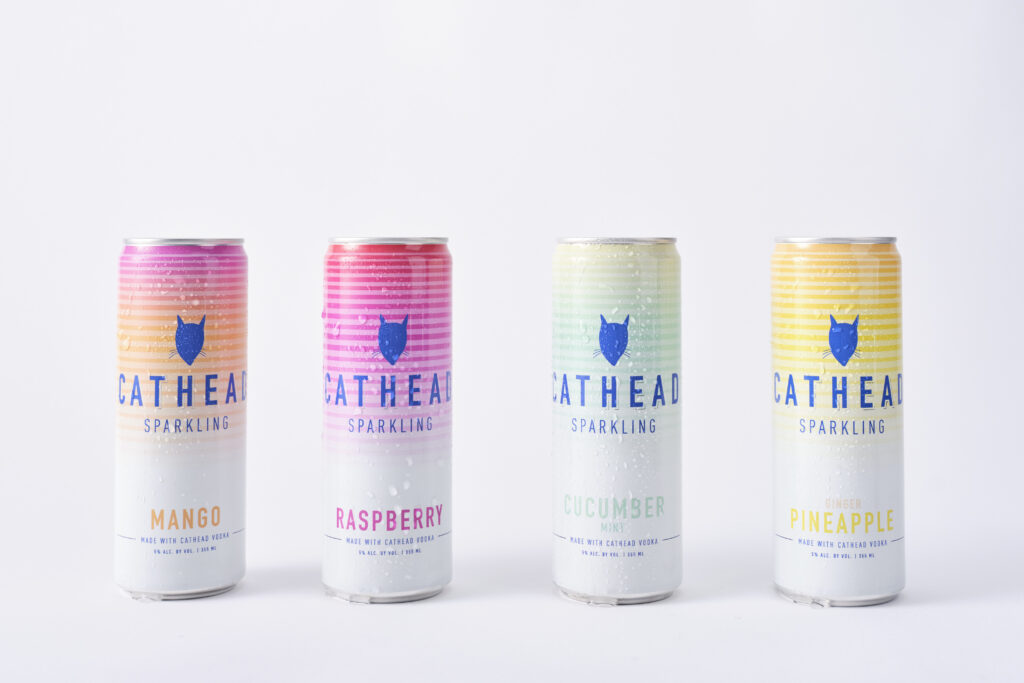 Cathead Distillery of Jackson, Mississippi, is thrilled to announce a new line of ready-to-drink sparkling vodka sodas: Cathead Sparkling Sunsetters. Inspired by the magic of long summer evenings that fade into warm summer nights, the Sunsetters variety pack features an assortment of four fresh and fruity flavors—Raspberry, Mango, Ginger Pineapple, and Cucumber Mint.
An extension of Cathead Distillery's original line of canned sparkling vodka sodas—which launched in spring 2021—Cathead Sparkling Sunsetters adds to the existing available flavors of Cranberry, Limeade, Satsuma Mandarin, Strawberry Lemonade, and Grapefruit, all made with the brand's flagship spirit, Cathead Vodka. 
"It's been a hot summer this year and it's not over yet," said Richard Patrick, co-founder of Cathead Distillery. "We're excited to introduce these new flavors to carry folks through the dog days of summer into Labor Day and football season." 
Starting today, Aug. 4, Cathead Sparkling Sunsetters' variety 8-packs are now available in select retailers across five states, including Florida, Georgia, Louisiana, Mississippi, and Tennessee.
Served in 12-ounce slim cans, Cathead Sparkling Sunsetters are made from all-natural ingredients with no added sugars or artificial sweeteners. Featuring four refreshing flavors—including Raspberry, Mango, Ginger Pineapple, and Cucumber Mint —the ready-to-drink cocktails have just 97 calories, 5% ABV and are lightly effervescent. 
Each flavor, hand-selected by co-founders Patrick and Austin Evans, undergoes months of taste testing, and is made from a simple list of three ingredients: Cathead Vodka, sparkling water and natural flavors. Unlike many of the hard seltzers on the market, Cathead Sparkling is made from real Cathead Vodka—not malt liquor—resulting in a clean, refreshing taste that's authentic and not overly sweet. 
Even the can design appeals to warm weather sipping with a fun, retro vibe inspired by vintage sunset designs from the 80s, delivering peak summer nostalgia in sleek retro colors and shades. 
To learn more about Cathead Distillery and its award-winning spirits, please visit catheaddistillery.com.