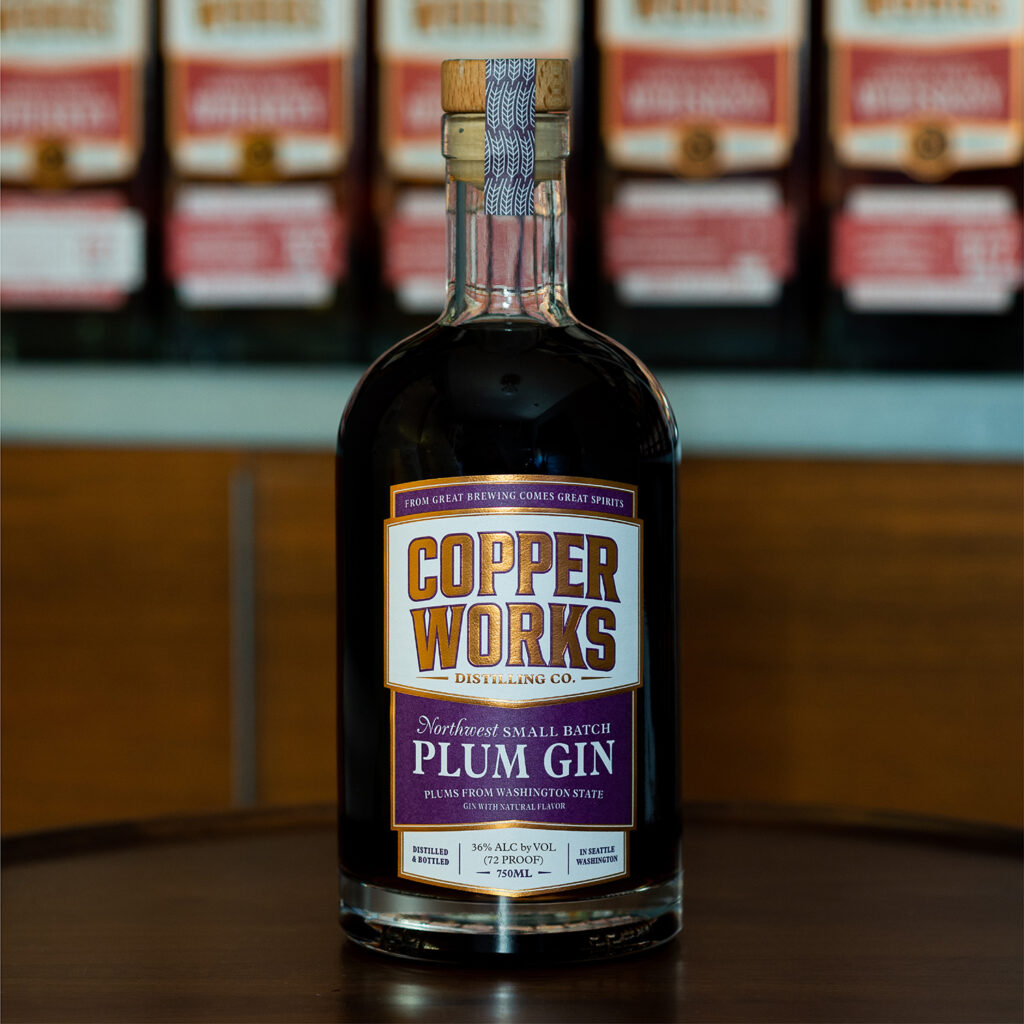 Seattle-based Copperworks Distilling Co. has released Copperworks Plum Gin, 2021 Harvest. The 72-proof spirits was produced by infusing Copperworks Small Batch Gin and Copperworks Cask Finished Gin with 1,600 pounds of whole Italian Prune Plums from two local family farms, Warm Valley Orchard on Orcas Island, WA, and Lazy River Farm in Kent, WA.
"There's nearly a pound of plums in every bottle," said Jeff Kanof, co-owner and vice president of Copperworks. "The plums were in contact with gin for 10 months to create a yield of more than 1,700 bottles of our latest Plum Gin."
For the past few years, Copperworks received a batch of Italian Prune Plums from Bob and Maria Nutt, who founded Warm Valley Orchard in 1990. Bob is a brother of Micah Nutt, one of the founders of Copperworks.
"In the early 1900s, Orcas Island produced thousands upon thousands of pounds of Italian Plums," said Bob Nutt, co-founder of Warm Valley Orchard. "They were dried locally and shipped to the East Coast and around the world. There is still an original Italian plum tree from the early 1900s in our orchard."
More than three decades ago, when the Nutts founded Warm Valley Orchard, they planted 110 fruit and nut trees.
"One early fall a few years back, Maria and I picked plums and brought them down to Copperworks," said Bob Nutt. "Micah and Jason [Parker] and I hand-pitted the plums, popped them into a barrel, added Copperworks Gin, and a year later, the experiment was complete."
"Our time in the world of craft brewing taught us that collaboration often leads to exciting new flavors," said Jason Parker, co-owner and president of Copperworks. "Those first batches we called our 'Experimental Gin Series' and sold them to the public. The result was so well loved, we've now made this unique spirit a mainstay. Once an experiment, we now proudly present Copperworks Plum Gin ongoing." 
Copperworks Plum Gin, 2021 Harvest
1,727 bottles produced
750ml, 36% ABV
$59.89 (not including tax or shipping)
To Order: https://store.copperworksdistilling.com/products/copperworks-plum-gin-750ml
Tasting Notes
Mulled wine, candied fruit, and baking spice aromas explode from the glass. The flavor is equally bold, with stewed fruit, red wine, and big, fresh plum juice notes followed by tannins and dark cherries.
Call for Plums for Copperworks Plum Gin, 2022 Harvest
This year, Copperworks is sourcing whole Italian Prune Plums from the public due to low yields from the current harvest. For each pound of plums received, Copperworks will donate $1 to the grower's local food bank, said Kanof.
"We also want to ensure plums are not wasted," said Parker. "We're seeking pest-free, market-quality fruit. We can accept plums with mild bruising, but we cannot accept any plums with broken skin or large soft spots, as they will mold quickly and contaminate the other plums during storage."
People interested in supplying plums to Copperworks in exchange for a donation to their local food bank may contact PlumGin@CopperworksDistilling.com for more details and to schedule a drop-off appointment.
All drop-offs must be pre-arranged to ensure that a Copperworks team member is available to provide assistance.
Copperworks expects to release Copperworks Plum Gin, 2022 Harvest in the late summer of 2023.