SET THE BAR is the first mobile app designed to provide easy-to-understand alcohol beverage industry trade practice rules and regulations in all 50 states and Washington D.C. for industry professionals. Whether a craft distiller, global supplier, wholesaler, or marketing and event agency doing business in the United States, you will benefit from getting real-time, 24/7, alcohol compliance information.
SET THE BAR is a useful resource that simplifies the process around planning and executing tastings, developing point-of-sale materials, advertising, and, most importantly, saves companies money knowing that what they are planning or producing is compliant. SET THE BAR uses easy-to-understand red, yellow, and green lights to indicate whether a particular activity is compliant, potentially problematic, or prohibited, though the app does not provide or substitute legal advice. Detailed rules are also provided for those users that want to read more than just the highlights.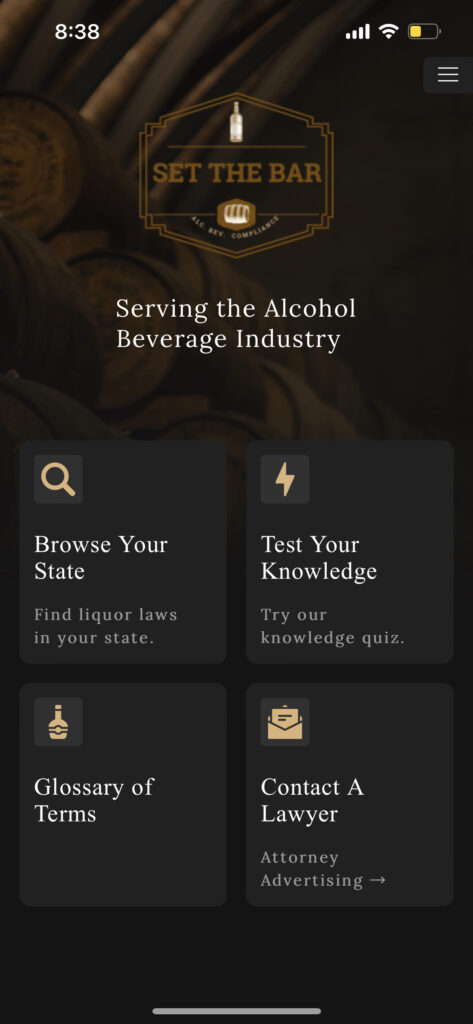 SET THE BAR allows users to browse liquor laws by state, features a glossary of helpful terms often used in the industry, and even a "test your knowledge" quiz to ensure you are learning as you use SET THE BAR.
"SET THE BAR aims to change how people navigate alcohol beverage compliance — something that can be very confusing and daunting — by creating a friendlier experience for everyone in the industry," said Ryan Malkin, founder of SET THE BAR and alcohol beverage industry veteran (and legal counsel for the American Craft Spirits Association). "SET THE BAR makes the rules easily accessible and easy to understand, something often lacking in alcohol beverage compliance."

SET THE BAR offers annual subscriptions to individuals and can be downloaded via the Apple Store and Google Play. Subscriptions to the app begin at $2,500.00 per year and company-wide access and subscriptions are available. SET THE BAR does not provide legal advice or replace legal counsel but rather serves as a reliable source for those in the alcohol beverage industry. To learn more or subscribe visit setthebarapp.com.