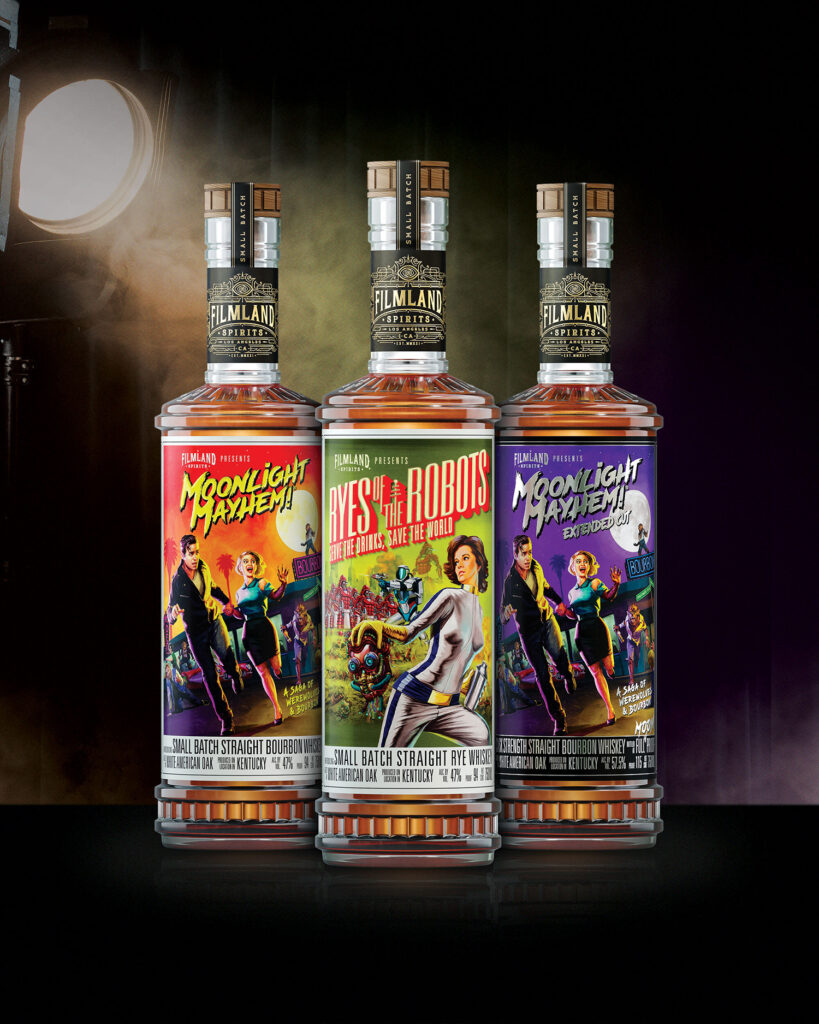 Los Angeles-based Filmland Spirits announces its world premiere in the U.S. market unveiling three core whiskey expressions: Moonlight Mayhem! (Bourbon), Moonlight Mayhem! Extended Cut (Cask Strength Bourbon), and Ryes of the Robots (Rye Whiskey).
Combining its enthusiasm for whiskey, passion for movies and dedication for storytelling, Filmland Spirits aims to bring people together through captivating tales and great tasting spirits. Crafted with a moviemaking mindset, Filmland approaches whiskey production much like the making of a feature film. The creative team starts with their vision for an original retro B-Movie concept. This evolves into a script with robots and monsters, heroes and villains and a plot that keeps your mouth watering.
From there, Filmland Spirits designs an original movie poster in pulp-style art consistent with the B-movie genre; this becomes the front label for each expression, a truly unique innovation in the world of spirits. The bottle itself is tall, heavy and distinct and inspired by the world of moviemaking. Consumers will have the chance to preview each story on the back label which shows a synopsis of the B-movie and the key characters. Those itching to know more about each story can head to the Filmland website to read snippets of the script, view storyboards and even watch an animated trailer!
Filmland's award-winning spirits are sourced from the finest whiskey throughout the U.S. Once "on location" in Kentucky, they are blended to perfection then finished and bottled.
Filmland Spirits CEO, Troy Bolotnick, explains more: "After a lifetime of blending together passions for storytelling, movie-making and whiskey, we are thrilled to invite everyone to the premiere of Filmland Spirits! I'm incredibly proud of the crew we've assembled and all the creativity and skill  that has resulted in our award winning bourbons and rye. They are delicious and fun, outrageous and unique and  I can't wait for our audience of customers to dim the lights, grab a bottle and enjoy the show!"
Consumers who wish to purchase "Moonlight Mayhem!" – Bourbon (SRP: $54.99), "Moonlight Mayhem! Extended Cut" – Cask Strength Bourbon  (SRP: $79.99) and "Ryes of the Robots" – Rye Whiskey (SRP: $59.99) will be able to pick up a bottle at  select spirits stores in California and Kentucky. Filmland Spirits are also available for purchase via their website and select e-commerce retailers, and can be shipped to a large number of states in the U.S. For additional information about Filmland Spirits please visit www.filmlandspirits.com and be sure to follow Filmland Spirits on Instagram (@FilmlandSpirits) and Facebook.