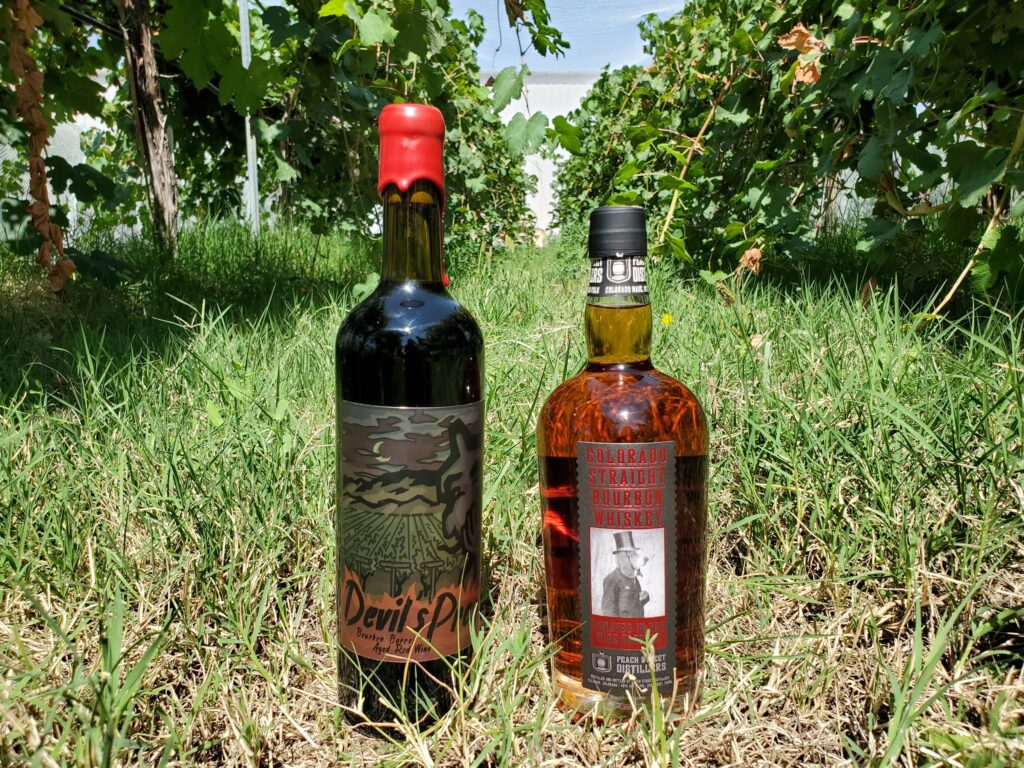 Palisade, Colorado-based Peach Street Distillers and Sauvage Spectrum unveiled collaborations this month at Colorado's annual Wine Fest weekend.
A Peach Street Distillers bourbon barrel-aged red wine made by Sauvage Spectrum, Devil's Prey, and a rendition of Peach Street Distillers Colorado Straight Bourbon aged in Sauvage Spectrum's Red Wine soaked Oak Barrels were available Sept. 15 to officially kick off the event. 
Devil's Prey is Sauvage Spectrum's first foray into barrel-aged red wine. "We couldn't think of requesting the help from a better local partner," says winemaker and co-founder Patric L. Matysiewski about his neighbors Peach Street Distillers. For Peach Street, who are passionate about expressing the bounty of Colorado's small farms in their final products, Sauvage Spectrum's request was well-received. 
To create Devil's Prey, Matysiewski and his team took their most approachable red wine and aged it on Peach Street barrels for three and a half months. The experience begins with dark fruit jam and bourbon aromas, followed by notes of dark cherries, tobacco, vanilla, brown sugar and a hint of spice.  
"This project is called Devil's Prey due to the fact the innocent wine lay victim to the spirit," says Matysiewski. "Normally upon evaporation of wine or spirit you'd call that the "Devil's Cut," but here we take advantage of the B=bourbon flavors from the previously used Peach Street barrels to help infuse some local flavor into this ever popular and growing style of wine. The flavors previously housed in the barrel actually seep back into the product as the wine starts to evaporate from the oak." 
Peach Street transferred their handcrafted three-year-old Colorado Straight Bourbon into a freshly emptied Devil's Prey-soaked oak barrel for an additional six months of aging to craft this novel spirit. This single barrel, number 753, was then packaged as a single barrel celebration of this season's Colorado Wine Fest and in collaboration with Sauvage Spectrum Devil's Prey release. The resulting bourbon boasts a rich mahogany hue that's several shades darker than Peach Street Colorado Straight Bourbon's traditional amber hue, with notes of  dark cherry, vanilla and jam balanced by sharper edges of rye and spice and a touch of sweet corn.