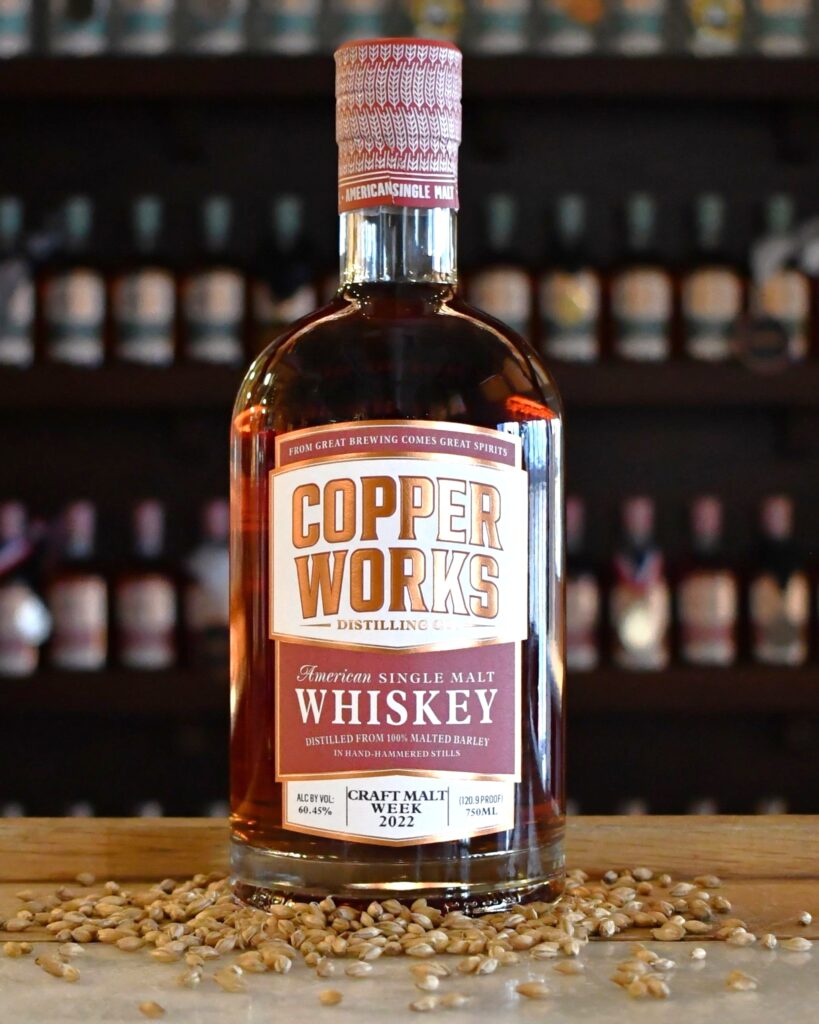 As the Craft Maltsters Guild's third annual Craft Malt Week wrapped up on September 17, Seattle-based Copperworks Distilling Co. unveiled Copperworks Craft Malt Week 2022 Single Cask American Single Malt Whiskey.
"The Guild aims to highlight the meaningful connection between local agriculture and craft beverages," said Jason Parker, Copperworks Distilling Co.'s co-owner and president, who sits on the board of directors for the Craft Maltsters Guild. "Our new Copperworks release features Baronesse barley grown by Joseph's Grainery in Colfax, Washington, and malted by LINC Malt in Spokane Valley, Washington. We've been working with Baronesse for six years now, and this particular cask is truly something special."
"Created from 100% malted barley and twice-distilled in Scottish copper pot stills, Cask 387 turned out to be quite an outlier," said Jeff Kanof, co-owner and vice president of Copperworks Distilling Co. "No other Baronesse barley was in process at the time of our production, and both fermentation and spirit distillation had relatively low yield. After proofing to cask strength, there was only enough to fill one cask."
The whiskey matured for 30 months in a charred new American Oak cask with char level two and 36-month aged staves.
Tasting Notes: 
Aromas of pine needles, apple pie crust, fresh flower petals, and wet cedar immediately identify this whiskey as something special. The apple pie crust aromas continue into the flavor, moving through steel-cut oats to darker notes of black walnut and cola nut. A nice, long finish of oiled teak, candied pineapple, and suede wrap up this incredibly interesting and complex whiskey. Definitely one to enjoy as the weather cools, both as a sipping whiskey, and in a Manhattan Cocktail variation, such as the Red Hook.
Copperworks American Single Malt Whiskey, Craft Malt Week 2022 Single Cask Release
219 bottles produced (750ml)
60.45% ABV (120.9 Proof)
$89.99 (+ tax and shipping)
To Purchase: 
Available at Copperworks' Seattle Distillery & Tasting Room and in its online store.