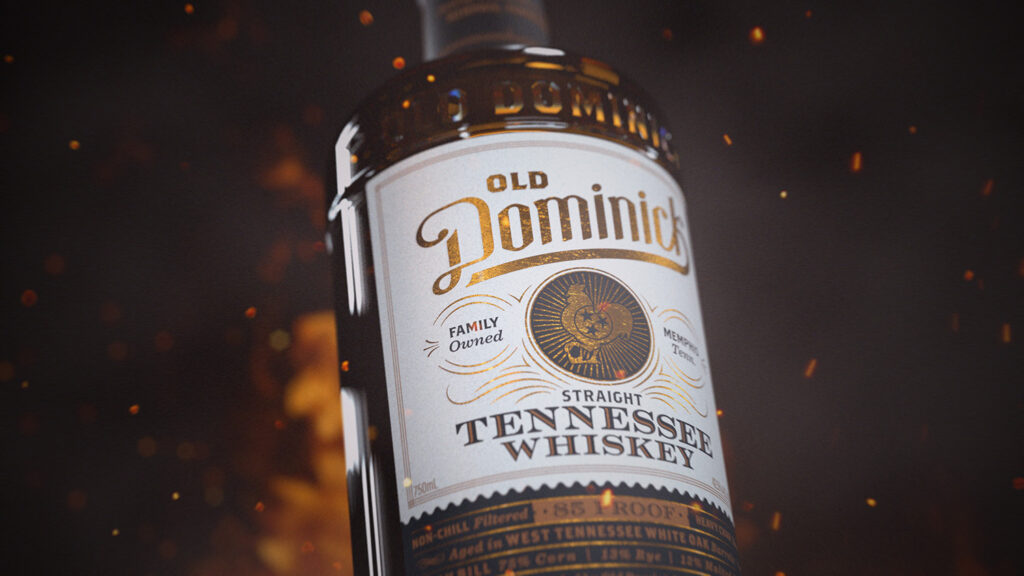 Old Dominick Distillery master distiller Alex Castle is proud to announce the  historic launch of Straight Tennessee Whiskey. The Memphis, Tennessee-based distillery says it is the first distilled, barreled, matured, and bottled whiskey in Memphis since Prohibition. The Nov. 1 release is the first in a series of new  offerings, including an 85-proof and Bottled-In-Bond rendition. Additionally, as the first woman master distiller in Tennessee, the release marks a career first for Castle in the aged whiskey category.  
Whiskey enthusiasts will have a chance to meet Castle during a special bottle signing at an early, limited release of Straight Tennessee Whiskey on Saturday, October 29, from 12 to 3 p.m. at the distillery. Attendees can purchase one bottle of each whiskey at the event.  
"It's been 20 years since I first decided I wanted to be a distiller, and this dream has taken me several different directions that I did not anticipate," said Castle, master distiller and senior vice president. "As a Kentucky native, I did not think I would ever make a Tennessee Whiskey,  and yet, here we are. I am beyond proud to be a part of such a historic release, and I hope that this whiskey is something that Memphis can be proud of." 
This historic milestone has been a dream since Old Dominick opened its doors in 2017. The launch of Straight Tennessee Whiskey brings to fruition co-founders Chris and Alex Canale's desire to honor the legacy of their great-great grandfather, Domenico Canale, an Italian immigrant who rose from driving his uncle's fruit wagon to creating a food and spirits wholesale business in 1866. Old Dominick Straight Tennessee Whiskey exemplifies the expression of modern-day craft that embodies the family's spirited past. 
"This milestone marks a new generation of spirits distilled in Memphis," said Chris Canale, Jr., owner of Old Dominick Distillery and parent company D. Canale & Co. "This whiskey is 150 years in the making. We are proud of the product and are confident Domenico would be too."  
Old Dominick's Straight Tennessee Whiskey is aged for a minimum of four years in West  Tennessee White Oak barrels. Featuring a mash bill rich in corn and balanced with rye and  malted barley, Straight Tennessee Whiskey opens with vanilla, tobacco, anise, and caramel on the nose. Sugar Maple Charcoal filtering delivers a mellow, medium-bodied whiskey, lightly  sweet with caramel and crème brulee with a hint of oak and vanilla for a silky finish. 
The Bottled-in-Bond Spring 2017 Batch #1 delivers caramel, toffee, light corn, cherry, leather, and shortbread on the nose with a smoky, light oak, a hint of corn and rye, cherry, dark chocolate, and a lightly sweet, medium finish on the palate. The Spring 2018 Batch #2 opens  with cinnamon, brown sugar, cherry, and leather on the nose with light oak and a hint of corn, tobacco, leather, dark chocolate, and hay on the palate. 
Both the Old Dominick Straight Tennessee Whiskey and Bottled-In-Bond will be available for purchase on Tuesday, November 1, at the Distillery in Downtown Memphis and area liquor  stores. Old Dominick Distillery plans on broader regional distribution in early 2023.  
Visit Old Dominick Distillery at 305 S. Front Street, Memphis, for tours, tastings, cocktails, and purchasing Old Dominick products and branded merchandise. For more information, news, and upcoming events, visit olddominick.com.