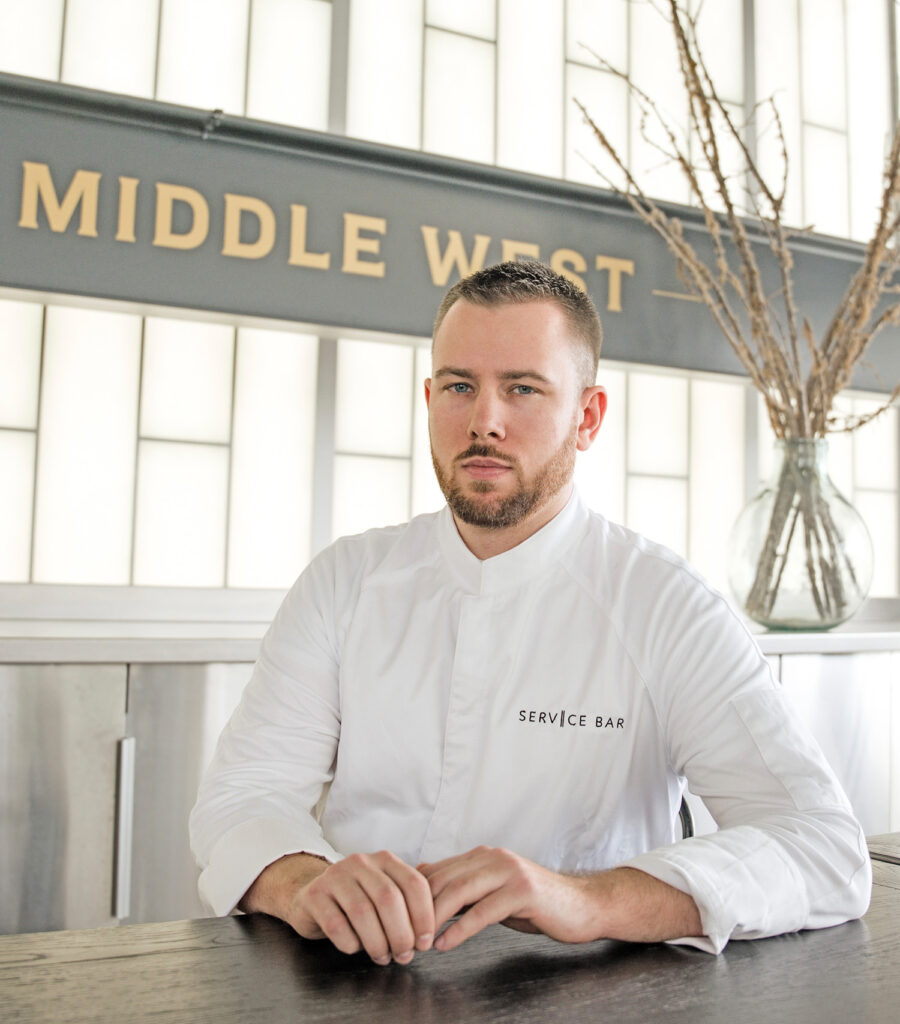 Middle West Spirits of Columbus, Ohio, announced that Chris Connolly has joined the team as executive chef for Service Bar, which is now open to the public with reservations available at servicebarcolumbus.com.
Connolly brings a world-class resume that includes stints at some of the nation's most lauded restaurants. His career path is a classic case of life imitating art, as it mirrors this summer's runaway streaming TV hit, "The Bear" from FX/Hulu. This realistic portrayal of the frenetic pace and vibrancy of professional kitchens has introduced mainstream American to the "inside ball" concept of staging, an unpaid internship of sorts where up-and-comers learn exhaustive cooking techniques from more well-known seasoned chefs. Over the past 11 years, the Ohio native has cooked for everyone from famous actors and athletes to European Queens and U.S. Presidents.
For more than a decade, Connolly honed his remarkable hospitality industry skills on the front lines, often by staging for the renowned chefs he revered the most. Connolly aimed high early in his career by being introduced to fine dining during a stage stint at the acclaimed Alinea, a Michelin three-star kitchen in Chicago. He left Chicago to join yet another Michelin three-star restaurant, The Inn at Little Washington in Virginia, where he continued to build his impressive skills as he prepared impressive meals for Washington D.C.'s elite. Connolly would eventually travel to Jackson, Wyoming, expanding his resume to include exclusive, high-end luxury hotels at the famed Aman resort, Amangani. In 2016, Chris joined The Greenbrier, one of America's most distinguished resorts, known for world-class menus offered at multiple foodservice outlets, as Chef De Cuisine.
"Having built on my experience at exclusive restaurants, this is the ideal time for me to return to Ohio to share my culinary expertise, along with some of the best sources for ingredients from around the world that I've cultivated working for so many great chefs and in great kitchens," said Connolly. "I'm really looking forward to collaborating with our new team to deliver extraordinary food to Columbus locals and visitors alike as we write Service Bar's next chapter."
Located at Middle West Spirits distillery in Columbus' Short North Arts District, Service Bar opened to rave reviews in 2017 as an elevated dining experience with a technical cocktail program designed to showcase Middle West Spirits. It operated successfully, including a carry-out only period during COVID, until June 2021, when it paused service to make way for renovations and assemble a new kitchen team for this fall's reopening.
"We are beyond thrilled to have Chris return to Ohio to helm the kitchen at Service Bar," said Middle West Spirits Co-founder and CEO Ryan Lang. "His contemporary, ingredient-driven menu is rooted in classic techniques, which perfectly complements our spirits. Chris and his team will help us showcase the very best of Ohio hospitality," Lang said.
More information about Service Bar and Middle West Spirits is found at servicebarcolumbus.com and middlewestspirits.com.