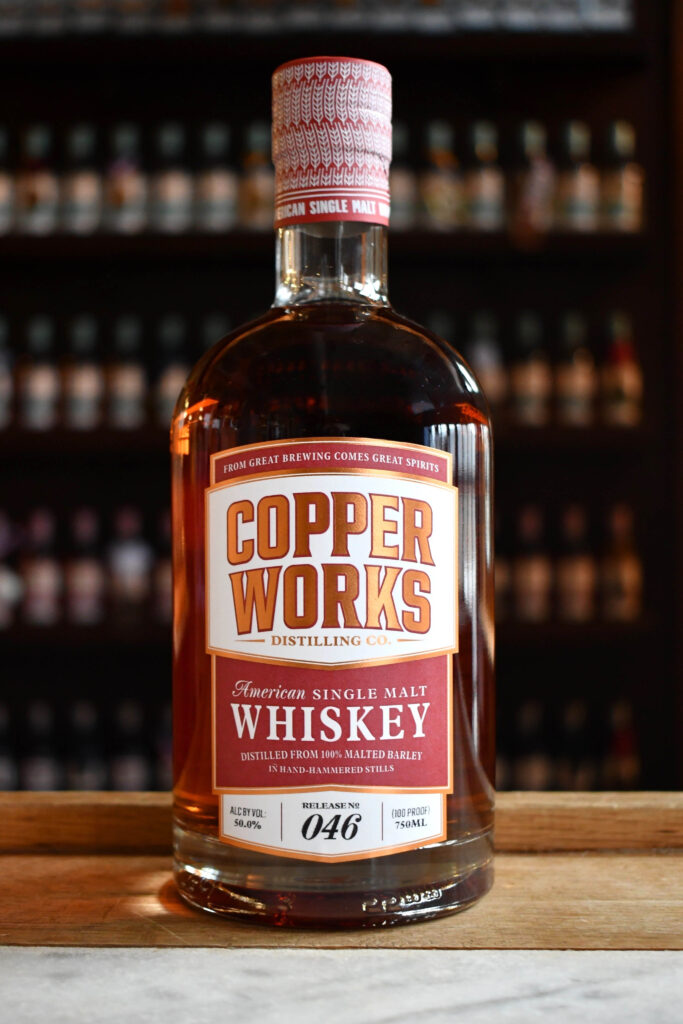 Copperworks Distilling Co. continues its commitment to help protect Washington's rivers and watersheds. The Seattle waterfront district distillery released its second Salmon-Safe certified whiskey, Copperworks American Single Malt Whiskey Release 046, in partnership with the West Coast environmental certification nonprofit, Salmon-Safe, and conservation-focused maltster, Mainstem Malt.
Last year, the award-winning distillery released the nation's first whiskey made with Salmon-Safe ingredients, Copperworks Release 039. 
Salmon-Safe is leading the movement to implement farming practices and developments that protect water quality, maintain watershed health, and restore fish and wildlife habitat. More info. about Salmon-Safe can be found at www.salmonsafe.org.
"Not only does Release 046 represent thoughtful farming and distillation practices joining forces, but it is also a reminder of Copperworks' commitment to the pursuit of flavor and sustainability – it turns out that we can have our whiskey and drink it, too!" said Jason Parker, co-owner and president of Copperworks Distilling Co.
"100% of the malted barley used to craft Release 046 was grown in adherence with practices qualified as certified Salmon-Safe," said Jeff Kanof, co-owner and vice president of Copperworks Distilling Co. "We look forward to moving toward this certification becoming a standard for the future. We're proud to show how distilleries can produce great whiskey while protecting and improving the environment."
Since Copperworks was founded in 2013, the team has been committed to minimizing water usage, energy consumption, and waste production throughout its operations. The distillery has continuously focused on partnering with small farmers and using and promoting locally-grown malts while maintaining business practices that support environmental protection and promote strong communities.
To learn more about Copperworks' sustainability priorities, please visit https://copperworksdistilling.com/about-us/sustainability.
Copperworks American Single Malt Whiskey, Release 046
Release 046 was crafted from a single varietal barley called Genie from a single farm in Athena, Oregon. Eight new American Oak casks were used, with char #2 and staves that had been open-air-seasoned for a minimum of two years. Six of the casks were from the 2018 barley harvest and matured for three years, while the remaining two casks were from the 2017 harvest and matured for three years and seven months. All the barley grown adhered to growing practices that qualify it as certified Salmon-Safe.
Tasting Notes:
On the nose, lemon zest greets you alongside a slight effervescence, followed by oak, subtle florals, and a waft of straw and minerality. Mouthwatering on the palate, with notes of candied citrus peel, sugared ruby red grapefruit, rose water, and chocolate raspberries, with minerality continuing from the nose. Oak presents itself gently at first, ramping up with each sip. Canned fruit salad, lemongrass, and roasted coffee linger on the finish, held together with the lemon zest experienced on the nose.
"Release 046 is a great sipper to celebrate both the return of the rain and the return of the salmon," said Parker.
Available in Copperworks' Seattle Distillery and Tasting Room* and online store beginning November 16.
2,033 bottles produced (750ml)
50% ABV
Price: $69.99 (plus tax and shipping.)
To purchase online click here.
*Tasting room address: 1250 Alaskan Way, Seattle, WA 98101