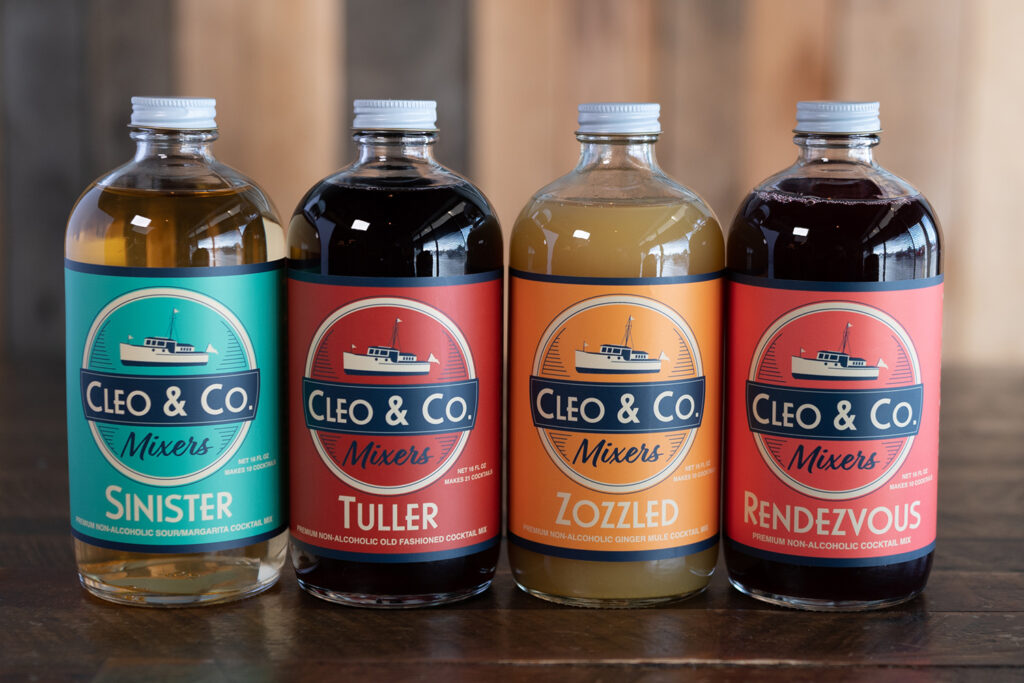 Detroit-based Kickstand Brewing Co., has launched Cleo & Co. Mixers, the all-natural, premium line of cocktail mixers. The house-crafted, small-batch, locally sourced collection of cocktail mixers are available in five flavors: Rendezvous, Tuller, Sinister, Zozzled and Appleseed. Each mixer bottle makes between 10 to 32 cocktails or mocktails depending on recipe. Mixers are available for purchase online at cleomixers.com
Kickstand Brewery co-owner, Scott Emerick said Cleo & Co Mixers is a "natural progression" of the brewery's portfolio which includes handcrafted wines, spirits and craft beers.
"We wanted to create classic and unique mixers with a Michigan focus, that also ties back to an important time in our industry's history. Gertrude 'Cleo' Lythgoe gave us a lot of inspiration, she wasn't afraid to take risks or to do things her way and above all else she valued a quality product" said Emerick.
Gertrude "Cleo" Lythgoe was one of the best-known bootleggers of her time, among women and men. Given the nickname Cleo due to her resemblance to Cleopatra, she was a force in the male-dominated occupation and surrounded by some very rough characters. She smuggled alcohol from the Bahamas into the New York Harbor and was estimated to be worth more than $1 million by the time she retired. She lived, for a time, at the historical Hotel Tuller in Detroit and her legacy lives on through Cleo & Co. Mixers. The brand embodies the spirit of Gertrude "Cleo" Lythgoe and her commitment to getting the very best libations in the hands of those who appreciate them most.
Cleo & Co. Mixers include five flavors:
Rendezvous, $19: A pineapple and pomegranate martini mixer made with pineapple, lemon, pomegranate, and blueberry juices, and cane sugar.
Sailing her boat to Rum Row off of New York, Cleo had several places to rendezvous with distributors throughout the city.
A BALANCED blend of TART and SWEET, this mixer hits the palate with notes of PINEAPPLE and POMEGRANATE. A well-rounded drink for the well-rounded drinker.
Sinister, $19: A mixer for margaritas and sours made with lemon, lime, and orange juice, and blue agave.
Cleo expected others to mind their own business. Crossing that line meant coming face-to-face with her sinister side. This mixer is an ode to that ferocity.
A good WHISKEY SOUR is the measure of a great bartender. It needs to be SWEET, SOUR, and still keep the spirit front and center. We took it a step further and crafted this recipe to work with TEQUILA as a MARGARITA.
Tuller, $19: An old fashioned mixer made with dark cherry juice, bitters, and cane sugar.
No one said bootlegging was easy. After years of operating outside the law and dealing with crooks and criminals, Cleo decided it was time to retire. In 1925, she packed up her things from the Bahamas and headed to Detroit where she resided for 25 years at the Hotel Tuller in Grand Circus Park.
Known for its LUXURIOUS style and HIGH-END patrons, Hotel Tuller is WELL-SUITED to be the face of our take on the OLD FASHIONED.
Zozzled, $19: A mule mixer made with ginger juice, lime juice, and cane sugar.
Cleo only settled for the best, which meant she was doing some serious quality control. It's safe to say our queen of the Bahamas liked to get a little "zozzled".
Zozzled is a STRONG and VERSATILE mule mixer that packs a serious punch full of GINGER and LIME. A perfect pair with your favorite VODKA or WHISKEY.

Appleseed, $19: An apple cinnamon mixer made with apple juice, lime juice, cinnamon and cane sugar.
Lowkey, hard apple cider was a way for people to keep drinking under the radar during the prohibition period. It required no boiling or brewing, making it the easy go-to solution. We're taking that spirit of sticking it to the man—except we're asking you to add a bit of Cleo's favorite spirit: Whiskey. When you mean BUSINESS but want to soften the blow, let the tart APPLE and warm CINNAMON compliment your favorite BOURBON or WHISKEY.
Fans of Cleo & Co. can join the Cleo Club to earn points and discounts towards mixers. Club members can earn points through purchases, social shares, birthdays and more. For more info go to www.cleomixers.com/cleo-club.
Mixers are available for purchase online or at Kickstand Brewery, 3050 Union Lake Road Suite 4A,Commerce Township, MI 48382.