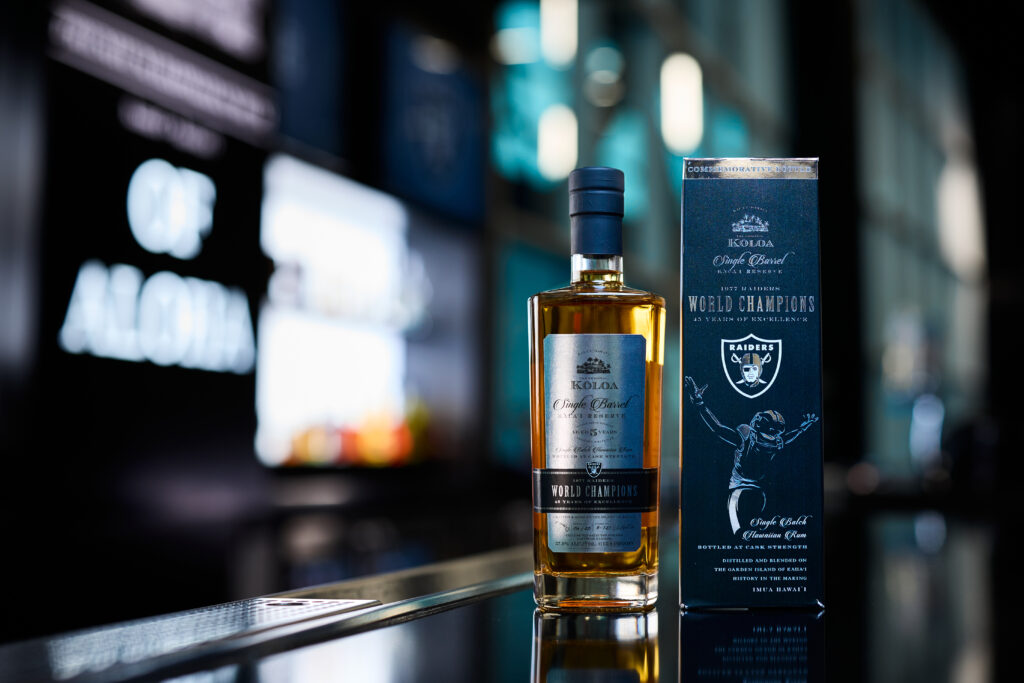 Hawaii's award-winning Koloa Rum Co. has partnered with the Las Vegas Raiders in creating a limited-edition Kauai Reserve Five-Year Single-Barrel Aged Rum with commemorative bottle and box. It honors the 45th anniversary of the team's historic first world championship that resulted from a 32-14 win over Minnesota on January 9, 1977. Since 2021, Koloa Rum Com. has been "The Official Ultra-Premium Rum of the Las Vegas Raiders."
On Saturday, Jan. 7, a presentation was held at Allegiant Stadium during pre-game festivities as the Las Vegas Raiders prepared to take on Kansas City. The pre-game presentation feature Christian Howard, vice president of corporate partnerships for the Las Vegas Raiders, alongside Bob Gunter, Koloa Rum Co. president and CEO and Frank Kibbish, regional sales manager of Koloa Rum Co. Together, they unveiled the official commemorative bottle to select Raiders Alumni who played in the championship game and to the thousands of fans in attendance.
Only 300 Single-Barrel bottles and boxes will be sold and are available exclusively in the state of Nevada. Members of the Raider Nation interested in toasting to the legacy of the Silver and Black can purchase the commemorative bottle and box for $159.99 at Lee's Discount Liquor located at 4230 S. Rainbow Blvd, Las Vegas, NV 89103 and several bars and restaurants such as Fuhu at Resorts World. A Commemorative Bottle Signing will take place on Sunday, Jan. 8, from noon to 3 p.m. at Lee's Discount Liquor on Rainbow, featuring Raiders Alumni Mike Siani, Henry Lawrence and Mike Rae.
"As the Official Premium Rum of the Las Vegas Raiders, we're honored to partner with this legendary organization in creating this special commemorative bottle, celebrating the 45th anniversary of their historic World Championship win," said Gunter. "This exciting collaboration marks our first commemorative product release—momentous for Koloa Rum Co.—and we're happy that we can bring The Spirit of Aloha to Raiders fans on the ninth island."
"The Raiders thank the Koloa Rum Co. for recognizing and honoring our first of three World Championship victories with this commemorative product release," said Raiders President, Sandra Douglass Morgan. "We look forward to continuing to partner with Koloa to celebrate the rich history of the Silver and Black."
The Kauai Reserve Single-Barrel Hawaiian Rum is artfully crafted in single batches and aged for five years. Koloa Rum is distilled from the finest Hawaiian cane sugar, then carefully aged in charred American white oak barrels at Koloa Rum Company's distillery in Kalaheo on the island of Kauai. Bottled at cask strength, Koloa Rum Company ensures its Kauai Reserve Aged Rum is of the highest quality, distinctly different and uniquely Hawaiian.