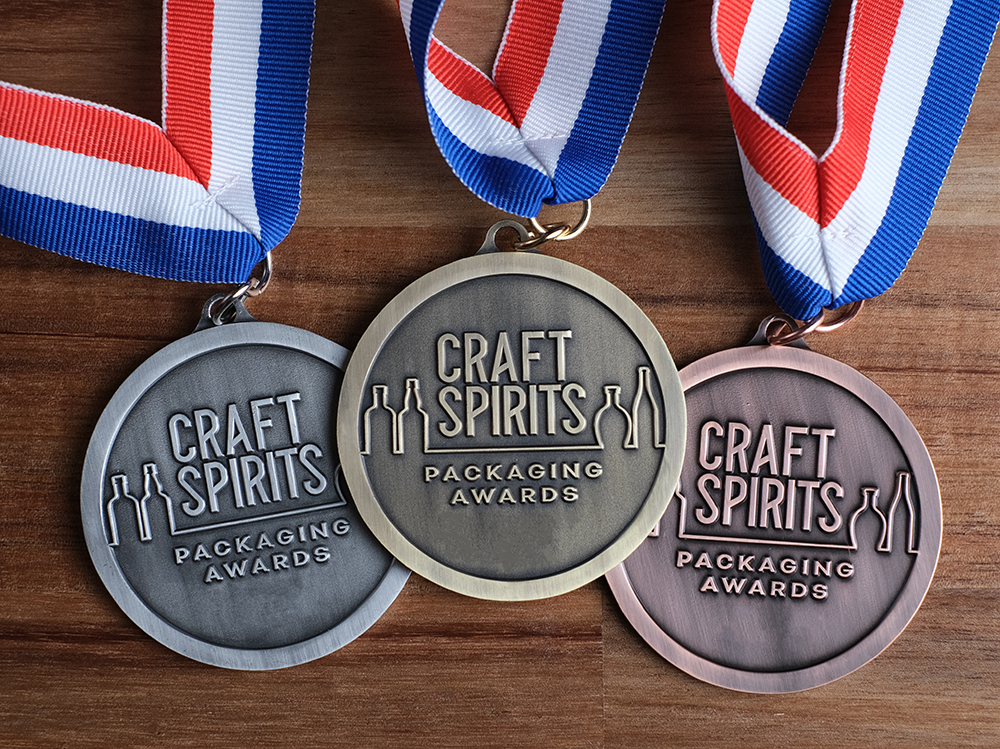 Portland, Oregon (Feb. 11, 2023) —The American Craft Spirits Association (ACSA) and CRAFT SPIRITS magazine today announced the medalists of their third annual Craft Spirits Packaging Awards, which celebrates the best in craft spirits labels and packaging.
The awards, which are sponsored by the Glass Packaging Institute (GPI), were announced Saturday during a ceremony at ACSA's 10th Annual Distillers' Convention and Vendor Trade Show at the Oregon Convention Center in Portland. CRAFT SPIRITS magazine editor in chief Jeff Cioletti emceed the awards and Scott DeFife, president of GPI, announced that Best of Show honors go to James Ownby Reserve, a bourbon produced by Ole Smoky Distillery of Gatlinburg, Tennessee.
Gold medals were awarded in the following categories:
Brandy: Single Barrel Immature Brandy; Star Union Spirits; Peru, Illinois
Brandy: Laird's Tenth Generation Apple Brandy; Laird & Co.; Scobeyville, New Jersey
Gin: The Painted Lady New American Gin; Pilot House Distilling; Astoria, Oregon
Portfolio: Filmland Spirits; West Hills, California
RTD: Party Can Triple Spice Margarita; Party Can; Chicago
Rum: Ron Millonario 15 Reserva Especial; Ron Millonario; Chiclayo, Peru
Specialty Spirits: Senza Maeso Hybrid Spirit; Senza Maeso; San Marcos, Texas
Vodka: Woody Creek Vodka; Woody Creek Distillers; Basalt, Colorado
Whiskey: James Ownby Reserve; Ole Smoky Distillery; Gatlinburg, Tennessee
"Craft spirits producers have a knack for grabbing the public's attention and a big part of that is their remarkable eye for what makes a truly engaging bottle, label, closure or can design," said Margie A.S. Lehrman, CEO, American Craft Spirits Association. "The medalists in the Craft Spirits Packaging Awards prove that year after year."
"Being a successful craft spirits brand begins with the quality of the liquid, but it doesn't end there. A spirit has to offer the complete package and a critical component of that package is—well, the package," said CRAFT SPIRITS magazine editor in Chief Jeff Cioletti. "The medalists in the Third Annual Craft Spirits Packaging Awards fully understand that dynamic. Congratulations to all who took home a gold, bronze or silver, with extra props to Ole Smoky's James Ownby Reserve for earning the top honors."
The third annual competition drew 130 entries from 80 companies. Judging took place virtually in October of 2022, with an esteemed panel of judges evaluating each entry on the following criteria. Aesthetics: How does the packaging appeal to you from a design/artistic perspective? Innovation: How original is the design? Does it stand out on a shelf? Emotional Appeal: How does the packaging make you feel? Does it connect with you? Brand Communication: How well does the packaging tell the story of the brand/product through visual/design/copy elements?
The complete list of medalists is available here on ACSA's website, and photos of each medalist will be published in the March/April issue of CRAFT SPIRITS magazine.
About ACSA
The American Craft Spirits Association is the only registered nonprofit trade association representing the U.S. craft spirits industry. Its mission is to elevate and advocate for the community of craft spirits producers, and membership in ACSA is open to anyone.
ACSA is governed by a Board of Directors elected by the eligible voting members of the Association. Voting members must be independent, licensed distillers (DSPs) annually removing fewer than 750,000 proof gallons from bond (the amount on which a Federal Excise Tax is paid.) who subscribe to ACSA's Code of Ethics.
About CRAFT SPIRITS magazine
CRAFT SPIRITS magazine is the unparalleled resource for in-depth insight and intelligence for the entire craft spirits universe. The bi-monthly digital magazine from the American Craft Spirits Association features the information and analysis that small, independent spirits producers and allied businesses need to operate in today's complex craft beverage market. Through this website, we also provide videos and features to keep the industry informed every single day.
About the Glass Packaging Institute
​​Founded in 1919 as the Glass Container Association of America, the Glass Packaging Institute (GPI) is the trade association representing the North American glass container industry. On behalf of glass container manufacturers and their supply chain partners, GPI promotes glass as the optimal packaging choice, advances environmental and recycling policies, advocates industry standards, and educates packaging professionals.