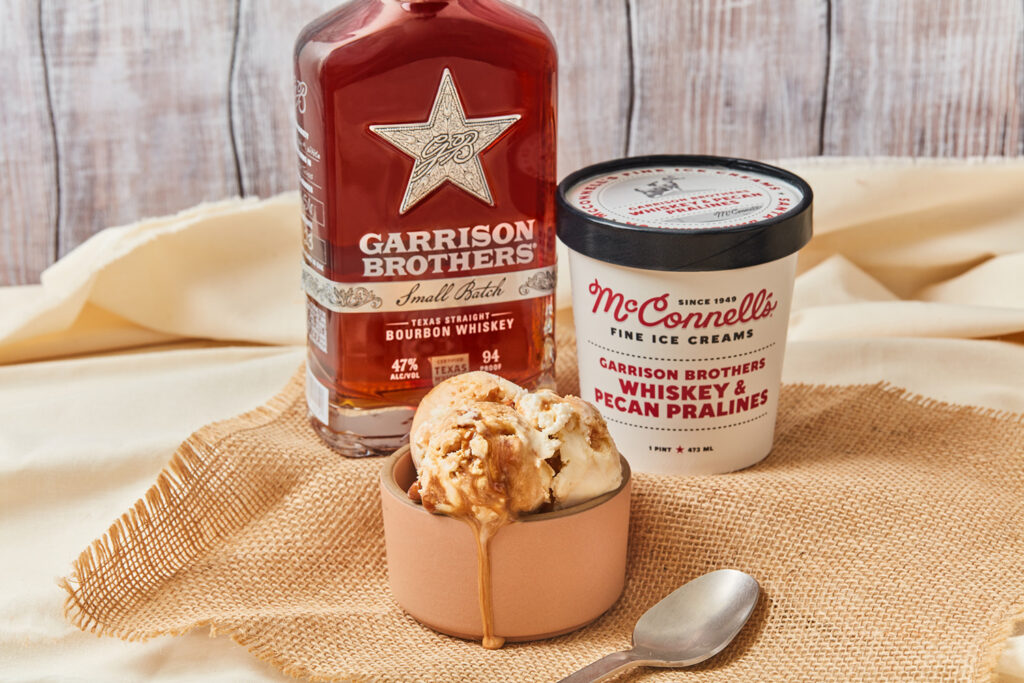 Garrison Brothers Distillery and McConnell's Fine Ice Creams are proud to announce the release of Garrison Brothers Whiskey & Pecan Pralines, a limited edition ice cream collaboration, bringing the award-winning Texas bourbon distillery and the iconic California ice creamery together in one delicious pint. This is the third release of their celebrated ice cream collaboration, and will launch on Friday, March 10, in McConnell's Scoop Shops and online shop. 
The Garrison Brothers Whiskey & Pecan Pralines ice cream flavor features smooth, sweet, smoky 'n spicy Garrison Brothers Small Batch bourbon made in Hye, Texas, married to Central Coast California milk & cream, and topped off by delicious, buttery, salt-roasted 'n caramel-coated pecans.   
"It has always been a dream of ours to make the ultimate bourbon whiskey-flavored ice cream. When our bourbon hit the California market, McConnell's Ice Cream was our first and only choice for a collaborator. Our mutual dedication to using the finest quality ingredients and not compromising on our standards is evident in every single scoop. I've without a doubt have never tasted any ice cream that is better than this," shares Dan Garrison, founder Garrison Brothers Distillery.
Garrison Brothers Whiskey & Pecan Pralines was first released in February 2021 and sold out within the first week of being available. The 2022 release doubled in size of pints available and also sold out quickly. The team is making even more pints available this year to meet the demand.
"Going on our third year of partnering with Garrison Brothers Distillery, we're excited to continue to work with a brand that shares the same commitment to quality ingredients and flavors. Year after year, the collaboration flavor is still a fan-favorite and best-seller, and we hope customers continue to enjoy the partnership as much as we do," said Michael Palmer, CEO of McConnell's Fine Ice Creams.
Garrison Brothers Whiskey & Pecan Pralines launches on Friday March 10, 2023. It can be ordered online at McConnells.com for nationwide shipping and found in McConnell's Fine Ice Creams scoop shops across Southern California. The pint retails for $12 online and $6.25 for a single in scoop shops.
More information about Garrison Brothers can be found at garrisonbros.com and more information about McConnell's can be found at mcconnells.com.