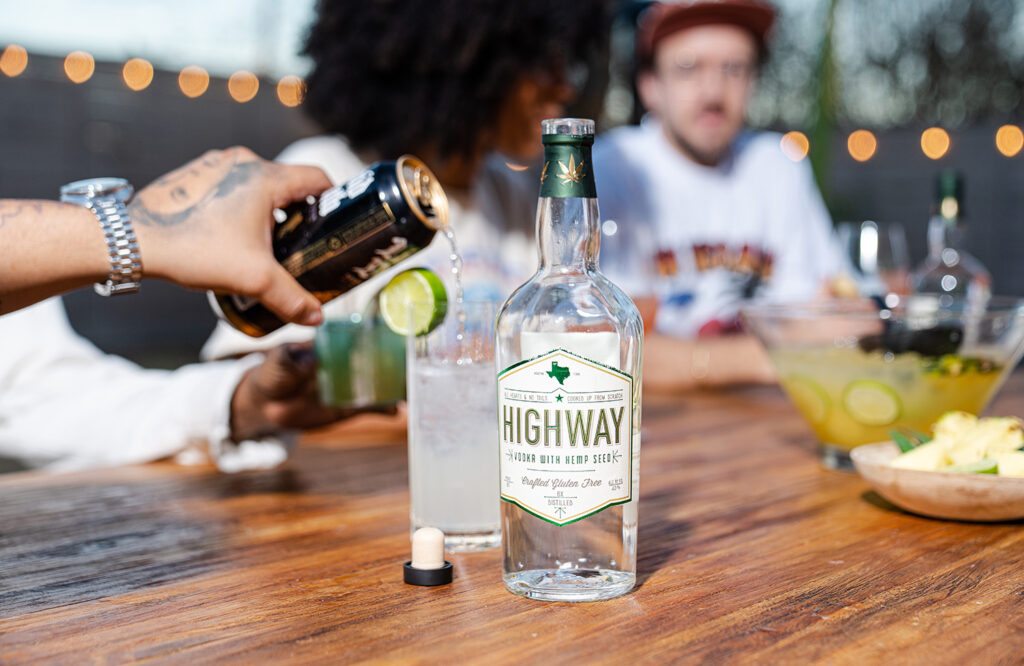 Houston-based Highway Vodka, a spirit distilled with hemp seed, announces its national partnership with Infinium Spirits to take its product nationwide. The partnership cements Highway as the only hemp-based spirit in the country with mainstream distribution and expands upon the company's initial 2019 launch across Houston, which led to 500% year-over-year growth during the COVID-19 pandemic.  
The brainchild of Texas natives and childhood friends Ben Williams and Wendell Robbins, Highway marks the duo's first foray into the craft distilling game — a feat that was more than seven years in the making. The venture comes after various professional triumphs for both founders, including a number of years on Houston's hospitality scene. Their transition from bites to booze follows years of experimental distilling, armed with the goal of injecting distinct character back into vodka by highlighting the natural flavors of Highway's distinct grain mash, which is comprised of just three key ingredients — a unique strain of hemp, Texas corn and pure water sourced from an artesian aquifer.  
"This is a pivotal time of growth for Highway, and we couldn't be more excited for a partner like Infinium. We are a family-owned and operated business, so to have this buy-in from a company that is also rooted in family was really important to us," explains Williams. "Wendell and I started distilling as a hobby to share with family and friends. We loved vodka and simply wanted it to be better. Luckily we weren't under time constraints, and we were willing to turn over every stone to make the smoothest vodka on the market. Thinking outside of the box has gotten us this far, and now it's time for us to show the world why our hemp-based vodka deserves a spot on liquor store shelves across America. With Infinium's support, we believe that goal is possible."  
Highway's expansion across the spirits space follows a continued rise in the diverse utilization of hemp. A recent report by market research distributor Million Insights predicts that "while the global industrial hemp market was valued at $4.13 billion in 2021, it is expected to be valued at $16.75 billion USD by 2030." Williams & Robbins are leveraging this same versatility to cook up their vodka with hemp seed from scratch, while utilizing their proprietary distilling process to bring the liquid to life.  
"Infinium is honored to partner with Highway Distillery and take part in launching Highway Vodka nationwide. As an organization, we are dedicated to pushing the boundaries of the spirits industry, and we want to partner with brands who share that vision. Ben and Wendell have not only created a great product, but they have developed a distilling process that is simply revolutionary. Their unrelenting endeavor to create the world's smoothest vodka ultimately resulted in the visionary incorporation of hemp seed in the spirit's fermentation process. From the moment we tasted it, we knew it was something special. After meeting Ben and Wendell and learning of their vision, we knew we wanted to play a part in their historic and unique venture," explains Infinium president Jan Tharp.   
"Ben and Wendell are pioneers and have built the first Black-owned distillery in the state of Texas. This opportunity also allows Infinium to honor our commitment to promote equity of opportunity and create space for new perspectives, creators and thought leaders from underrepresented backgrounds. Ben and Wendell are pushing boundaries with their product, and we share in their passion and purpose. We are thrilled to be a part of this remarkable story."  
For more information about Highway Vodka, visit www.highwayvodka.com and follow on Facebook and Instagram (@highwayvodka).