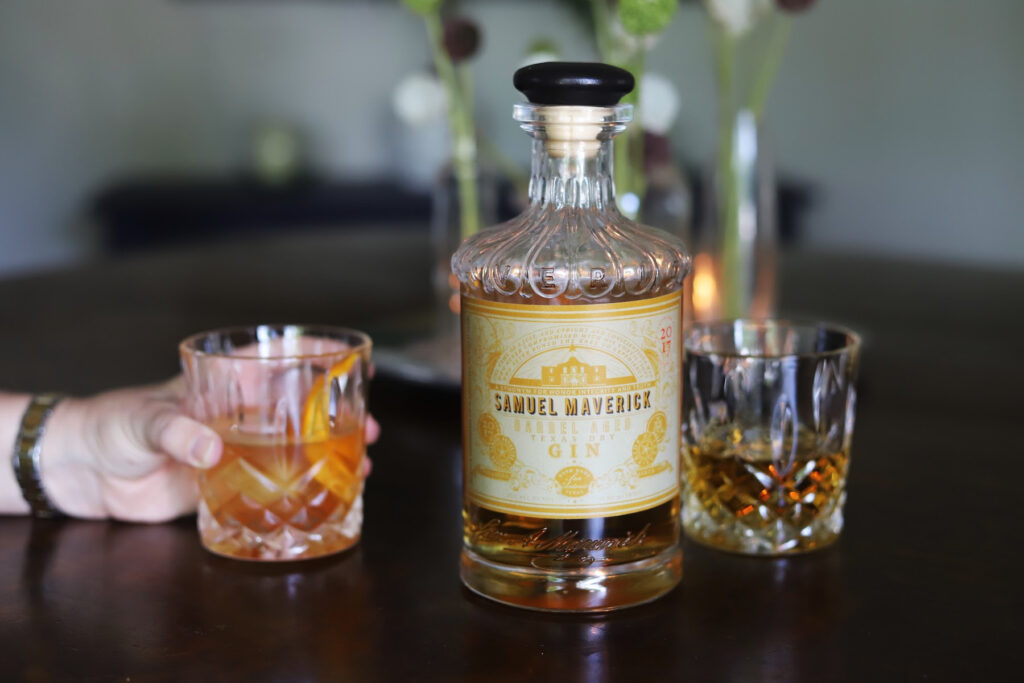 San Antonio-based Maverick Distilling is releasing its limited-edition Samuel Maverick Barrel Aged Texas Dry Gin just in time for warm-weather cocktail season. A unique gift for Mother's Day and Father's Day, Samuel Maverick Barrel Aged Gin was distilled in small batches using local-grown Texas ingredients and aged in bourbon barrels on-site in the vaults below the distillery in the historic Lockwood National Bank building located steps from the Alamo. Just 250 bottles were produced for this small-batch release. 
"With our Barrel Aged Texas Dry Gin, we wanted to create a spirit that is refreshing and unique to the Lone Star State," says Dr. Kenneth Maverick, founder of Maverick Distilling. "Gin continues to grow in popularity as people discover that good gin doesn't taste like bad medicine. We wanted to offer our customers another version of gin and knew that the impressive botanicals that we use for our Texas Dry Gin would evolve into something beautiful with barrel aging."  
Samuel Maverick Barrel Aged Texas Dry Gin is distilled on-site using 17 select local Texas-grown ingredients. It starts as a traditional dry gin with a Texas twist made using locally grown rosemary, pecans, bay laurel, fresh Valley grapefruit zest, and Mexican mint marigold, grown at the distillery, along with traditional gin botanicals like juniper berries and coriander. The result is an American-style gin with a fresh citrus pop and enough piney juniper to add depth and complexity in barrel aging. To create their Barrel Aged Gin, Maverick Distilling's Texas Dry Gin was barreled at 120 proof and aged in #3 char white American oak barrels which were previously used to age Maverick rye whiskey. The barrels rested for two years inside the thick walls of the subterranean bank vault located at the distillery. 
Samuel Maverick Barrel Aged Texas Dry Gin
This premium hand-crafted gin that Maverick Distilling has produced fully in-house. Samuel Maverick Barrel Aged Texas Dry Gin is a beautiful starlight amber color and boasts deep aromas of fresh spring bluebonnet floral scents mingled with citrus, vanilla, and herbs. On the palate, there are bright citrus notes of lemon, grapefruit zest and tart green apple mingled with floral accents of blossoming laurel, spring bluebonnet, juniper and rosemary, followed by a lingering caramelized crème brûlée crust sweetness with a wisp of whiskey on the finish. The Barrel Aged Gin was hand bottled at 90 proof and 45% ABV. Only two barrels were produced for the release of this limited-edition Samuel Maverick Barrel Aged Texas Dry Gin. 
Pricing and Availability
Samuel Maverick Barrel Aged Gin is available for a suggested retail price of $45 per bottle at Maverick Distilling in San Antonio, Texas, and for online purchase and shipping to 42 states nationwide. Maverick Distilling can ship nationwide except to the following states: Alaska, Hawaii, Idaho, Utah, Oklahoma, Mississippi, Alabama, and Michigan.