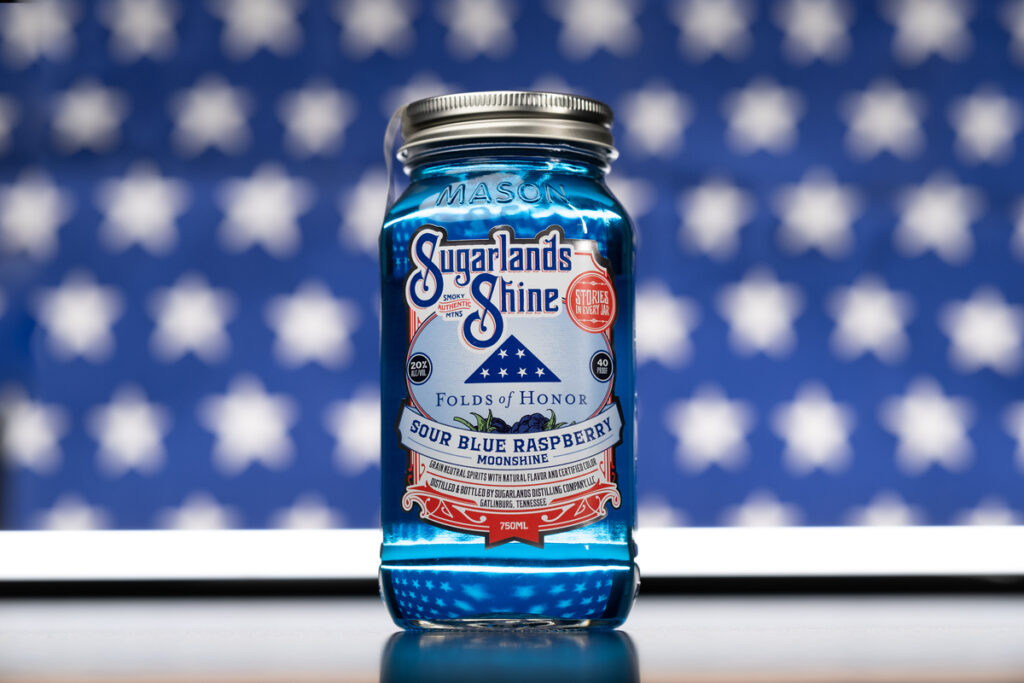 Sugarlands Distilling Co. of Gatlinburg, Tennessee, announced the newest flavor in the award-winning craft distillery's moonshine portfolio—Sour Blue Raspberry—made in partnership with Folds of Honor, a national 501(c)(3) nonprofit that provides educational scholarships to spouses and children of America's fallen and disabled military service members and first responders. 
The Folds of Honor Sour Blue Raspberry Moonshine boasts a refreshingly fruity flavor that packs a sweet and slightly tart taste and features a vibrant blue hue that's sure to catch the eye and please the palate. Sugarlands will donate 5% of proceeds from sales of the new Sour Blue Raspberry Moonshine to Folds of Honor.
"Since our founding, we have been committed to supporting our military, veterans and first responders," said Ned Vickers, president and founder of Sugarlands. "When a military member or first responder is injured or lost, their family faces many hardships. Our partnership with Folds of Honor helps lighten that burden by funding scholarships for the family members and letting them know they are not forgotten."
This is the second time Sugarlands has partnered with Folds on Honor on a limited-edition beverage benefitting the organization. The two introduced the ready-to-drink (RTD) canned moonshine cocktail One-Two Punch in 2021. Sugarlands donated thousands of dollars to the Folds of Honor scholarship program from 5% of the sales of One-Two Punch over the past year. Founded by Lieutenant Colonel Dan Rooney in 2007, Folds of Honor has awarded over 44,000 scholarships totaling more than $200 million in all 50 states.
"It's been an honor to partner with Sugarlands, their employees and patriotic customers," said Ben Lesie, Folds of Honor executive vice president. "This year's new Sour Blue Raspberry continues Sugarlands' annual commitment to support our military and first responders families' educational dreams. We are excited and grateful to release this year's program."
Giving back is a core value of Sugarlands and its MoonShare program, which supports multiple charitable causes and organizations across the U.S. that positively impact the community. Past beneficiaries of the MoonShare program have included the Medal of Honor Foundation, Operation Homefront, USA Cares and the Gary Sinise Foundation, among many others. The MoonShare program has donated approximately $1 million since launching in 2014.
Founded in 2014, Sugarlands produces a full line of craft moonshines and sippin' creams with flavors like Dynamite Cinnamon, American Peach, Dark Chocolate Coffee and Butter Pecan. Sugarlands also produces High Rock, a multi-award-winning craft vodka, in collaboration with Dale Earnhardt Jr. and Amy Earnhardt, and Roaming Man Tennessee Straight Rye Whiskey, which won Best Whiskey in the 2019 American Craft Spirits Association Awards and a Double Gold Medal in the 2023 San Francisco World Spirits Competition.
The Folds of Honor Sour Blue Raspberry Moonshine is currently available at Sugarlands Gatlinburg Distillery and will soon be available at retailers across the county. To find Sugarlands products, visit FindMoonshine.com. Make an impact with every sip, but sip wisely! The Folds of Honor Sour Blue Raspberry Moonshine is produced and bottled by Sugarlands Distilling Company, Gatlinburg, Tennessee. [20]% alc/vo.,750 proof, available in 750ml jars. Must be 21+ to purchase.