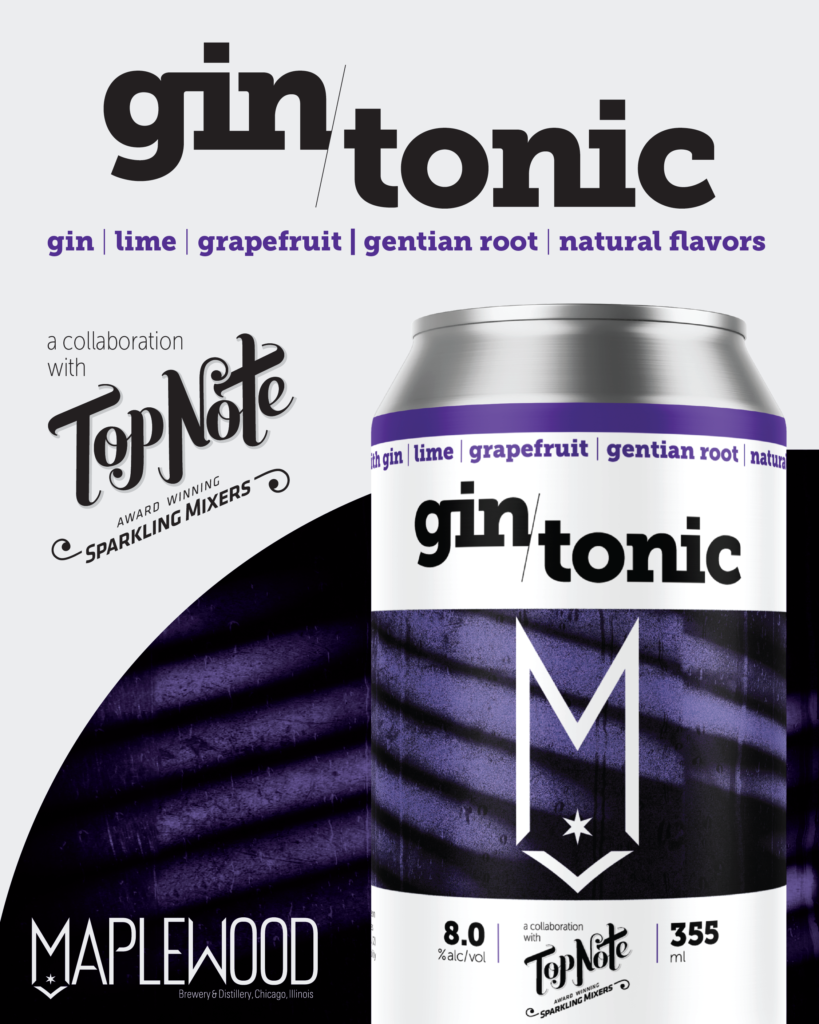 Chicago-based Maplewood Brewery & Distillery and Top Note Tonic announce the release of their collaborative ready-to-drink (RTD) cocktail, Gin/Tonic. The craft beer industry pros at Maplewood and Top Note have teamed up to create an elevated version of the classic cocktail presented in a convenient RTD package. Find Gin/Tonic at the Maplewood taproom and in retail across the Chicagoland area in 4-packs of 12 oz cans now.
Gin/Tonic (8% ABV) begins with Maplewood's Brewer's Gin, a citrus-forward spirit devised at their Chicago distillery. Directly inspired by the brewing half of Maplewood's repertoire, Brewer's Gin is finished with whole cone Mosaic and Citra hops. Gin/Tonic maximizes the juicy orange and marmalade flavors of Brewer's Gin by mixing it with Top Note's award-winning Classic Tonic Water. Featuring all natural bitters of quinine, real cane sugar and notes of lime zest, Classic Tonic Water lends the cocktail a distinctive nuance.
Developing a partnership between a combination brewery-and-distillery and the brewers of the industry's most inventive tonic was a no-brainer for all involved.
"The brewery aspect of our business is what sets us apart from other distilleries," said Ari Megalis, distiller & co-founder of Maplewood Brewery & Distillery. "The crossover gives our product a unique personality, and the difference is noticeable in Gin/Tonic."
Co-founder of Top Note Tonic Mary Pellettieri said, "Breweries are known for quality and innovation, and are bringing that same inventiveness now to the RTD space." Pellettieri would know — she's worked in the craft beer business for over 20 years and wrote the literal book on Quality Management for the Brewers Association. "Brewers do it better," she said. "So, it just makes sense to work alongside a fellow brewery to think outside the beer box and create a canned cocktail of the highest possible quality."
Top Note's Classic Tonic subtly supports Brewer's Gin for a uniquely crafted, citrusy and lightly sweet cocktail in a can. Made by brewers for cocktail enthusiasts, Gin/Tonic is your new favorite summertime refresher. Find Gin/Tonic at a retailer near you via the Maplewood Product Finder.