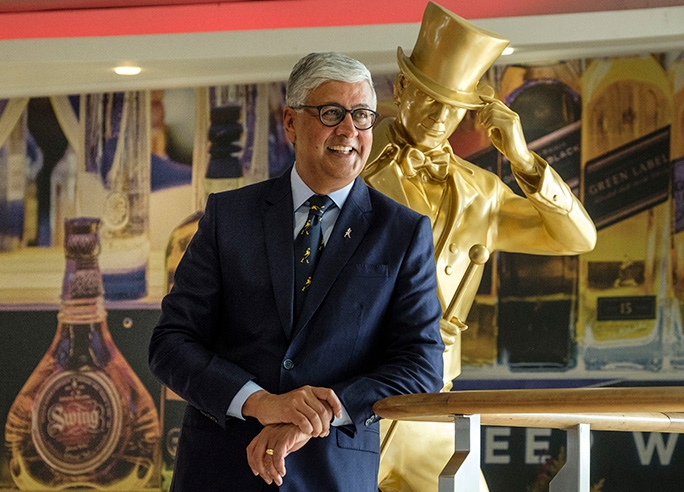 Following a brief illness, Diageo CEO Sir Ivan Menezes passed away at the age of 63, the company announced on Wednesday.
"This is an incredibly sad day," said Diageo chairman Javier Ferrán. "Ivan was undoubtedly one of the finest leaders of his generation."
Earlier this year, Diageo announced that Menezes would retire at the end of June and Debra Crew would be appointed CEO. However, on Monday, the company announced that Menezes was in the hospital receiving treatment for a stomach ulcer and that Crew was named interim CEO.
The following is an additional comment from Ferrán.
"Ivan was there at the creation of Diageo and over 25 years, shaped Diageo to become one of the best performing, most trusted and respected consumer companies. I saw first-hand his steadfast commitment to our people and to creating a culture that enabled everyone to thrive. He invested his time and energy in people at every level of the company and saw potential that others may have overlooked. This is one of many reasons why he was beloved by our employees, past and present.
"Ivan's energy and his commitment to diversity created a truly inclusive business and enabled Diageo to have a positive impact on the communities we serve. His passion for our brands was second-to-none and in his heart, he remained the Johnnie Walker marketer from his early days. The desire to build the world's best brands never left him.
"We are truly privileged to have had the opportunity to work alongside such a thoughtful and passionate colleague and friend—a true gentleman. He has built an extraordinary legacy. 
"Ivan leaves behind many friends and a beloved family, and our thoughts are particularly with his wife, Shibani and his two children, Nikhil and Rohini. On behalf of the board, executive committee and all our employees, we extend our deepest sympathies to them."