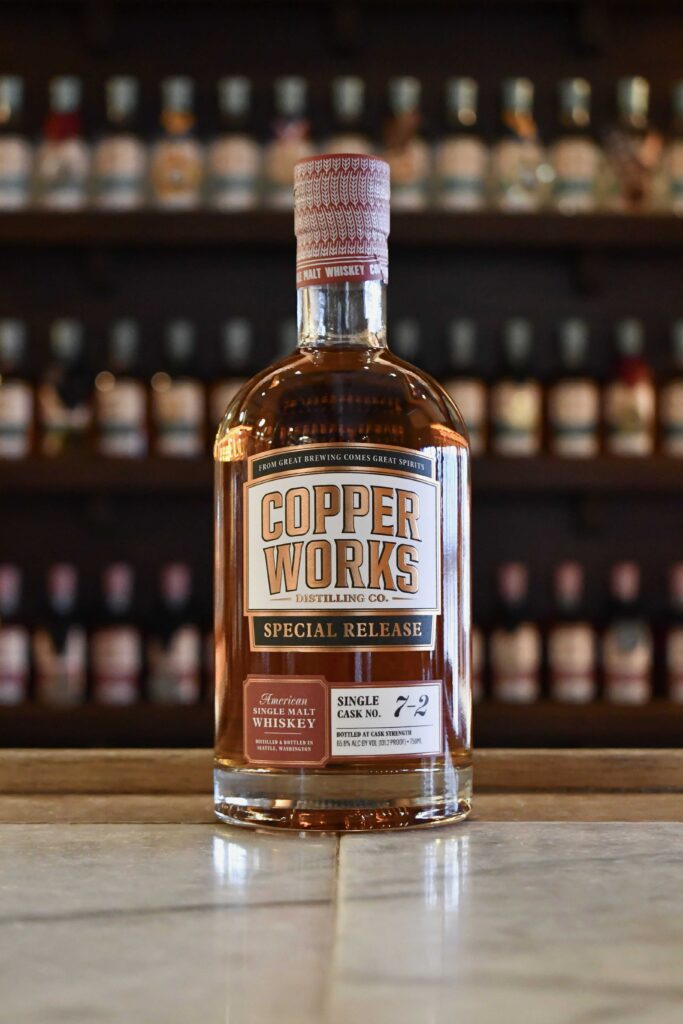 For the first time, Copperworks Distilling Co. of Seattle has released a single cask whiskey matured in one of its own refilled casks.
The first whiskey to mature in the cask was used to craft the award-winning distillery's first-ever whiskey release in 2016: Release 001. Now, seven years later, this cask once again has something delicious to offer.
Now Copperworks unveiled its latest limited release—American Single Malt Whiskey Single Cask No. 7-2.
"Single casks are pretty straightforward (and tasty), and we number them in chronological order, meaning this was our seventh cask ever filled," said Copperworks Distilling Co. president, co-founder and co-owner, Jason Parker. "We filled, emptied, and refilled it with a new distillate to make a new whiskey."
"Unlike other styles of American whiskey such as bourbon and rye, no law currently states that American single malt whiskey must mature in a new cask," said Copperworks Distilling Co. vice president and co-owner, Jeff Kanof. "While most of our whiskey is matured in new casks, we have a number of refilled casks as well."
"Refilling allows us to focus more on highlighting the flavors of the locally sourced malted barley in our final product. Because the cask has been used before, it has contributed many of its characteristics (think: oak, caramel, vanilla) to the first whiskey. After the refill, the influence from the cask is lessened, allowing the new whiskey to pursue more characteristics from the malt," said Parker.
Refilling vs. Finishing
"It's important to note that refilling a cask is different than finishing in a cask. Refilling is entering distillate into a previously used cask to become a fully matured whiskey, whereas finishing is transferring a whiskey that has already fully matured into another cask to achieve additional flavors," said Kanof.
Copperworks American Single Malt Whiskey Single Cask No. 7-2
Production Notes
Crafted from Copperworks' Five Malt recipe and matured in a refilled American Oak cask for six years and ten months, then bottled at cask strength. This cask previously held another Copperworks American Single Malt Whiskey crafted from pale malt.
Tasting Notes
Reflective and colored like citrine, this whiskey has as many facets as one might find in the gemstone by that name. Springtime lemon tree, orange blossom honey, caramelized peach, and honeysuckle on the nose. The palate rewards with subtle spice, stone fruit, dried apricot, and a bittersweet mix of limoncello and dark brown sugar. Finishing long and lightly drying, notes of lemon zest, candied pecan, and honey sweetness mingle with black tea. Enjoy this single cask on its own, or make it a refreshing summer tipple with a twist of lemon and a splash of club soda.
More Details
192 bottles produced (750ml)
65.6% ABV (131.2 Proof)
$89.99 (+ tax and shipping)
To purchase online:
Purchase online or in person at Copperworks Seattle Distillery & Tasting Room Address: 1250 Alaskan Way, Seattle, WA 98101