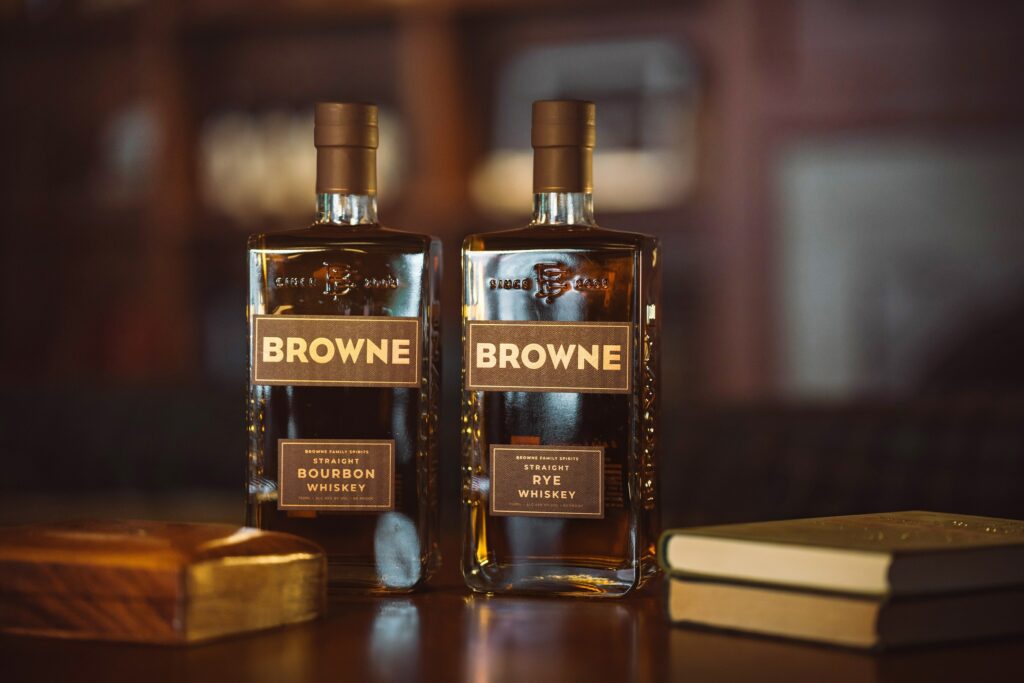 Browne Family Vineyards of Washington state is celebrating the 20th anniversary of its founding. To celebrate this landmark achievement, locally sourced Browne Family Spirits will enter the Pacific Northwest wholesale market with the addition of its Straight Bourbon and Straight Rye whiskeys beginning July 1 at select QFC, Fred Meyer and Total Wine & More retailers across Washington.  
Browne Family Vineyards was founded in 2003 following the passing of William Bitner Browne, the grandfather of proprietor Andrew Browne, and has continued to grow in rank and velocity among premium Washington wine brands throughout the past 20 years. What began as a single barrel of Cabernet Sauvignon, Browne Family has since achieved a dominant leadership position in the premium wine segment in the Pacific Northwest. With this most recent launch, Browne Family intends to replicate its success in the spirits industry, as it grows its portfolio and expands its offering across the adult beverage categories.
"It is with awe that I look at Browne Family represents today and the epic adventures of the last 20 years. But I am mostly excited for the opportunity the future holds. As my family has grown, so has the depth of Browne Family as a brand," said Andrew Browne, founder of Browne Family. "As newcomers to the spirits category, we made the decision to introduce our product in our tasting rooms with limited capacity in late 2022, aiming to directly gather feedback from our customers. The overwhelmingly positive response we received has greatly influenced our strategic launch into the broader market," Browne continued. "We are immensely grateful for the enduring and dedicated support from our partners: distributors and trade, which will provide Pacific Northwest whiskey and spirits enthusiasts expanded access to our brand."
Based in Andrew Browne's hometown of Spokane, Washington, Browne Family Spirits are meticulously handcrafted and locally distilled by Kentucky-native, master distiller Aaron Kleinhelter. Using rye, corn and barley that is grown and milled by local farmers along with water from the Spokane Valley Rathdrum Prairie Aquifer, the Browne Family Spirits are a celebration of the Pacific Northwest.
"Our Straight Bourbon and Rye are an excellent nice introduction to the complex world of whiskey," said Aaron Kleinhelter, Master Distiller at Browne Family Spirits. "Our Bourbon is perfect for those that sip lightly and live easy while the Rye is best for the bold adventurers. Drink smart, drink well, and enjoy!"
In addition to the Straight Bourbon and Straight Rye whiskeys being available at select QFC, Fred Meyer and Total Wine & More retailers across Washington, two of the Browne Family Spirits' leading Tasting Room offerings Gigi's Garden Lavender Gin and Andy's Hand-Crafted Vodka will also enter the wholesale market, as a limited offering.
A growth brand every single year since its inception, Browne Family Vineyards has achieved remarkable revenue increases during this challenging time in the industry, up 61% in Washington State and 45% nationally over the past two years (Source: Nielsen Ending 5.20.23 | Total US xAOC + Liquor Plus, Total US CONV, Washington xAOC | 52 Weeks). Browne Family's market penetration and consumer awareness are at an all-time high with the most robust presence of any brand in the Northwest fueled by local partnerships, tasting rooms located in all major population bases in Washington and Oregon, community activations, and boots-on-the-ground support from proprietors Andrew and Courtney Browne. This community and Direct-to-Consumer engagement combined with organic growth and innovative ventures like the Browne Forest Project and our newest Browne Family Spirits has propelled Browne Family Vineyards become one of the top three Washington State brands in the national market segment of $15 and above.
Wholesale Product Information
· Straight Bourbon
o Deep aromas resembling campfire, older oak, and leather with a lingering sweetness on the back of the nose. On the palate, an earthy natural sweetness with light tannins. The Bourbon finishes with smooth, slight char notes.
o Proof: 90
o Mash Bill: 8% rye, 82% corn and 10% malted barley
o SRP: $44.99
· Straight Rye
o Thoughts of sweet tea with lemon and honey mixed with fragrant florals and light vanillas on the nose. On the palate, the bite of earthy rye that is not overly spicy on the tongue. This Rye Whiskey finishes easy and pleasant with soft spice notes.
o Proof: 90
o Mash Bill: 23% corn, 70% rye, 7% malted barley
o SRP: $44.99
Wholesale Limited Offerings
· Gigi's Garden Lavender Gin
o Crafted with Pacific Northwest botanicals to add soft lavender and light juniper notes, the Gin finishes with light and balanced characteristics of citrus and floral.
o Proof: 90
o SRP: $44.99
· Andy's Farm-Crafted Vodka
o Smooth with a full-bodied mouth feel and light and crisp finish, the Vodka is made with wheat from William's Organic Farm in Walla Walla, WA.
o Proof: 80
o Mash Bill: 100% Organic Wheat
o SRP: $34.99