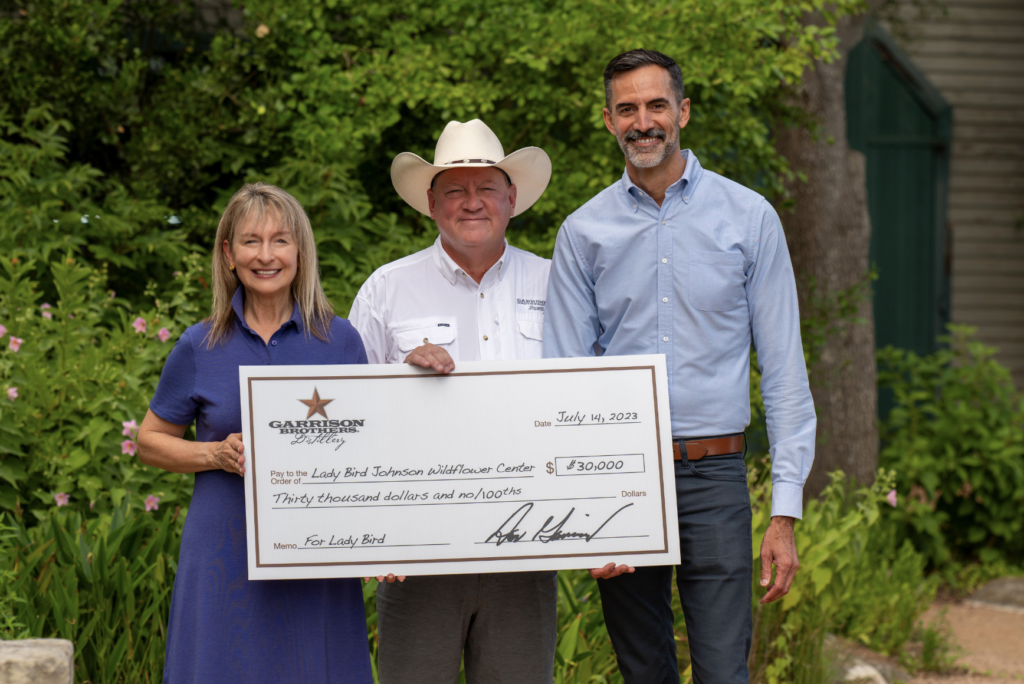 This month Dan and Nancy Garrison, co-founders of Texas' first legal whiskey distillery, Garrison Brothers, presented a check for $30,000.00 to the Lady Bird Johnson Wildflower Center to help fund efforts in research, preservation and public programming of native plants, and to continue Mrs. Johnson's environmental legacy.
In May 2023, Garrison Brothers released a new expression called Lady Bird. This exceptional bourbon creation was first aged for 4 years in new white American oak barrels before being infused with Burleson's Texas Wildflower Honey for an 8-month period. The bourbon was then transferred to French XO Cognac casks, where it matured for an additional 3 years. Bottled at a potent 114 proof, Lady Bird Bourbon is hand-sealed with a distinct Prairie Purple wax. The initial release, just over 5,900 bottles, helped raise awareness and funds. Garrison Brothers Distillery donates $5 for every bottle of Lady Bird that is sold to the Lady Bird Johnson Wildflower Center. Each bottle is decorated with a packet of wildflower seeds and bourbon drinkers are encouraged to spread them across the country.
"Nancy and Dan Garrison have been incredible supporters of the Wildflower Center for many years, and we're so grateful for their continued support in this unique way," says Lee Clippard, Executive Director of the Lady Bird Johnson Wildflower Center. "It's a testament to Garrison Brothers Distillery's commitment to the community and our environment."
"As a former Advisory Council member and longtime supporter of the Lady Bird Johnson Wildflower Center, I am thrilled to be able to continue working with this special non-profit. At Garrison Brothers we believe that good bourbon can change the world, and with our new Lady Bird bourbon, we are able to help raise funds and awareness for this beautiful cause," says Nancy Garrison, co-founder, Garrison Brothers.
Garrison Brothers is committed to preserving and restoring Texas' native plants, flowers, parks, and waterways.