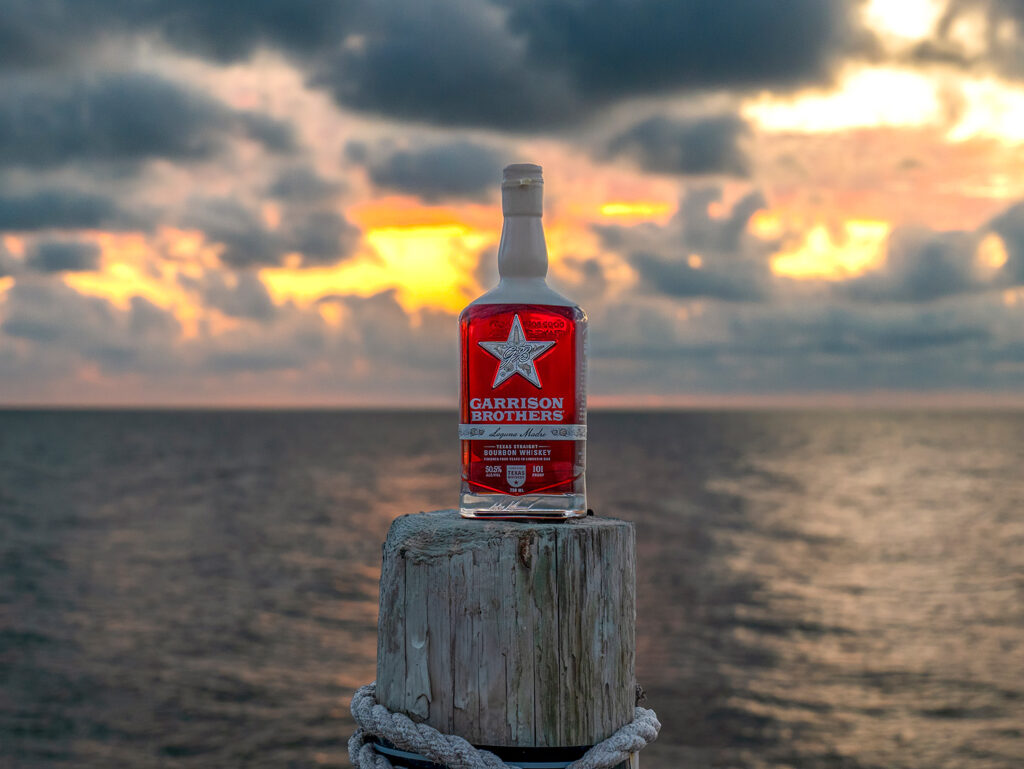 Garrison Brothers, Texas' first legal bourbon distillery, released their rarest and most coveted expression, Laguna Madre, on July 22 at a special distillery event in Hye, Texas. This exclusive expression yielded 2,100 total bottles for 2023 with one thousand bottles of the beloved whiskey having been taken home by aficionados and dedicated fans at the release event.
A full eight years of maturation makes Laguna Madre the oldest bourbon released by Garrison Brothers—and the oldest made in Texas. It is aged four years in white American oak barrels and another four years in Limousin oak casks. It is the first bourbon ever finished in the extremely expensive and rare casks which are imported from France. The result is a vanilla content that is simply off the charts. The 101 proof bottle features tasting notes such of root beer, vanilla bean, hazelnut, saltwater taffy, chocolate gems and an "adults only" candy bar finish.
"This is one an experienced bourbon drinker won't ever forget," shares Dan Garrison, founder Garrison Brothers.
Built into the ethos of this bourbon expression is social impact and giving back. Laguna Madre was first released in 2020 as the launch pad for Operation Crush COVID-19 driving donations to Good Bourbon for a Good Cause, raising hundreds of thousands of dollars to help support the Texas hospitality industry so bartenders, servers and cooks could rebuild their lives after massive industry-wide layoffs.
The 2023 release will continue the tradition of supporting worthy causes as it is being used to drive awareness and recognition to the non-profit organization FlatsWorthy. FlatsWorthy, Inc., a 501c3 non-profit organization, is a coalition of diverse anglers practicing mutual respect while sharing the same resource. Formed in 2015 in Aransas County, Texas, the organization's focus has been Texas' coastal area with reach state and south-wide. They accomplish their mission through public awareness and education, participation in habitat restoration, and involvement with state and federal agencies in resource protection.
Ahead of the release, in June 2023, the Garrison Brothers Distillery team joined forces with FlatsWorthy for a three-day fishing trip on the Texas Gulf Coast in the very waters for which the bottle was named – the Laguna Madre. The organization holds a special place in the heart of Garrison Brothers' Master Distiller Donnis Todd, especially, as his son Calvin is a proud FlatsWorthy volunteer.
"Blessed to be associated with such a wonderful group of people who are as passionate about the Laguna Madre as I am about the bourbon" shares Donnis Todd, Master Distiller Garrison Brothers.
On release day, FlatsWorthy had an informational tent set up at the distillery with founding members Chuck Naiser and Billy Trimble in attendance.
"We appreciate the unique opportunity to partner with Garrison Brothers Distillery who share our concern and dedication to conserving the resource for future generations. Together we can make a difference on the Laguna Madre and adjacent waters" shares Chuck Naiser, Founding Member FlatsWorthy.
Each bottle of Garrison Brothers Laguna Madre is housed in custom-built wooden display case, framed by a photo of the Texas Gulf Coast and accompanied by informational assets about FlatsWorthy. All bottles are hand-signed and numbered by Master Distiller Donnis Todd.
Laguna Madre will be available at limited bars, restaurants and retailers by the end of July 2023. The suggested retail price is $349.00.
For more information on Laguna Madre and Garrison Brothers, go to www.garrisonbros.com.