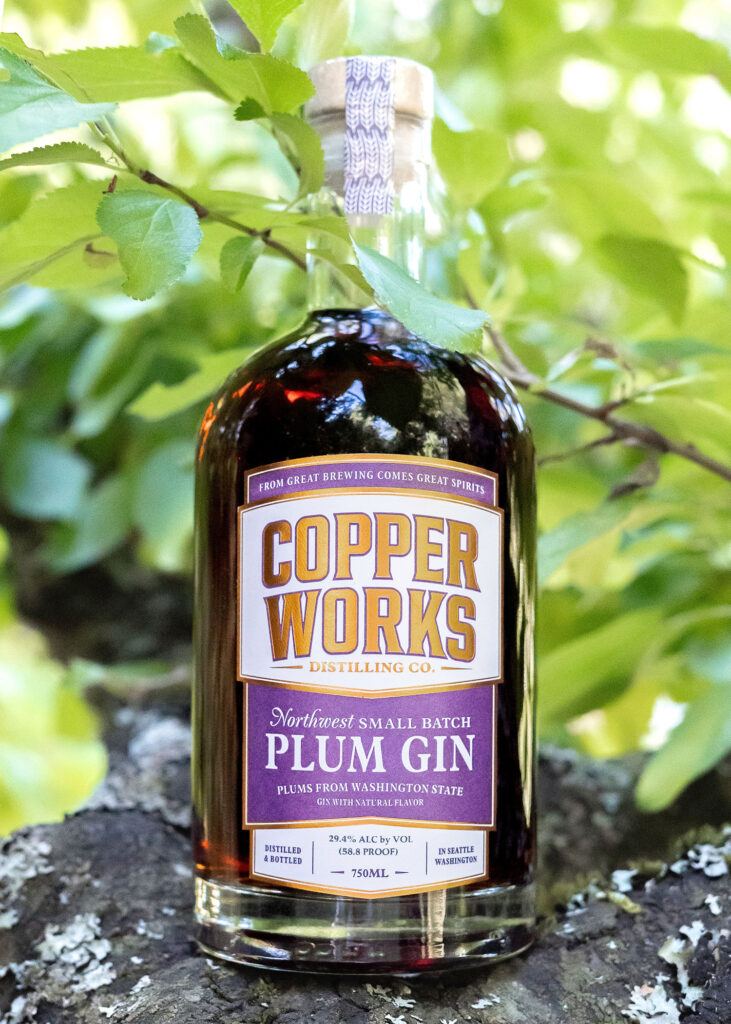 What began as an experimental, limited-edition release later turned into a sensational sipper, community connector, and a tasty part of Seattle-based Copperworks Distilling Co.'s standard lineup.
Available now for purchase at the distillery and in the online store, Copperworks Plum Gin, 2022 Harvest, was crafted from 1,400 pounds of locally grown Italian Prune plums from the 2022 harvest that macerated in Copperworks' Small Batch Gin for approximately nine months.
"It's not clear exactly how Italian Prune plumes, native to the coastal Mediterranean region of Italy, first arrived in the Pacific Northwest," said Copperworks co-owner and president Jason Parker. "What is clear is that nowadays, these fruit trees are prolific across our region, thanks in part to heavy promotion by the Washington State Fruit Commission from the 1960s through the early 1980s. And they're utterly delicious."
"Our Plum Gin is a naturally colored gin with plummy flavor, a touch of sweetness, and low proof," said Copperworks co-owner and vice president Jeff Kanof. "It is a perfect late summertime sipper and makes an excellent cocktail base. 
Copperworks Plum Gin, 2022 Harvest
750ml, 29.4% ABV
$75.00 (including tax)
Now available at Copperworks Seattle Distillery & Tasting Room and online store.
Tasting Notes
Vibrant on the nose with notes of candied orange peel, almond paste, violet and plum skin. Light and bright on the palate with jammy sweetness and delicate, herbaceous flavors of melon rind, fruit leather, spruce tips and cinnamon. A lingering tartness and light tannins on the finish bring to mind red apple skins and pink peppercorns with a touch of sweetness.
To Purchase
To purchase online:
https://store.copperworksdistilling.com/collections/spirits/products/copperworks-plum-gin-750ml.
To purchase in person:
Copperworks Seattle Distillery & Tasting Room Address: 1250 Alaskan Way, Seattle, WA 98101
Plum Partners
"We're proud to have crafted this gin with plums from the local community and small farms in our area. Now, after it's been bottled, the leftover boozy fruit is being used in local beer and jam," said Parker.
COPPERWORKS PLUM GIN, 2022 HARVEST PARTNERS
Warm Valley Orchard | Orcas Island, Washington
Established and operated by husband-and-wife team Bob and Maria Nutt, Warm Valley was Copperworks very first partner in making Plum Gin. Bob happens to be the brother of Copperworks Co-founder Micah Nutt, and when they had excess plums one season, the Copperworks team knew they had to try something. What began as an experimental cask finished gin in 2017 is now an annual release of Plum Gin, and Copperworks has sourced plums from Warm Valley every year since.
Lazy River Farm | Kent, Washington
A few years ago, Copperworks grew its Plum Gin production and began sourcing more Italian Prunes from Lazy River, a family owned, and operated farm dedicated to sustainable and natural farming. They also operate a small distillery where they craft liqueurs and other specialty spirits from (literally) the fruits of their labors on the farm.
City Fruit | Seattle, Washington
In 2022, Copperworks began working with City Fruit, an independent nonprofit founded to redirect Seattle's excess fruit from waste. With access to more than 7,000 fruit trees and vines on public and private lands in Seattle, City Fruit distributes tens of thousands of pounds of harvested fruit to local food banks and meal programs. And, to prevent waste, they distribute fruit that is not suitable for food banks to local businesses (like Copperworks) who can process the fruit into other products.
Local residents | Seattle, Washington
A small number of Italian Prunes were generously provided by Seattle area residents during last year's harvest. Due to a cold and wet spring, plum yields were seriously low. Copperworks sent out a call for local plums, they answered, and Copperworks made a donation to their local food bank in exchange for their homegrown plums.
Call for Plums for Copperworks Plum Gin, 2023 Harvest
For people who have Italian Prune trees in the Seattle area and are interested in providing fruit for Copperworks' next batch of Plum Gin, please email PlumGin@CopperworksDistilling.com for more information.
BOOZY PLUMS
"After a nine-month long soak in Copperworks' Small Batch Gin, the plums absorb a fair amount of liquid and alcohol content," said Kanof. "The easiest thing to do would be to send the plums to compost, but we know they still have a lot of flavor left to offer. We've partnered with two local producers to send the plums on the next leg of their journey."
Fair Isle Brewing | Seattle, Washington
"Given our own origins as brewers, it's no surprise we wanted to see what these plums could do for a craft beer," said Parker. " Fair Isle focuses on thoughtful mixed-culture saisons that express the bounty of ingredients in the Pacific Northwest and they have something in the works with these plums. Keep an eye out soon for what will be a very special (and tasty) release from them."
Girl Meets Dirt | Orcas Island, Washington
Located just down the road from Warm Valley Orchard where many of the plums are grown, Girl Meets Dirt crafts an array of preserves and cocktail mixers from heirloom fruits.
"Using our boozy plums, they've made the incredibly delicious Ginny Jam, a limited-edition preserve with botanical, floral, mulled wine and candied fruit notes," said Kanof.
To purchase Ginny Jam, please visit:
https://store.copperworksdistilling.com/collections/all/products/girl-meets-dirt-ginny-jam-w-copperworks-distilling