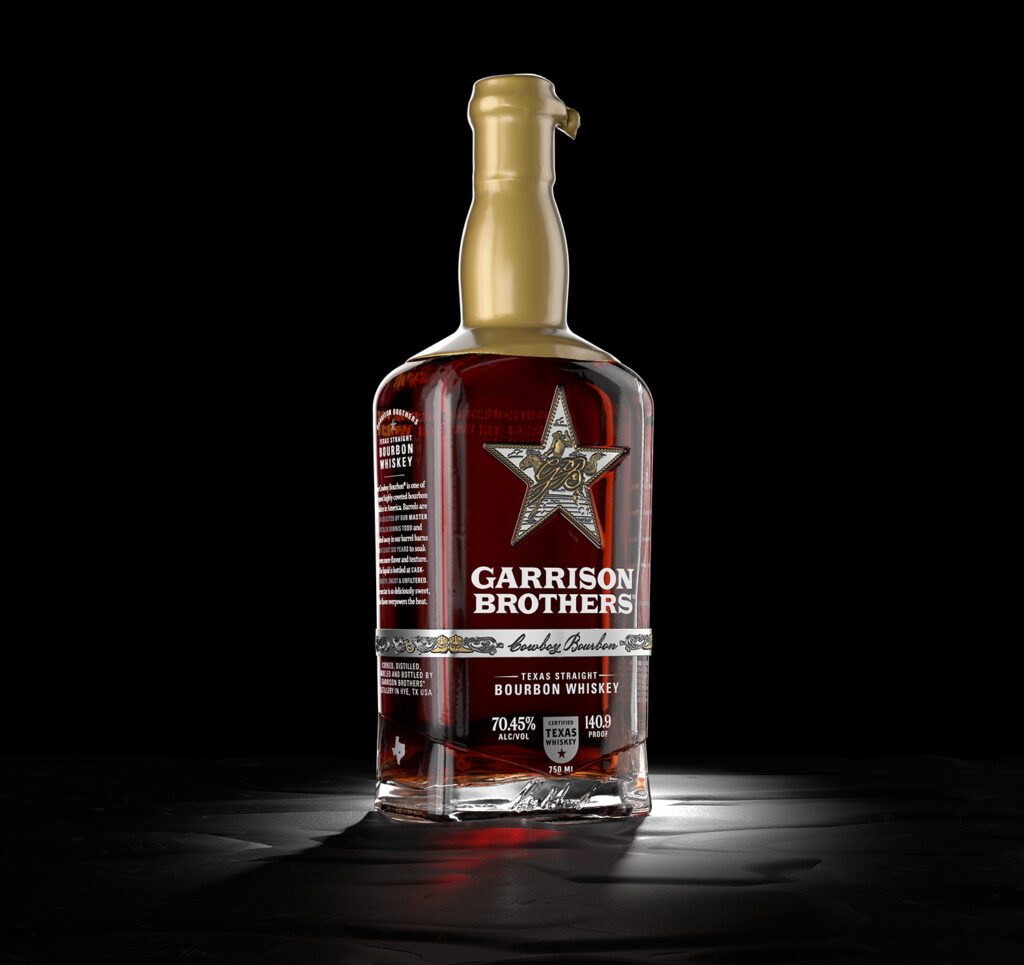 Garrison Brothers, Texas' first legal bourbon distillery, will release the 2023 Cowboy Bourbon on Saturday September 23, at its annual distillery event in Hye, Texas. This year's uncut, unfiltered, cask-strength release clocks in an astounding 140.9 proof and yielded 9,600 bottles. The first 1,000 bottles will be claimed by devoted fans at the distillery, while the remaining 8,600 bottles will be available across the country by the first week of October.  
Cowboy Bourbon is Garrison Brothers' most elite expression offering the truest taste of Texas terroir on the market. The release comes from what master distiller Donnis Todd calls his "piggy bank" of barrels that are just too flavorful on first taste to bottle. He patiently saves and collects these specific barrels as he finds them during his daily, monthly and yearly taste tests, if he deems them of having Cowboy Bourbon potential. Years later, he takes these barrels out of the already incredibly harsh Texas climate in which they are aging and puts them to the ultimate test: more Texas heat. The already incredibly high-proof barrels continue to age, with some ending up completely empty. Those that remain are collected and married together to make the legendary Cowboy Bourbon bottled at cask-strength, uncut and unfiltered.  
Every barrel used in this year's release was at least six years old. The 2023 Cowboy Bourbon greets you with an alluring bourbon perfume blending scents of fresh lumber and honey wheat bread, potent enough to stir the senses. The initial heat reveals an array of flavors – warm plums, rhubarb, cocoa powder and cherry juice, balanced by the earthiness of roasted pecans and a touch of white chocolate and clove honey. The finish is a delightful mix of cinnamon candy, burnt marshmallows, chewy caramels and apple cider, leaving behind a warmth akin to spicy citrus cinnamon and comforting apple pie.  
"It holds true even at 140.9, I truly believe the flavor overpowers the proof," shares Garrison Brothers Master Distiller Donnis Todd.
The suggested retail price of Cowboy Bourbon is $249.99. While it sells out quickly it can be found at liquor retailers and bars nationwide beginning October 1, 2023. Each bottle is hand-signed and numbered by Master Distiller Donnis Todd and comes housed in a rugged, custom-built gift box lined with a satin pillow.  
Cowboy Bourbon has been recognized with numerous Platinum and Gold awards at several prestigious spirits competitions, such as the 2023 SIP Awards, the 2023 ASCOT Awards and the 2023 TAG Global Spirit Awards.  
For more information about Garrison Brothers Cowboy Bourbon www.garrisonbros.com/our-babies/cowboy.