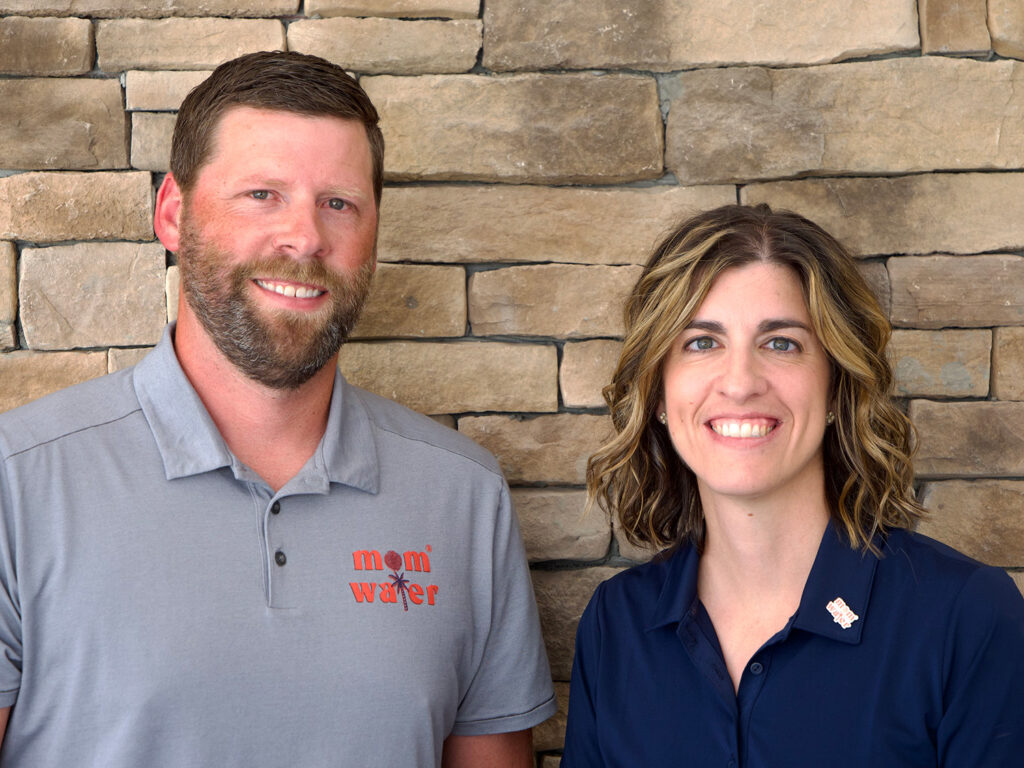 Indianapolis-based Mom Water, the rapidly growing ready-to-drink beverage company, recently announced the promotion of two executive leaders. Kara Woolsey has been elevated to chief executive officer and Adam Brames has been promoted to chief operations officer. Both Woolsey and Brames are founding team members who helped launch Mom Water in 2021. Bryce Morrison, Mom Water's co-founder and prior CEO, will retain an active role as a spokesperson and creative lead for the company alongside co-founder Jill Morrison. 
"I couldn't imagine anyone more suited to take the helm as CEO than my sister, Kara. She has been instrumental in our journey to date and I can't wait to see what the future holds," says Bryce Morrison, co-founder of Mom Water. "We're equally thrilled to welcome my brother-in-law, Adam into his new role as COO. His operational proficiency and experience are invaluable to our team."
Woolsey steps into this new role after serving as COO since January. This transition is a testament to her leadership, vision and dedication to driving Mom Water's growth. With a wealth of experience in managing operations, marketing, finance and human resources, she will continue to guide the company to additional success. In her new role, she will provide strategic direction for the company, support teams across all functions with hands-on leadership and further develop and foster a dynamic company culture.
"I'm incredibly honored to lead the fantastic people behind Mom Water at this exciting time in its growth journey," says Kara Woolsey, CEO of Mom Water. "What we've accomplished together so far is truly remarkable. I look forward to supporting our team in this next phase with the same passion that they bring to work every day."
Brames has played a pivotal role as director of supply chain since the company started. With a focus on sourcing materials, managing co-packer relationships and product logistics, he has successfully navigated a number of challenges to meet continued consumer demand. As COO, he will oversee annual operating plans, set and achieve goals and manage all aspects of manufacturing including vendor relationships, compliance and more.
Sharing family connections to the company's founders, both Woolsey and Brames have demonstrated deep dedication and commitment to their respective roles. Mom Water is committed to remaining family-owned and operated.
This announcement comes on the heels of the recent launch of Dad Water, a line of fruit-infused Tequila waters. In the coming year, Dad Water will continue to expand into additional retail markets across the country. Looking ahead, Mom Water's executive team projects that the company is on track to surpass last year's sales by more than 20%.